Developing a blueprint for a more sustainable region
Iskandar Malaysia, a region in the State of Johor made up of five local authorities, is a leader in sustainable urban development, with a robust climate action "blueprint" for which it has secured backing from local, state and international governing levels.
The Iskandar Regional Development Authority (IRDA) spearheads and coordinates climate efforts with the Iskandar Malaysia region. The agency believes in the critical importance of cooperating across sectors and government levels and with international partners to meet sustainability goals.
Iskandar Malaysia launched a Low Carbon Society Blueprint in 2012, which guides the region to reduce its emissions by 58% by 2025. The holistic Blueprint includes 281 programmes across the themes of green economy, green community and green environment and is complemented by Low Carbon Society Action Plans specifically crafted for each of the region's five local authorities. The Blueprint provides an overarching strategic vision and regional climate actions, while the Action Plans map out locally tailored implementation.
For more information on the Low Carbon Society initiative of Iskandar Malaysia, visit Low Carbon Society – Iskandar Malaysia Green.
Joining GCoM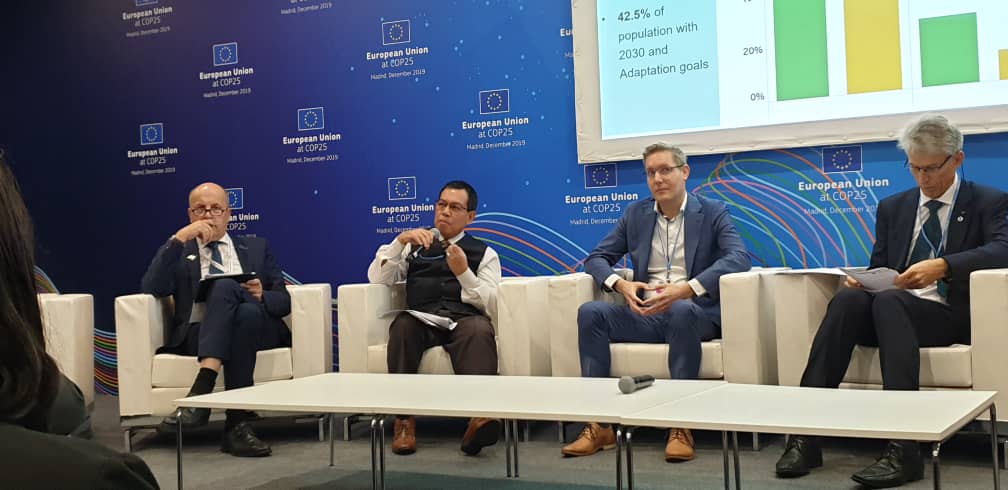 Iskandar Malaysia joined the Global Covenant of Mayors for Climate & Energy (GCoM) in November 2017, through which it has been able to learn from others' strengths and challenges and work with international peers to continue to refine its climate actions. This has been supported by the European Union through the IUC programme in Asia and has given Iskandar Malaysia the opportunity to learn how other cities such as Copenhagen, Milan and Zagreb address and adapt to climate change. Joining GCoM also provided opportunities to access new climate financing and other financial support from funding agencies.
At COP25 in Madrid in December 2019, Iskandar Malaysia, represented by Datuk Ismail Ibrahim, Chief Executive of Iskandar Regional Development Authority, joined a panel discussion titled "Unlocking Urban Investment Opportunities", which highlighted the importance of having good plans to attract private financing for public projects. During the discussion, he explained the Low Carbon Society Blueprint and pointed out the importance of stakeholders and policy-makers cooperation.
"You could have all the funds, but projects still could fail. What is important is good relationships between stakeholders and decision-makers, a robust plan, and good governance." – Datuk Ismail Ibrahim, Chief Executive of Iskandar Regional Development Authority.
A summary of Iskandar Malaysia's participation in the GCoM programme can be downloaded below.