The history and shared cultural heritage of the EU-Thailand relations are reflected in the video "EU Urban Heritage", which is now available on the Facebook page of the Delegation of the European Union (EU) in Thailand.
The video includes contributions by the Ambassador of the European Union to Thailand – H.E. Mr. Pirkka Tapiola – as well as from the Ambassador of Portugal – Mr. Joao Bernardo Weinstein – and the Ambassador of France – H.E. Mr. Thierry Mathou. Architecture Professor Pirasri Povantong from the Chulalongkorn University explains the importance of the Embassy buildings for the urban development of Bangkok.
The video is part of a series highlighting the long-standing relationship between Thailand and Europe as well as the importance of cultural heritage for sustainable urban development in the modern world.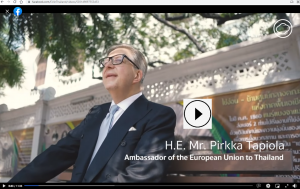 To see the full story, please access The Bangkok Post.