On 27 January 2022, Seoul and Dublin followed up their meeting from two weeks prior with another meeting. In the previous meeting, Dublin presented on their walking and cycling plan, and during this meeting, Seoul presented on their plans for a walkable city. It is planned that cycling will be discussed in more detail in an upcoming meeting.
The featured image above is the past, present, and future of Sejong-daero, located in front of Gwanghwamun.
Representing Seoul Metropolitan Government, Ms. Joohee Hong shared about Seoul's rapid development to a bustling, population-dense urbanized city and the challenges that the rapid growth of people and vehicles presented to a city whose space did not increase. In particular, she highlighted how this huge economic growth stands as a major point of consideration when discussing walkable cities. "Talking about the congestion in Seoul is inevitable when it comes to talking about Seoul's walkable policy," she asserted.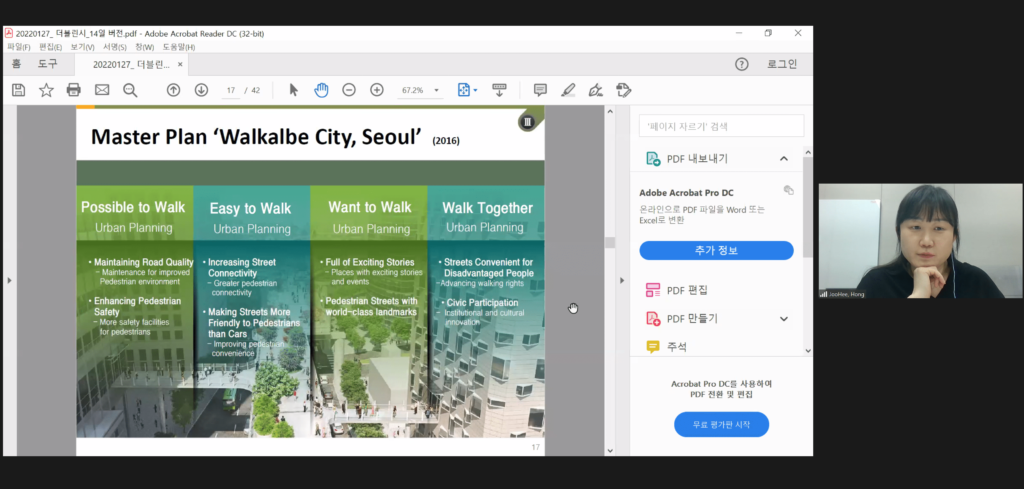 Seoul's Walkable City master plan has four key stages of urban planning, demonstrating the transition from a city that is working on making walking possible before reaching its completion at a city that walks together. By making it first possible for pedestrians to walk, then enhancing the ease of walking accessibility and implementing landmarks to make walking interesting, Seoul is aiming to create an inclusive city where all citizens can and want to walk together.
One of the best examples showcasing the steps Seoul has taken towards reducing private car usage and promoting walking is the "Downtown Road Diet." By reducing the number of lanes that cars can use on major streets, the city was able to expand the walking and cycling spaces, converting the previous lanes into pedestrian sidewalks and cycling lanes. Trees are planted to not only provide shade in the summer, but also to help alleviate the urban heat island effect.
One of the 45 projects undertaken by the Seoul Metropolitan Government in the Walkable City Plan, Seoullo 7017, an urban regeneration project that transformed an old, declining overpass into a Seoul landmark and a walking path, is an internationally known project.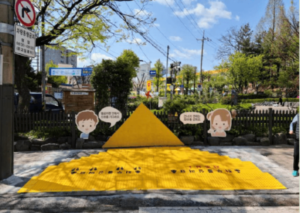 Another project that resonated particularly with Dublin's previous presentation was the school zones. Like Dublin, Seoul's focus on walkable cities has also included children and school zones. Both cities shared that they use markings on the road to indicate school zones to motorists, and in the case of Seoul, the bright yellow carpet brings attention to the fact that there are children in the vicinity.
Following the informative presentation, there was a warm reception and numerous questions from representatives from Dublin City Council and other organizations in Dublin. One area of common focus in both cities' development of walkable cities was inclusivity — especially the inclusion of disabled people as part of the development and feedback stage. It was also shared that the use of a Bus Rapid Transit (BRT) system allowed for the road diets to be implemented without causing delays in bus service.
The meeting concluded with a discussion of potential pilot actions and study visits for 2022. Both cities share a rich cultural history and are looking forward to addressing shared issues and developing joint solutions.