Gangtok in India and Albacete in Spain got together on 22 February 2022 for their second bilateral meeting to identify key activities as part of their cooperation on solid waste management. The City of Gangtok was represented by Mr. Hem Kumar Chettri, Municipal Commissioner, Gangtok, and Mr. Mahesh Sharma, Joint Secretary (Swachh Bharat Mission – Urban), Mission Director, State of Sikkim. The City of Albacete was represented by Mr. Angel Prieto, General Manager, European Center for Business and Innovation (CEEI) of Albacete, Mr. Juan Carlos Sanchez Tebar, Head, Environmental and Waste Management Issues, Municipality of Albacete, Ms. Ana Belén Sánchez Ruiz, Technical Consultant, Environmental and Waste Management Issues, Municipality of Albacete, and Mr. Jose Serna, Technical Consultant, CEEI Albacete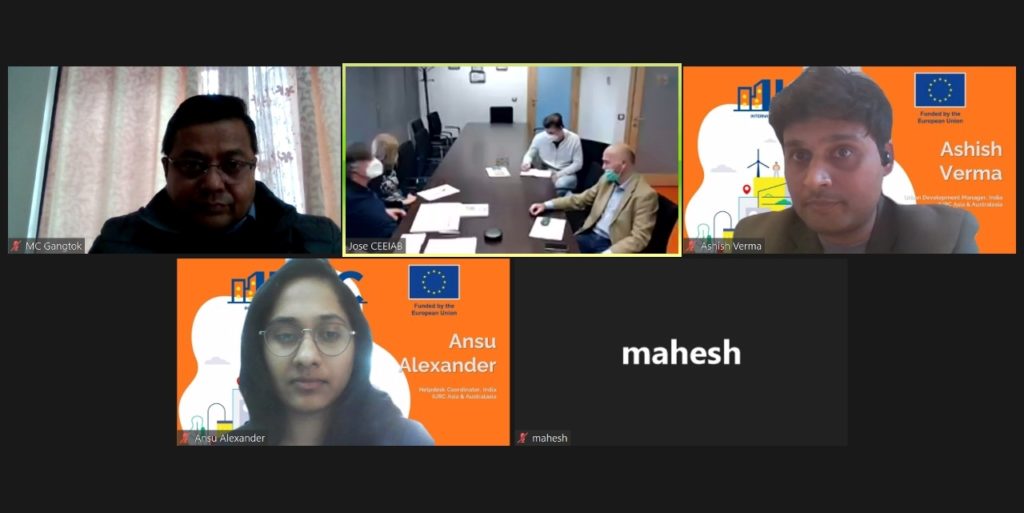 Mr. Ashish Verma, Urban Development Manager for the IURC programme in India, presented the key elements of the IURC programme after which Mr. Chettri shared about the issues around waste management in the city. One of the emerging priorities from his presentation was a need for Information, Education & Communication (IEC) activities for the 'Gangtok beautifiers' (workers engaged in waste management practices), municipality staff and residents on waste handling practices. Considering that the life of the landfill site in Gangtok was very limited, he was keen on organic waste being composted in residential areas and use for horticulture purposes.
The team from Albacete shared information and experience regarding source segregation, waste collection, waste transportation and decentralised waste treatment practices. It was interesting to know about their efforts on IEC activities towards educating their citizens to manage waste effectively and keep the streets clean.
The cities agreed to share relevant information based on the discussion and the IURC team informed that their Urban Cooperation Action Plan is under preparation. The meeting was concluded after a brief discussion on potential dates for the exchange visits.