On 23 June 2022, as part of the IURC China thematic cluster working sessions, IURC-China organized a webinar on Sustainable Agriculture and Agri-food System. The webinar focused on policies, knowledge and innovative solutions in the agriculture sector, aiming to share how cities and regions achieve transition towards green, circular and bio-economy and resilient agri-food systems, and discuss how EU-China cooperation can help to reach the goals. There were not only more than 15 cities and regions, but also public sector representatives , research institutions, social organisations, and business leaders joining the webinar.
Opening Session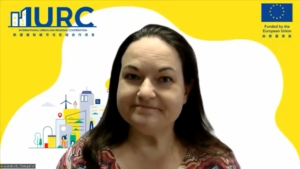 Ms. Alexandra LEHMANN from the Foreign Policy Instruments of the European Union Delegation to China opened the webinar. She welcomed the delegates from the European and Chinese cities and regions and expressed her expectations for the diverse ideas and suggestions on the joint actions toward sustainable and smart agriculture and agri-food system.
Ms. WANG Qian, Team Leader of the IURC-China, introduced the framework of IURC-China, focusing on the agriculture sector, and foresaw an effective exchange of the experience in green development, agri-technology and urban-rural integration and looked forward to the concrete regional cooperation.

Setting the Scene: Sustainable Agriculture and Agri-food System in the EU and China
Ms. Rita MERKLE, the cluster manager of IURC-China in agriculture,  gave an introduction on the policy, knowledge and practices of sustainable agriculture and resilient agri-food systems with an EU-China comparative perspective. Ms. Merkle pointed out how it is a good moment to algin the agri-food system with urban and rural development issues and provide guidance on the potential cooperation directions.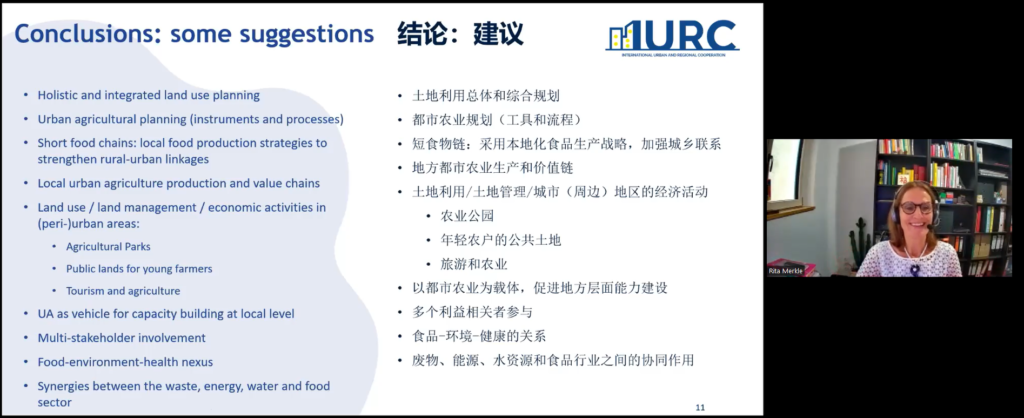 Panel Presentations
Mr. HUANG Chunsheng from Zhengzhou Municipal Agriculture Committee presented Zhengzhou´s strategies for sustainable and circular agriculture development, and modernisation and innovation in rural areas. He highlighted Zhengzhou´s endeavour in the efficiency of fertilizers and pesticides, pollution control and plant protection, organic farming enhancement, straw waste circulation and related knowledge transfer in research & innovation and education & training.
The region of Lazio has long been putting emphasis on the agriculture sector, as well as on actions restoring, preserving and enhancing ecosystems and related rural-urban development.  Mr. Romano ZILLI from the Animal Health and Food Safety Institute for Lazio and Toscana presented Lazio´s widely recognised regulatory mechanisms and practices for robust Food Safety Systems. Mr. William LORIA from AGROCAMERA introduced the approach to developing sustainable tourism in the rich natural heritage of the region Lazio.
Hohhot is located in an unique inland plateau with a broad landscape of forests, grassland and desert. It is the home of two of the biggest dairy products producers in China. Mr. BO Hailong from Hohhot Agriculture and Animal Husbandry Bureau presented Hohhot´s strategies in green agricultural production, focusing on dairy and livestock sectors.

The Agriculture sector is one of the most important pillars of socio-economic development in the Western Greece Region. Mr. Dimitri KARAGIANNIS from the Development Planning Directorate of Western Greece shared western Greece´s development in the agri-food systems, highlighting the significant roles of SMEs.

Ms. ZHANG Rongrong from Haikou Agriculture and Rural Bureau shared Haikou´s unique tropical agricultural ecosystem and circular and bio-economy, proposing the cooperation areas on eco-friendly packaging and sustainable transportation of agricultural products.
In the region of Valencia, agriculture plays a key role in maintaining the environment and landscapes as well as the strategic agri-food sector, which is very export-oriented. Ms. Cristina Delgado CEBIAN from the Valencian Institute of Business Competitiveness presented strategies and approaches to enhance certified organic farming and to support organic product operators in the Valencian Region. She expected cooperation in the areas of organic product-related certification, research and innovation, vocational training and technical support on resource management and biodiversity.

Mr. XIN Lei from Beijing Zhongguancun Administrative Committee in charge of the Pinggu Agriculture sector shared Beijing's experience of agriculture development with leisure and education functions in Pinggu District.

Mr. FENG Ruixing from Suzhou Taicang Agriculture and Rural Affairs Bureau shared Suzhou´s experience with a circular agriculture technique of value-added utilization of straw in the rural area.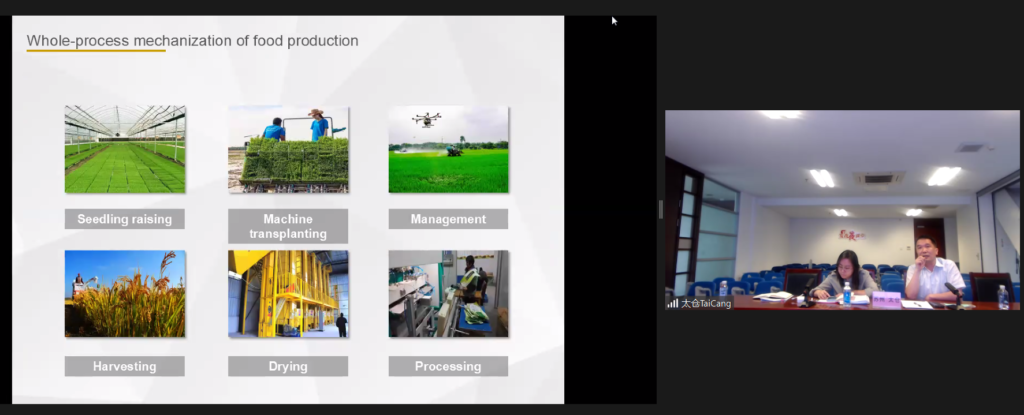 Questions and Discussions
In the Q&A session, cities and regions explored their specific cooperation areas. Ms. Rita MERKLE highlighted IURC´s aim at providing support to improve the sustainability performance of agriculture and improving the capacities for monitoring and evaluation in eco-agri-food systems, in which environmental rules and green technology play a cross-cutting role.
For more information, and cooperation inquiries, please get in touch with us at info-china@iurc.eu and qwang@iurc.eu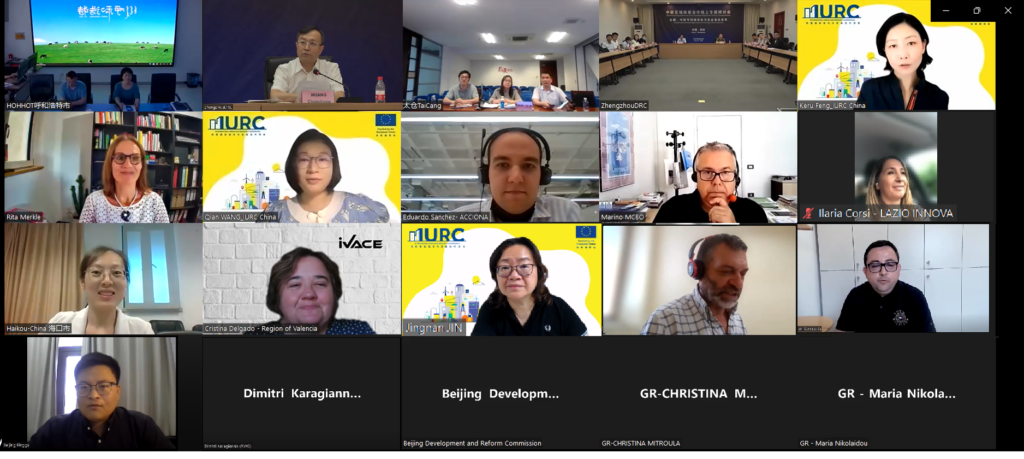 Zoom-in Europe (II) Training
00 BI_IURC Urban Agriculture Training Session ppt RM
Sustainable Agriculture and Agri-food System Webinar