The Stuttgart Region, the Colleferro-Latina Functional Area, Da Lat City and Ha Tinh City met on 5th September 2022 to share their experiences during the session on Technical Infrastructure Part 3 – Smart Mobility for GHG Mitigation and Climate Adaptation. The meeting was opened by Dr. Rui Ludovino, First Counsellor, Climate Action, Environment, Employment and Social Policies, at the Delegation of the European Union to Vietnam. Mr. Ton Thien San, Chairman of Da Lat City People Committee, and Mr. Nguyen Van Quy, Vice Chairman of Ha Tinh City People Council, and teams from two Vietnamese cities joined representatives from its EU counterparts.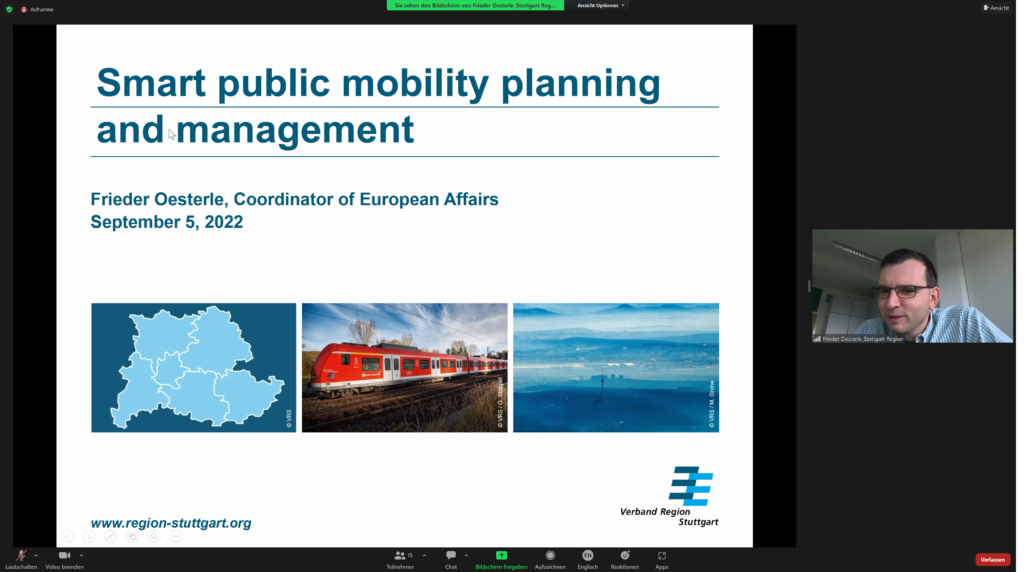 The Stuttgart Region shared their practice in smart public mobility planning and management, saying its Regional Transport Plan (overall concept for mobility) was developed and adopted with the objective of meeting the regional lifestyle demands. 75 % of all employees are commuters, amonting to 9.1 million trips daily within the region. 97 % of the public transport trips start and end within the region, with 253,000 persons commuting daily to the city of Stuttgart and 88,400 persons commuting daily from the city of Stuttgart to other municipalities. Traffic congestion and air pollution are issues addressed in this plan.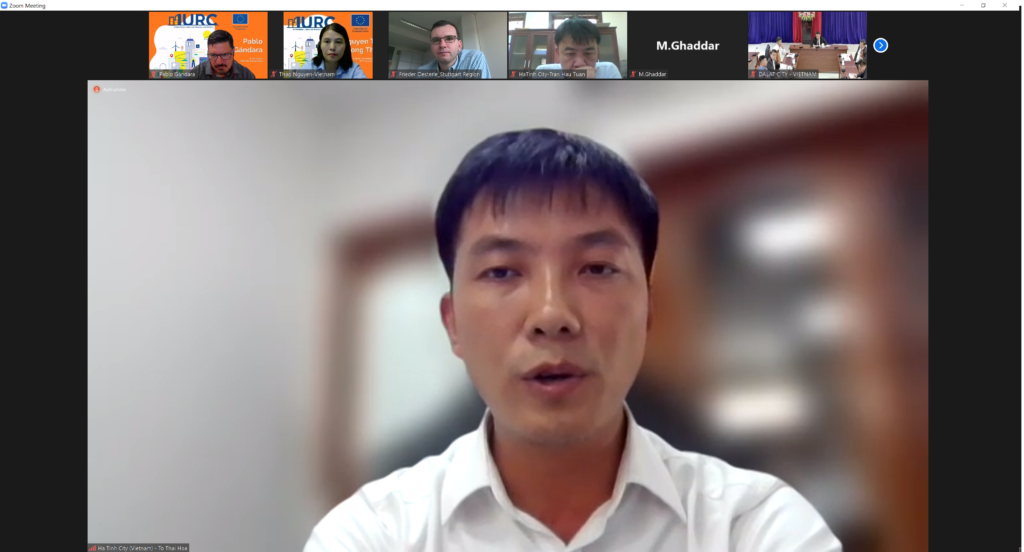 Ha Tinh discussed its current challenges in mobility infrastructure. 30 roads in the city do not have the planned width. Meanwhile, Ha Tinh is the provincial capital, serving 109,000 permanent residents and 150,000 commuters in an area of 56 km2. The city lacks a mobility strategy and has only National Highway No.1 without other transport routes (railway, airway, waterway) for regional connectivity. The inner city road network has bottlenecks in some spots. In response to these issues, the city is planning to its connectivity at national and regional level and an in-city road network. Meanwhile, the city urban space will be expanded to serve over 200,000 permanent residents in a TOD Urban Plan. Mobility management is planned to be operated in GIS, a centralized smart city operator center. The center is in place but is only equipped with a small street camera system at the moment.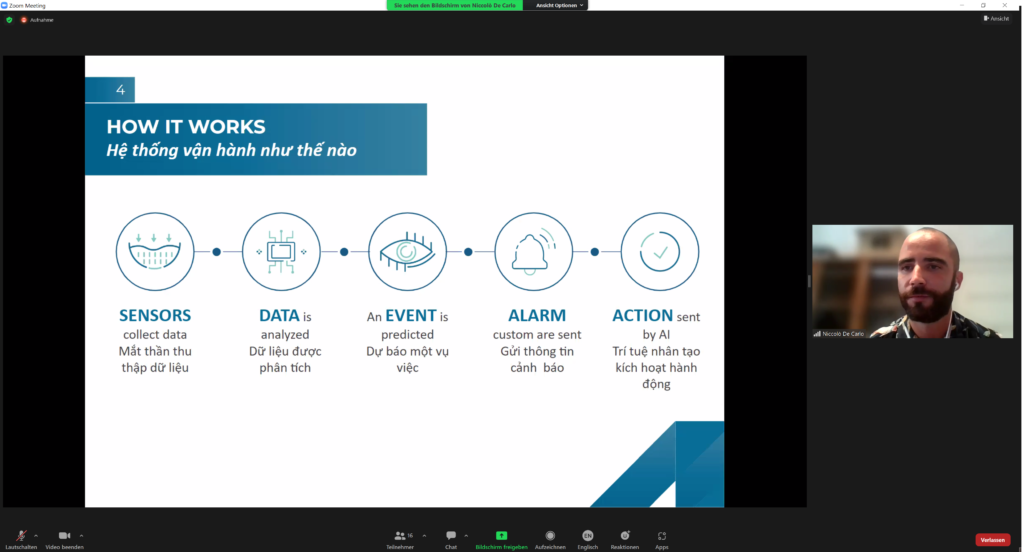 The Latina Functional Area invited two technology and consulting companies, Sensoworks and Ermes, to present the use of technology in smart city development. Their businesses operate in five sectors: solar energy, engineering energy efficiency, agro-electricity, e-mobility and AI-based infrastructure monitoring solutions. The technological models shared are good lessons for Vietnamese cities to learn and discuss how they can support digital transition, smart mobility planning and development, energy efficiency, etc.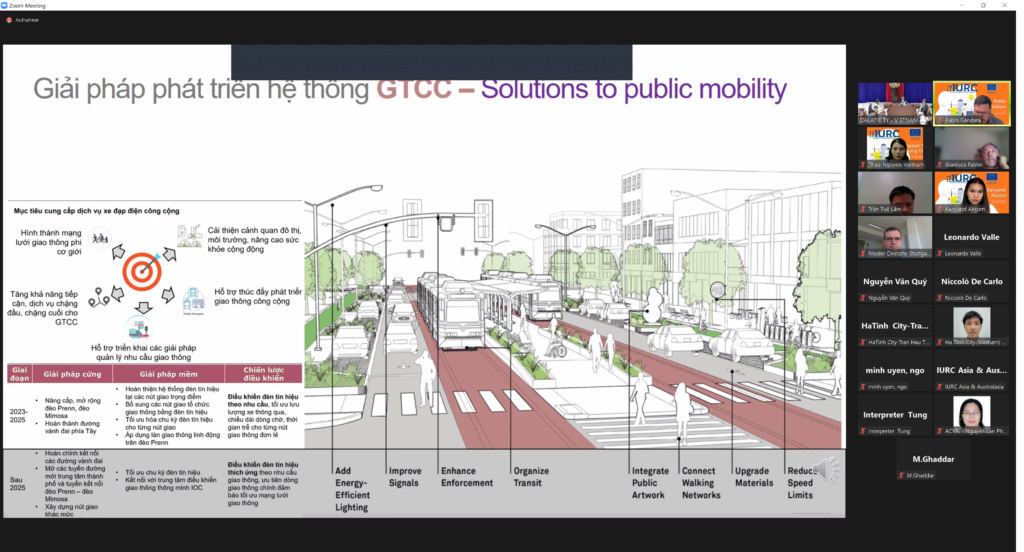 Da Lat City presented its practices in smart mobility planning and management. The city currently has different obstacles in creating connectivity to serve the local people and visitors. These challenges include a lack of proper arrangement of public mobility and low-quality facilities (bus stops, stations, operator center etc.). However, the city struggled to overcome the challenges by developing a public mobility plan with road extensions, rearrangement of bus routes, renewal of the Hochi Minh City-Da Lat old railway system for tourism development and regional connectivity, the use of technology on the OneTravel Da Lat application for public transport management, etc.