On the 13th of July 2022, 6 Regions from different Member States of the EU and 5 Japanese prefectures met online as a First touchpoint of the "EU-Japan Region-to-Region Innovation Cooperation". This gathering provided opportunities for the EU regions and Japanese prefectures to meet, present themselves, exchange information and ideas, and establish an initial contact for collaboration.
The EU-Japan Region-to-Region Innovation Cooperation project's goal is to assist Japanese Prefectures and European Regions in exchanging best practices and information to enhance and internationalise their respective regional innovation agendas and promote global value chains. During this first meeting, it was explained that the project will provide peer-level information sharing through study visits and seminars with a focus on thematic areas of regional innovation and competitiveness policies, such as green transition, industrial transformation, and demographic transition, based on the smart specialisation strategies for sustainable and inclusive growth of each region.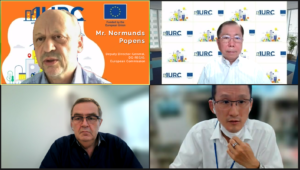 At this initial meeting, speeches were made by the representatives from the European Commission and the Government of Japan about EU-Japan Region-to-Region Innovation Cooperation. Opening remarks were given by Mr. Normunds Popens, Deputy Director-General of DG-REGIO, who highlighted the great importance DG REGIO places on this new project because it is central to key EU priorities since Europe stands on the verge of two fundamental changes: the digital revolution and the transition to a green, carbon-neutral economy. Mr. Yasunori Ishida, Director of the Office of International Affairs, City Bureau, Ministry of Land Infrastructure Transport and Tourism, resonated and reiterated the common priorities the EU and Japan have together. He also remarked the "open pairing approach" the programme offers and how this allows participating entities to develop flexible partnerships.
After setting the scene, each of the EU regions and Japanese prefectures presented their specific features of regional development policies and innovation strategies:
The EU regions are: Région Auvergne-Rhône-Alpes (France), Basque Country (Euskadi)(Spain), Catalonia (Spain), Emilia-Romagna (Italy), Ljubljana Urban Region (Slovenia), and Val d'Oise County (Paris Region) (France).
The Japanese Prefectures are: Aichi Prefecture, Kyoto Prefecture, Osaka Prefecture, Hiroshima Prefecture, and Oita Prefecture.
These 11 regions and prefectures were selected for this project to exchange best practices and knowledge to improve and internationalise their respective regional innovation strategies while promoting international value chains. They are divided into two groups according to their topics of interest. For each group, there will be study visits of EU regions to Japan and Japanese prefectures to the EU, in which senior officials and experts from each region/ prefecture will participate.
More information:
Please click here to view the guide to EU Regions and Japanese Prefectures.