The IURC Asia-Australasia organised its fourth EU-Malaysia study visit to NCI Bologna during 16-21 October 2022, covering cities such as Imola, Fontanelice, Castel del Rio, Dozza and Bologna.. The Melaka Historic City Council delegation was led by Yang Berbahagia Datuk Haji Zainal bin Haji Abu, Mayor of Melaka City. The delegation members also comprised of Mr. Abdul Razak Abu (Head of Councillors), TPr. Zuhaila Ahmad Zubel (Director of Town Planning), Ms. Rohzaina Zainal (Assistant Director of Town Planning Department), Ms. Siti Asurah Md Ghani (Assistant Director of Engineering Department) and LAr. Mohamad Faizdzul Shawqy Ibrahim (Landscape Architect) together with Mr. Pablo Gándara, Team Leader and Ms. Jacqueline Chang, Country Coordinator for Malaysia | Circular Economy Specialist.
The visit reciprocates the one carried out previously from 16 to 19 May by Mr. Marco Panieri, Mayor of Imola, President of NCI Nuovo Circondario Imolese and Deputy Mayor of Metropolitan City of Bologna. The delegation members at that time comprised of Mr. Gabriele Meluzzi, Mayor of Fontanelice, two senior experts Mr. Marino Cavallo, Head Research Innovation and EU Projects of Metropolitan City of Bologna and Mr. Valerio Morabito, Architect and Professor of Architecture, Component of Green Arco Spin-off of University of Bologna to promote the city-to-city learning under the International Urban and Regional Cooperation (IURC) which took place in the framework of the EU-Malaysia Exchange Mission "Applying nature-based solutions to pilot projects and formulating joint policy developments".
Since September 2021, both NCI Bologna and Melaka city obtained the approval of a city-to-ctiy cooperation (a direct pairing approach) to focus on the knowledge exchange on sustainability and green services for their cities. More specifically, the areas of interest for their international cooperation are #NatureBasedSolutions; #EcologicalTransition, #GreenDeal policies, community centric projects, as well as key aspects related to #tourism and #culture; #smart and #sustainable cities, with technological interventions that the cities of the future consider are crucial issues. An MOU to kick-start a joint research centre on green design was inked on 7 October 2022 between University of Bologna, UiTM, con.AMI and the IURC.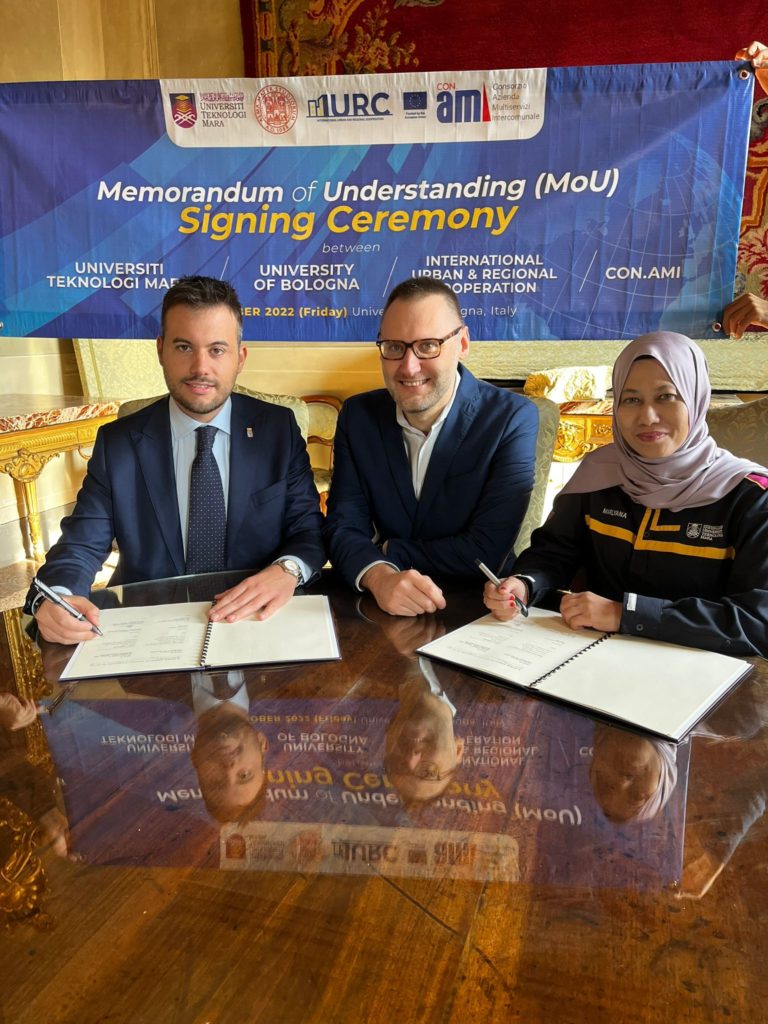 The first stop for the Melaka city delegation's visit was the town hall of Imola. Mayor Marco Panieri together with the nine mayors of all the municipalities of NCI Bologna, the President of the Municipal Council of Imola, Mr. Roberto Visani, the Councillors of the Municipality of Imola, the President of Con.Ami, Dott. Fabio Bacchilega, Prof. Daniele Toreggiani, representing the University of Bologna, Imola branch, the President of the Table of Imolese companies, Mr. Marco Gasparri, the President of the Twinning Committee, Ms. Annalia Guglielmi, Mr. Lorenzo Marchetti, member of the Twinning Committee was present for the dialogue session. During the dialogue at the Imola town hall, everyone decided to collaborate together with the University of Bologna on key thematic areas related to "green design" and "nature-based solutions".
"I am happy to see you again here, in the town hall, and we thank you for accepting our invitation to continue together the Exchange Mission between the European Union and Malaysia", stated Mayor Panieri. "We are very happy that you can discover for yourself how much Imola is a city strongly characterized by its history and with great cultural peculiarities, natural beauties and numerous food and wine excellences and, widening your gaze, discover the excellences even outside Imola, in the other Municipalities of the New Imolese District and in the Metropolitan City of Bologna".
Mayor Panieri then went on to underline that "especially in a complex historical moment and a globally difficult one we are experiencing today, characterized by tensions and problems that intersect countries and continents, from the energy crisis, to increases in raw materials and conflicts present in Ukraine and in various parts of the world, we believe it is important to continue the commitment we have undertaken and launched with Melaka, on the major issues of international cooperation that have characterized our mission. I refer, in particular, to the realization of the ecological transition with nature-based solutions, the design and construction of cities of the future as digital spaces and sustainable projects, and the exchange of projects concerning green architecture. These are just some of our dialogue themes, but deeply representative, felt in the Italian and Malacca identity and indispensable for building the future for all of us. In addition to being extremely linked to the great challenges of sustainability, protagonists of the UN Agenda with the objectives for 2030, on which it is therefore profoundly concerned and necessary to commit to sharing projects, ideas and skills".
A site visit at Osservansa Complex and explanation of finished works, renovation projects related to national recovery and resilience plan as well as planned building works related to the Osservansa Park, where parties are exploring an international collaboration where Melaka Historic City Council will assist con.Ami team and partners to implement a pilot project related to creating an SDG corner for kids (green spaces) around the infant school or around the kiosk marked for public establishment. During their presence in the city, the Malacca delegation also visited the Imola headquarters of the University of Bologna.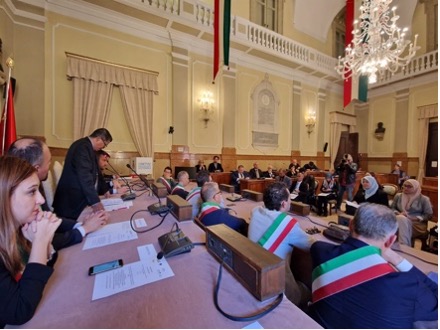 They also attended a presentation delivered by Ms. Elisa Spada, Councillor for the Environment and Santerno River Project Manager on urban reforestation, a collaboration with Ministry of Environment, environment and sustainability actions implemented around the race track within the FIA Environmental Accreditation Framework. The site visit included studying the riverfront area, given that the Santerno river is at the centre of a joint study project between NCI Bologna and Melaka. Melaka city also requested to learn more about Imola's Urban Heat Mapping study with plans to replicate this project with European experts in Melaka city.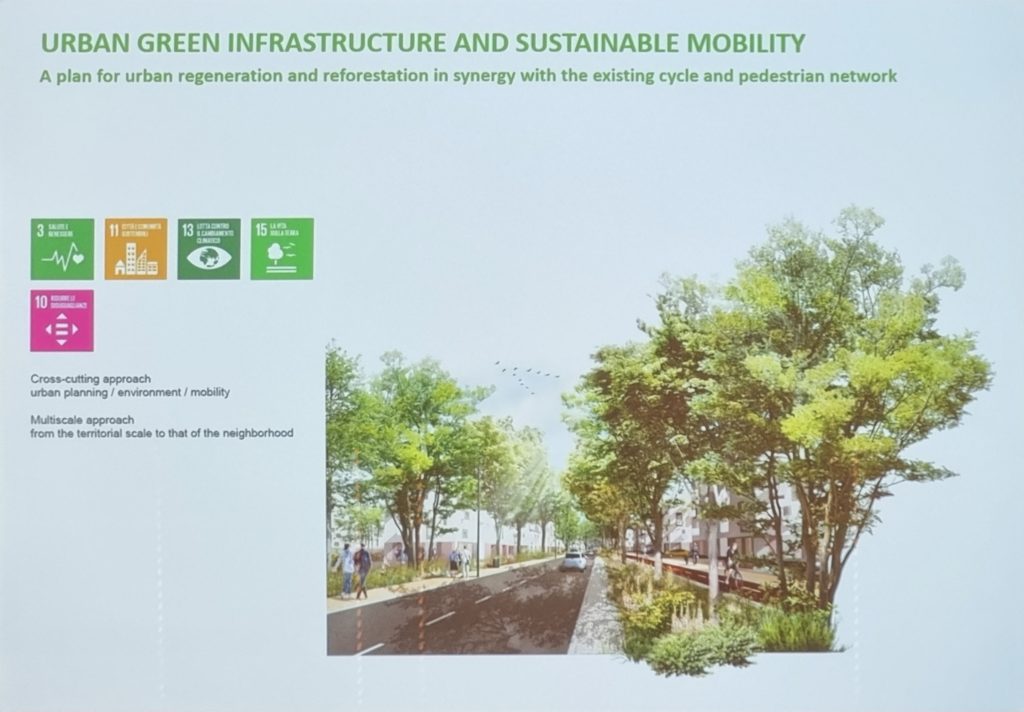 Mr. Gabriele Meluzzi, Mayor of Fontanelice and coordinator of the IURC project for the New Circondario Imolese highlighted "the collaboration started with the city of Melaka is definitely a positive experience that brings together two seemingly distant realities but with many points in common. An opportunity for growth, development and promotion for our territory. Working together on issues relating to "green design" and "nature-based solutions" also involving the Imola headquarters of the Bolognese university could be an opportunity to make the New District of Imolese a territory increasingly sensitive and avant-garde on such important issues".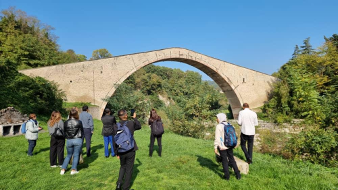 The visit continued to Fontanelice, Castel del Rio and the Alidosi Bridge, Tossignano with the Vena dei Gessi, Dozza (a medieval village a few kilometres from Bologna, considered among the "most beautiful villages in Italy" – painted murals and preservation of cultural heritage. The town keeps the medieval urban layout perfectly intact and develops completely within the ancient walls, surmounted at the highest point by the imposing fortress) and a technical briefing at the original archives of Giuseppe Mengoni as part of the knowledge transfer on green architecture and design.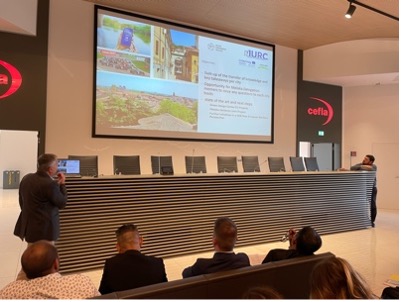 During their stay in Imola, the Melaka delegation also visited CEFLA. Presentation by Mr. Paolo Bussolari, CEO of CEFLA, a large multi-business group (founded in 1932) specialising in four core areas: medical equipment, electrical and thermohydraulic systems, LED lighting sector, and a site visit of their 20,000 sq feet factory. There was also a debriefing of the key takeaways and formulation of targeted international collaboration pilot actions to be explored for 2023 at CEFLA's auditorium.