In the course of the International Urban and Regional Cooperation (IURC) programme funded by the European Union (EU), the Australian city of Canberra (ACT-Government) has sent a delegation of 3 persons to Hamburg to deepen pilot project cooperation in the fields of urban renewal, climate action, open innovation and cultural exchange. The delegation had two-day programmes in Hamburg and Florence respectively.
The mission was a follow-up to the study tour by Hamburg and Florence delegates implemented in 2022 and 2023 respectively. It aimed to consolidate the preparation for joint actions by Canberra with Hamburg. The programme included meetings with the municipalities and their associates. As a result, project partners were able to finalise their Urban Cooperation Action Plans (UCAPs) including the definition of pilot projects and the implementation roadmaps (partners, resources, timeline). The mission was organised by Hamburg's International Projects team at the Senate Chancellery, with Thomas Jacob, Martin Krekeler and Sabine Schubbe.
Delegates
Brendan Smyth, Commissioner for International Engagement, ACT Canberra
Sam Engele, Coordinator-General for Climate Action & Head of the Better Regulation Taskforce, ACT, Canberra
Emma Gowling, Director, Engagement Programs at the Office of International Engagement, ACT, Canberra
Bruce Wilson, Professor, Director EU-Centre of Excellence, Royal Melbourne Institute of Technology (RMIT), Melbourne & IURC Australia Coordinator
Pablo Gándara, Team Leader, IURC Asia & Australasia
Hamburg
Day 1 – Sunday, 12 March
The programme began right after arrival from Australia, on Sunday 12 March 2023 afternoon. In order to have a smooth start, the Hamburg hosts offered Canberra delegates a walking visit to UNESCO World Heritage site "Speicherstadt", a former warehouse ensemble in the old port area. The visit included the "Miniatur Wunderland", Hamburg's number 1 tourist destination, developed as an ever-expanding series of model trains in settings from around the world. In a recent expansion, they have added a virtual reality facility. Now operating for a little more than 20 years, the enterprise has had a series of significant planning decisions to negotiate, as it has acquired additional space. The visit helped Canberra delegates to understand its close cooperation with the city authorities as well as some significant social engagement actions (free access for socially vulnerable groups, etc).
Day 2 – Monday, 13 March
Hamburg Senate Chancellery
Markus Heilig, Director of International Relations, offered an overview of the city, its economy and governance. Canberra delegates were impressed by a number of structural similarities between the two territories, both scale and governance. The port is a major difference, with implications for logistics, maritime, media, renewables, life sciences, an Airbus factory, and strong interest in green hydrogen.
HHLA (Hamburg Hafen & Logistics AG) – HHLA Sky (Mathias Gronstedt)
The first site visit was to the port for a presentation by HHLA Sky – a start-up of HHLA – which is focused on the use of drones for maintenance surveillance, traffic management, security surveillance, fire operations and potentially more areas. HHLA Sky is predominantly a software developer, generating new systems with drones to reduce costs, increase safety and support more efficient operations. They have the capacity to run a control centre for the port area. Apart from operating a small number of zones, they are actively engaged in the preparations for the regulation of drone use in the port area. By using drones for the monitoring of infrastructure, cities can reduce up to 72% of the time and up to 90% of the usual resources. Discussions centred on the U-Space regulatory framework for unmanned aircraft traffic management, which has been released by the European Commission, as compared with the Australian regulatory context.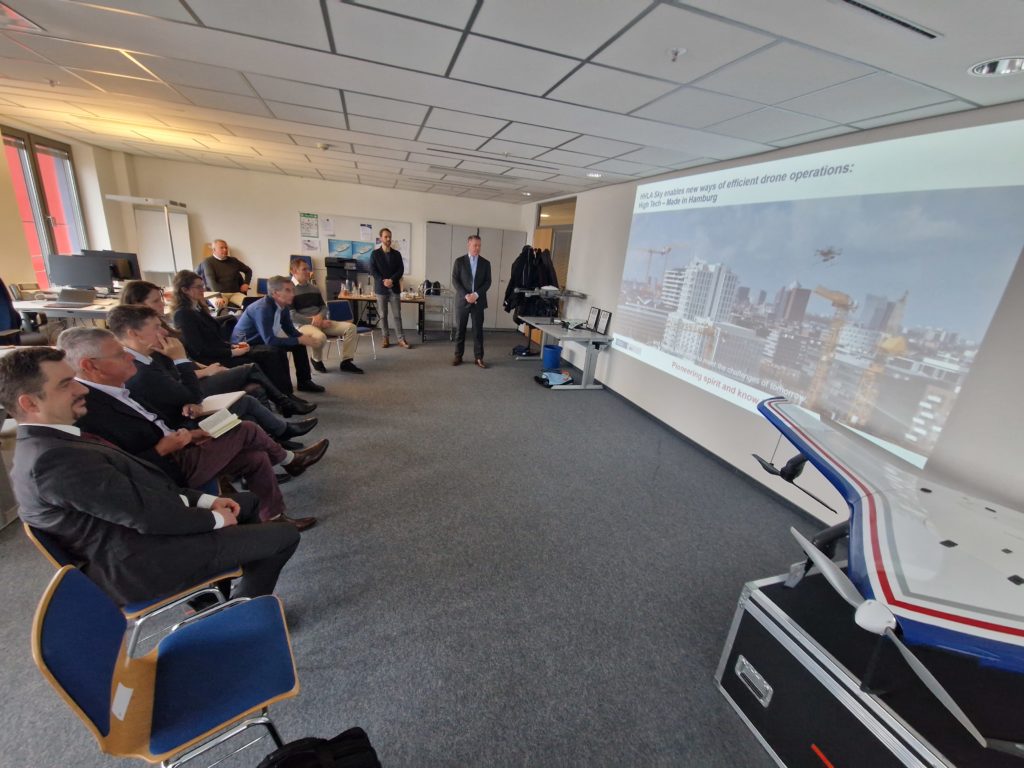 Hamburg State Agency for Geoinformation & Surveying (LGV) and Hamburg Ministry for Urban Development & Housing.
Tom Eichhorn, CEO of LGV, welcomed Canberra delegates and introduced the agency's services including IT-based urban (spatial) applications, 3D-models and data analyses to all survey-related tasks and real estate valuation. The GIS agency colleagues provided an outline of the Urban Data Platform and demonstrated the capacity to present a visualization of the data. This has been under development for nearly 20 years. The agency has the capacity to bring data together with data so as to construct a digital twin of the city. This can generate a 3D representation of the city for assessing various development proposals, but also for anticipating specific issues (such as pollution). They are part of the Cooperation Project with Leipzig and Munich, both of which have similar data capabilities. This allows them to play out 'what if' scenarios to assist in achieving sustainable cities (for example).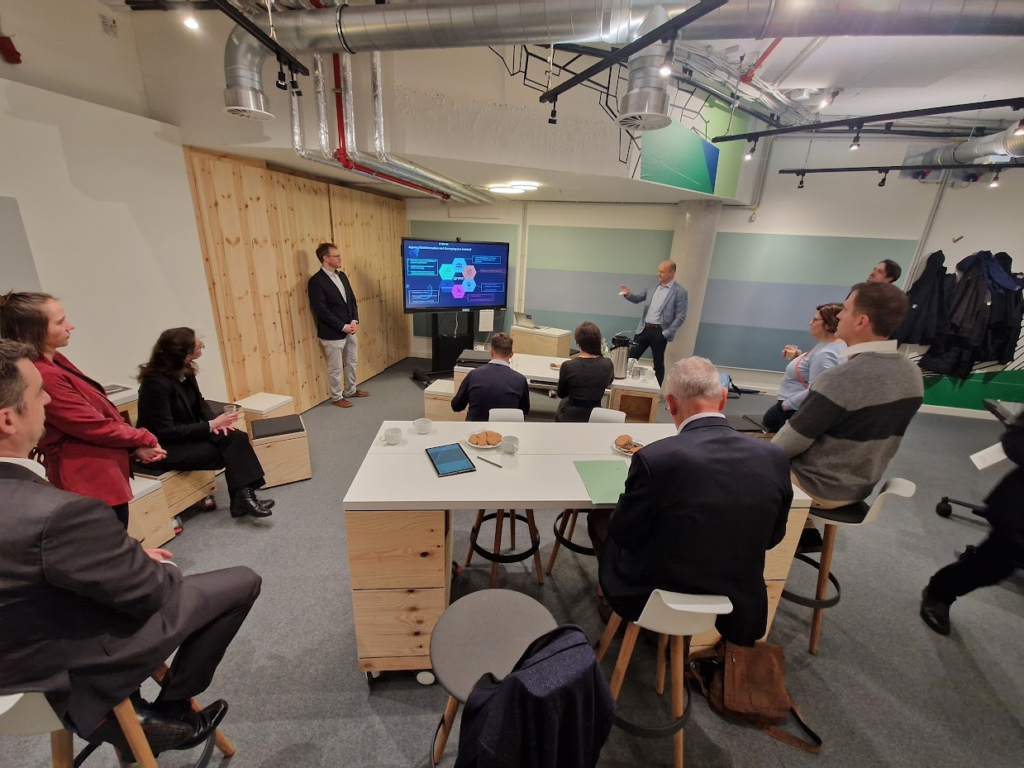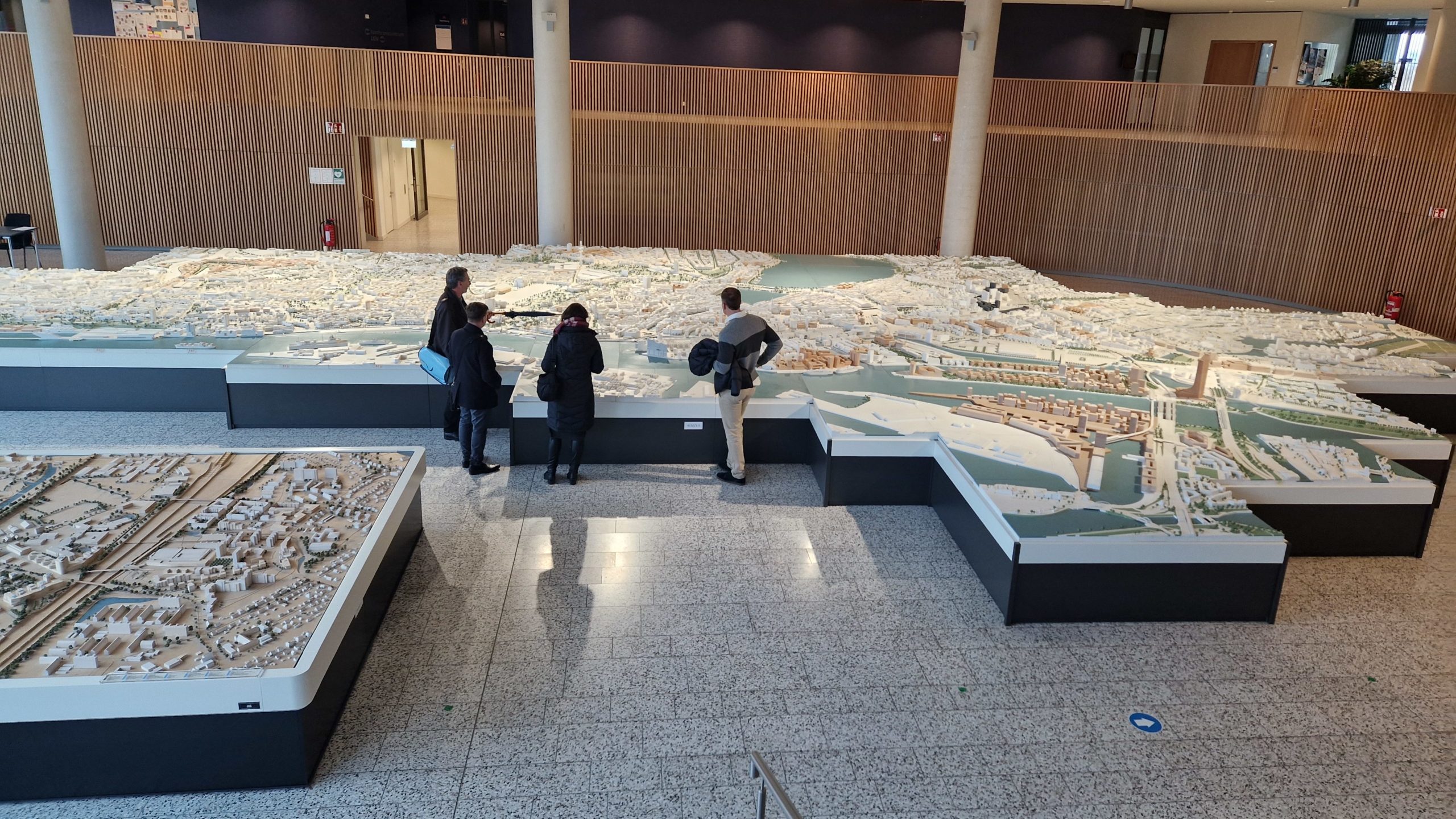 Mateusz Lendzinski from the Hamburg Ministry for Urban Development & Housing then demonstrated "Stattwerkstatt", the use of sophisticated digital representations as tools for citizens participation (DIPAS). He showed how it can be used to manage gentrification and to contain displacement pressures – 'the power of a single point of truth'. Hanna Reinicke from the Project Management Office at LGV proposed to collaborate on data platforms, digital twin, data analytics and BIM. Canberra delegates were able to test virtual reality applications for urban planning as well as interactive screens for citizens' participation.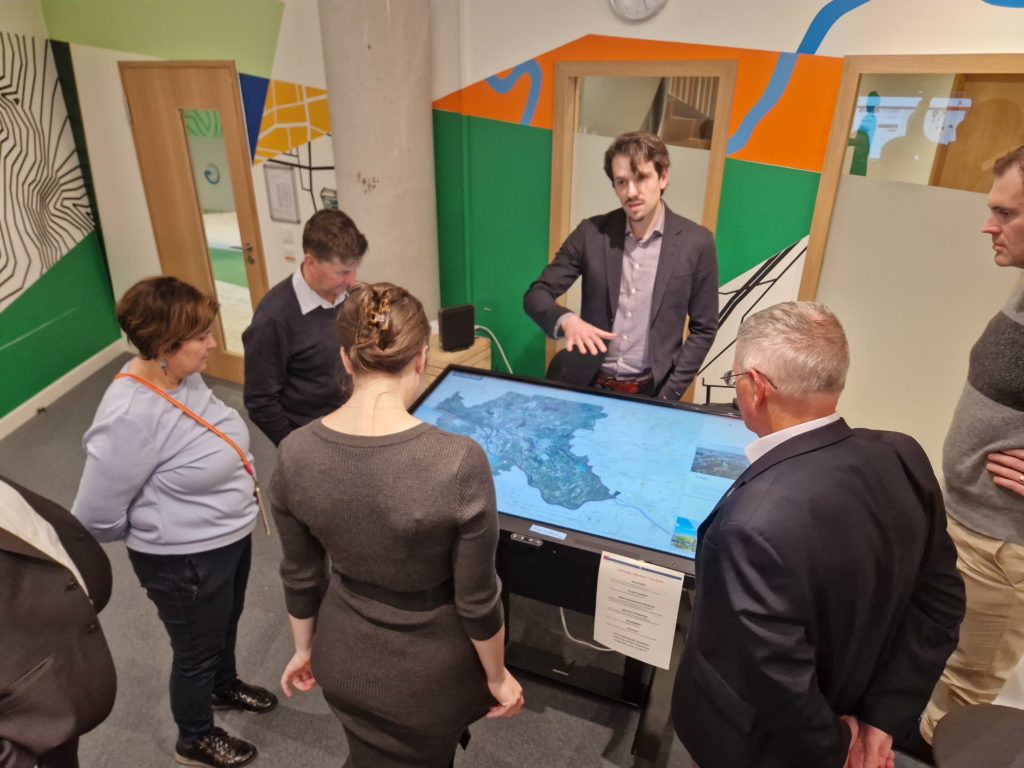 The delegates returned to Speicherstadt for a Cultural Programme with a social enterprise located in a converted building in the Historical Precinct. The enterprise simulated the experience of a blind person moving through different kinds of spaces. The day's programme concluded with a guided tour of the Historical Precinct, Speicherstadt, and of HafenCity. Day 3 – Tuesday, 14 March
Mobility Transition Tour – CCAM (Cooperative, Connected and Automated Mobility)
A team from New Mobility Solutions Hamburg guided delegates around a number of sites to illustrate some of the 250 new mobility projects underway in the city. The tour was done in an electric bus equipped with mobile intelligent transportation systems to interact with infrastructure (i.e. traffic lights) and with other vehicles. There was mention of an automated parking valet system, as an example of digital mobile solutions that can add to liveability. These solutions can be developed on an open innovation platform. A highlight was the visit to the switch station demonstrating intermodal opportunities from train, to bus, to ride share, to e-scooters, e-bikes, share EVs all at the one site. They are preparing for autonomous vehicles as there will not be enough drivers.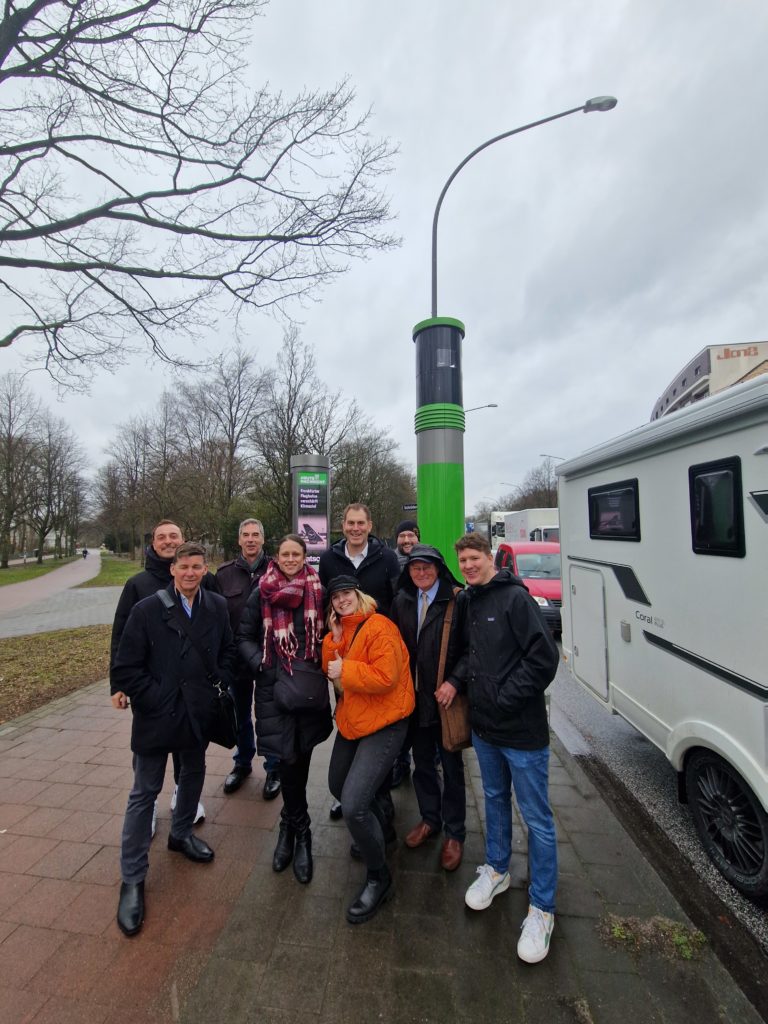 New Mobility Solutions Hamburg GmbH (hosted by Tobias Brozoskowski, Managing Director)
The delegation visited New Mobility Solutions and viewed demonstrations of mobility services and urban data management of the greater Hamburg region.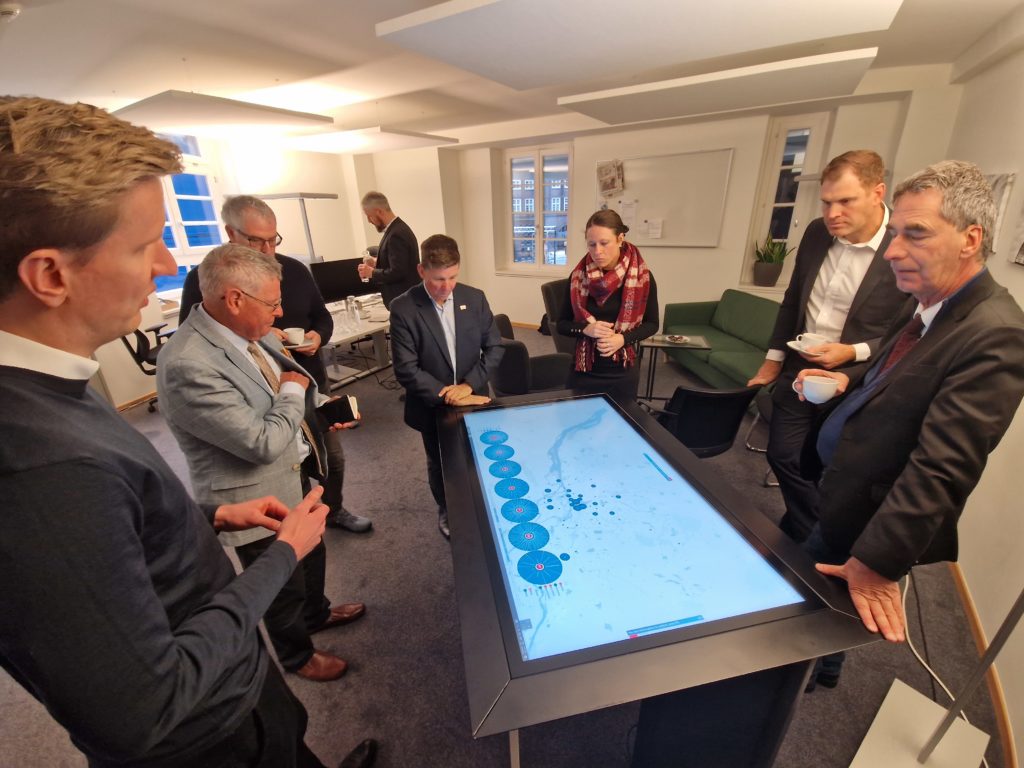 Hamburg Climate Adaptation Measures, Hamburg State Agency for Roads, Bridges & Waters
After lunch in the Parliament restaurant in the City Hall, the Hamburg experts' team led a walking tour to view various measures to manage the flooding of the city centre. The city is surrounded by one of the world's most innovative urban flood protection systems, which the delegation was able to personally inspect. Several interactive flood gates and walls were seen, designed for times when the water levels would surpass 7-8 meters above the high-tide line.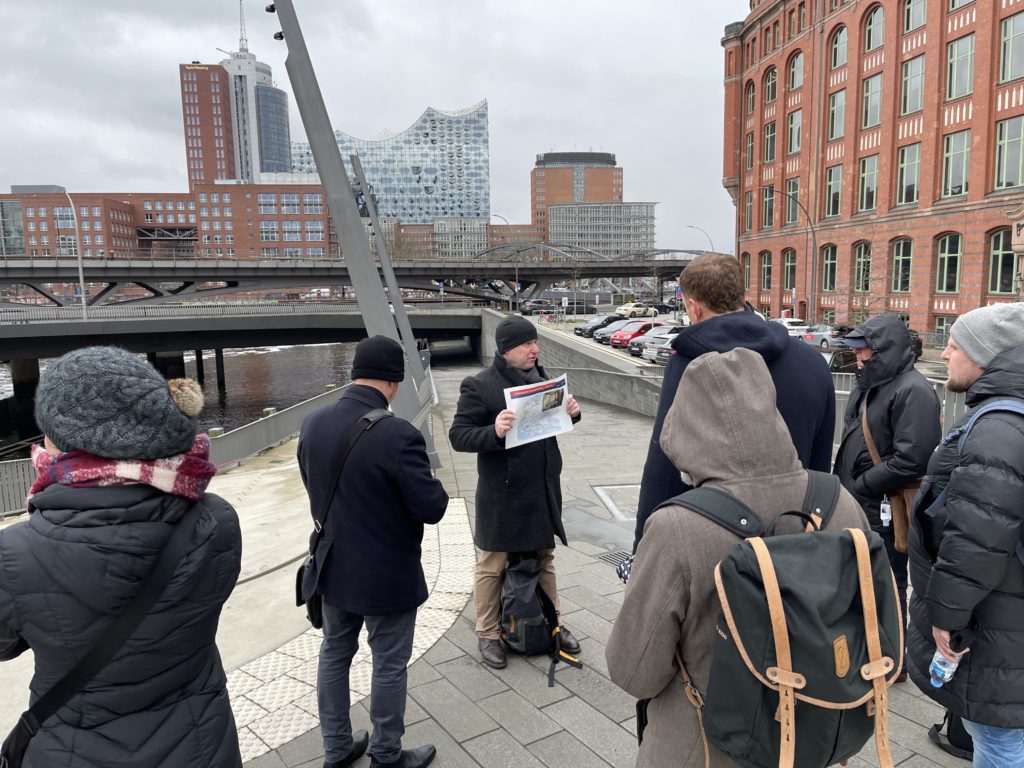 Sponge City (led by Torge Hauschild)
Colleagues from Borough Hamburg-Mitte led a site-visit to water-holding sports field. This was designed so that there was a significant tank underneath the playing field where excess water could be drained. It had the effect of alleviating flooding pressures in houses and community facilities. It has been a collaborative project with a number of stakeholders. The concept could be applied elsewhere but the topographical context would need to be similar.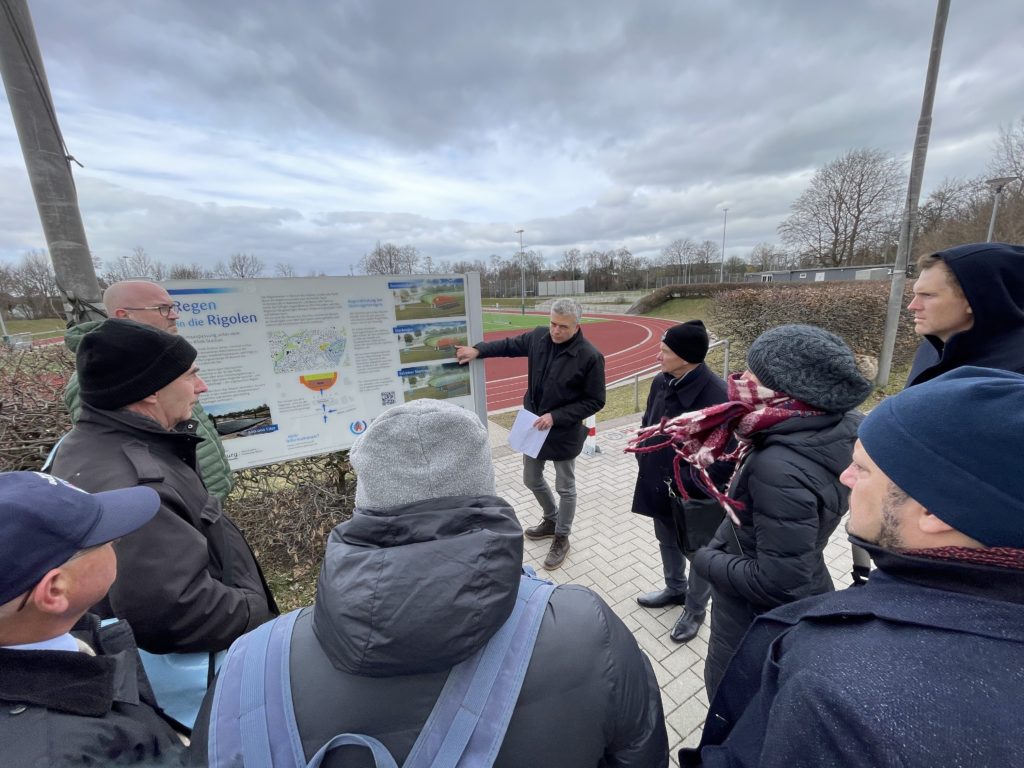 Reception by Mrs. Almut Möller, City of Hamburg, State Secretary and Plenipotentiary to the Federation, the EU, and for Foreign Affairs, Hamburg City Hall
The emphasis was on greening everything including the port, housing and transport. The city is very pleased to be part of IURC because they believe that the most fruitful learning is through city exchange.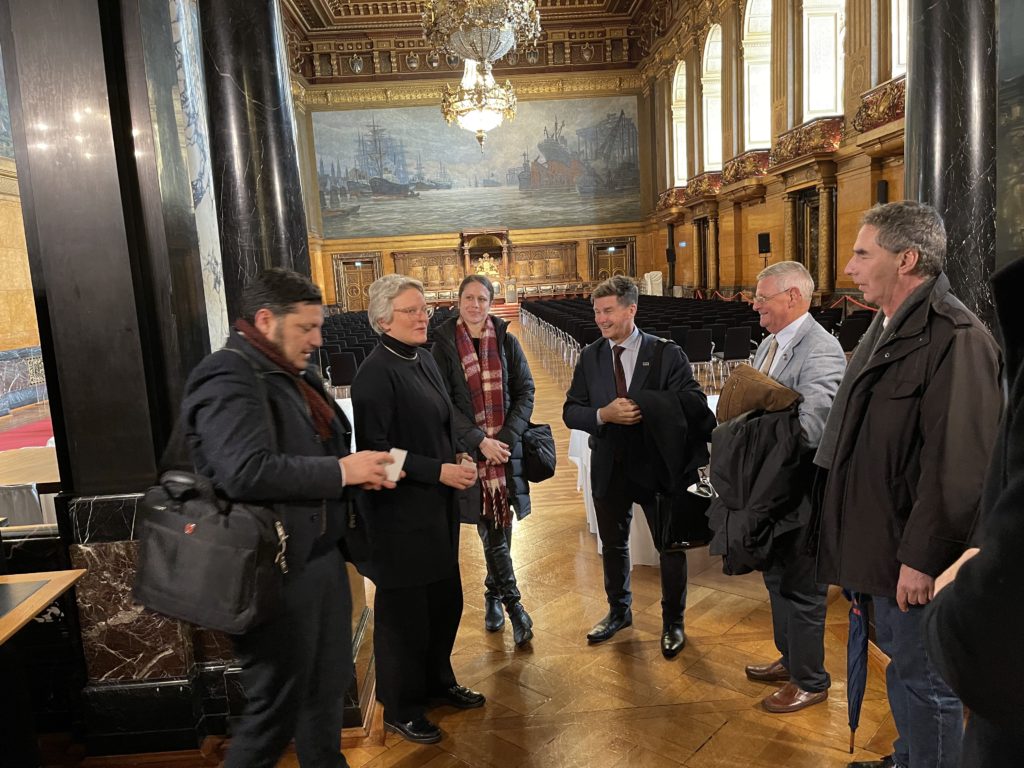 Debriefing of the visit and next steps
Possible pilot projects could focus on: hydrogen, drones, data systems, smart mobility, climate action, and the possibility of youth engagement. The Canberra delegates and the Hamburg team will each review the discussions and share some initial thoughts with the IURC Team, who will put it into the UCAP framework. An online meeting will be then organized in a few weeks.