On May 5th, 2023, a constructive IURC-China cooperation webinar was held, bringing together pilot cities and regions from Region of Western Greece, Alentejo Region, Fuenlabrada, and Hangzhou, to address the current challenges and share good practices related to digital skills for SMEs.
Presentations of the Good Practices
Mr. CHEN Jian, the Deputy Director of the Cross-border E-commerce Pilot Zone Office in Hangzhou Municipal Bureau of Commerce introduced the comprehensive talent cultivation program for cross-border e-commerce in Hangzhou. With the objective of bolstering the development of cross-border e-commerce expertise in higher education, the program encompasses a diverse range of offerings including courses, expert mentorships, international exposure, practical training, and innovative learning methods. A total of 20 universities in Hangzhou have integrated cross-border e-commerce courses into their curriculum. The program emphasizes hands-on training and encourages entrepreneurship. It also imparts holistic skills in areas such as entrepreneurship incubation, platform operation, logistics and service, marketing, and promoting direct-to-consumer (DTC). Furthermore, the program actively supports the "Silk Road Angel" cultivation initiative and encourages college students' innovation and entrepreneurial endeavours. By capitalizing on the advantages of cross-border e-commerce talent education, Hangzhou aims to advance China-EU exchanges and cooperation in a practical manner.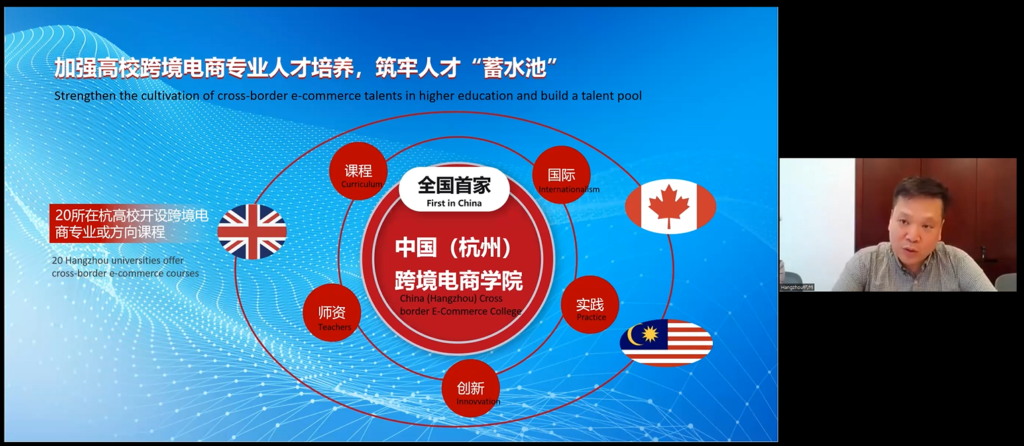 Ms. ZHANG Rui, Vice Dean of China (Hangzhou) Cross-border E-commerce College at Zhejiang Gongshang University, provided an overview of the college's key features. The college includes a cross-border e-commerce Hangzhou research institute, a national virtual simulation experiment center, and a cross-border e-commerce talent alliance. The colllege offers six courses in cross-border e-commerce payment and settlement, cross-border e-commerce logistics and global supply chain, cross-border e-commerce platform operation, cross-border e-commerce new media operation, business data analysis and visualization. The college boasts two national first-class majors: e-commerce and logistics management.

Deputy Director Ms. LI Zuo at Zhejiang Financial College, highlighted the college's significant contributions to the financial sector by educating countless successful financial professionals, renowned as the "Cradle of Bankers". She suggested collaborating on various cross-border e-commerce training programs, including the transformation of traditional trade model, operational skills on multiple platforms, data analysis abilities, direct-to-consumer (DTC) strategy, and enterprise digital skills.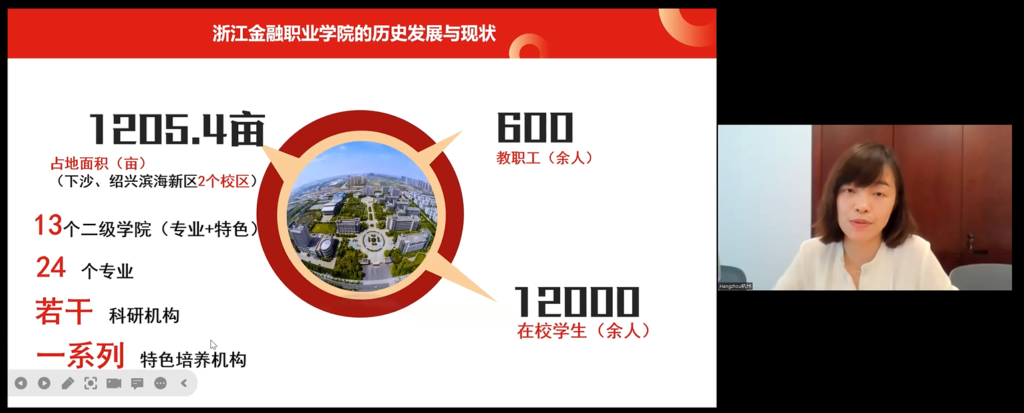 Senior Consultant Mr. LIU Qiang introduced the eWTP (Electronic World Trade Platform) and its initiatives. Launched by Alibaba in 2016 and endorsed at the G20 Summit, eWTP aims to foster collaboration and dialogue between public and private sectors for inclusive global trade. Alibaba Global Initiatives (AGI) provides first-hand exposure to e-commerce, inspiring entrepreneurs and business leaders to drive digital transformation and share their knowledge. The Alibaba Global Digital Talent Program (GDT) collaborates with educational institutions globally to support young entrepreneurs and digital talents.

Mr. Foiniko Zaimis, Deputy Governor of the Region of Western Greece, emphasized the importance of the constructive discussions and fruitful cooperation expected with Chinese cities, highlighting the region's commitment to fostering innovation and supporting skills development for SMEs. Professor Kostas Giotopoulos, from the Development Company of Chamber of Achaia, presented the Chamber of Achaia, one of Greece's earliest chambers established in 1836, which serves as a compulsory union for enterprises, merchants, manufacturers, artisans, and professionals. The chamber managed public projects including the Digital Ecosystem of Entrepreneurship of Achaia, which fosters entrepreneurship through a digital platform; CREATIVE@HUBS, establishing creative industry hubs for collaboration; MEDSt@rts, providing microfinance support to startups; SPARC, leveraging cultural heritage assets for sustainable development; INTECMED, supporting innovation and technological transfer through incubators; TRACES, offering an accelerator program for cultural and creative startups; and ECO-NautiNET, supporting SMEs in the nautical sector with a focus on eco-friendly practices. These initiatives aim to drive economic growth, innovation, and collaboration in the region.

Mr. Juan Carlos Hernandez Navas from the City Council of Fuenlabrada introduced the CIFE, a municipal centre offering training, employment opportunities, and business support to a wide range of stakeholders. The program encompasses vocational training in various fields, an employment guidance service, and a database for company recruitment needs. Additionally, it provides an Entrepreneur and Business Advice Service, along with a Business Incubator and Coworking Space. Notably, the centre is implementing the Digital Fuenlabrada initiative, in collaboration with AMTAS, which focuses on digitalizing local businesses. This initiative offers workshops, webinars, and resources on the latest digital technologies and trends, emphasizing benefits such as automation, virtualisation, behavioral predictions, and marketing. It also encourages the use of AI to enhance productivity. The webinars cover topics such as time management, digitizing administrative tasks, personal branding, digital positioning, and social media marketing, aimed at supporting SMEs in adopting new technologies and tools.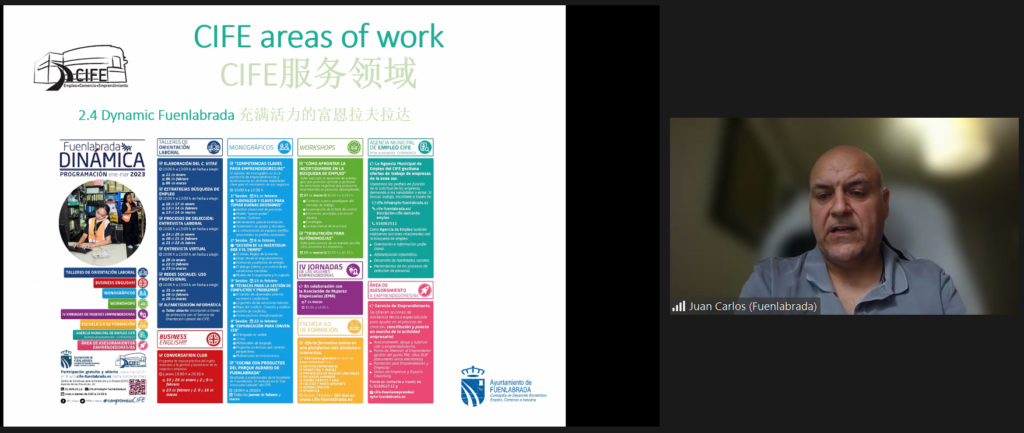 Mr. Daniel Janeiro from the Alentejo Regional Development Agency (ADRAL) highlighted the dynamic business environment and talent programs in the region, such as ADRAL Incubators Network highlighting the ÉvoraTech – a technology-based business incubator in Évora. The region cooperate with numerous partnerships to develop a vibrant entrepreneurial ecosystem and innovative activities in the Alentejo region.

Discussion and Next Steps
During the discussion session, participants explored potential cooperation in various areas, including cross-border e-commerce promotion, academic exchanges, the establishment of a cross-border e-commerce e-learning platform, and organizing events to support innovation and entrepreneurship. The webinar showcased valuable insights and experience in vocational training efforts and digital transformation in SMEs in IURC-China cities and regions. Furthermore, upcoming events like the Hangzhou International Cross-border E-commerce Summit in June and the Hangzhou Digital Trade Expo in December were highlighted, with European partners invited to participate for deeper strategic cooperation in the digital economy field. The webinar concluded by outlining the next steps in furthering collaboration among the participanting cities and regions.
The webinar was moderated by Ms WANG Qian, team leader of IURC-China.