25 September 2023
As part of the IURC thematic network 'Ecological Transition & Green Deal', on 25th September 2023, IURC AA (India) delivered the thematic event Legacy Waste Biomining: Challenges & Solutions. The aim was to share best practices on how to manage legacy waste. Officials from Panaji, Leh, Jamshedpur, Patna, Porbandar, Gangtok, Kochi, Chennai, Trier, Messina and the Greek Cities of Trikala, Farkadona & Meteora attended this 2-hour interactive event.
Mr Panagiotis Karamanos, Country Coordinator – India delivered the welcome address and introduced the IURC programme, while Ms Ansu Alexander, Helpdesk Coordinator, briefly set the scene on solid waste management context and landfill remediation targets and achievements in the EU and India. Two experts from EU & India and one city official from Leh, India presented about their experiences and learnings from legacy waste biomining in their respective regions. These presentations were followed by a Q&A session. The experts were:
Dr. Richa Singh, Program Manager, Centre for Science & Environment, India
Mr. René Møller Rosendal, Partner, Danish Waste Solutions & Senior Project Manager at AV Miljø, Denmark
Dr. Ishey Namgyal, President, Leh Municipal Council, India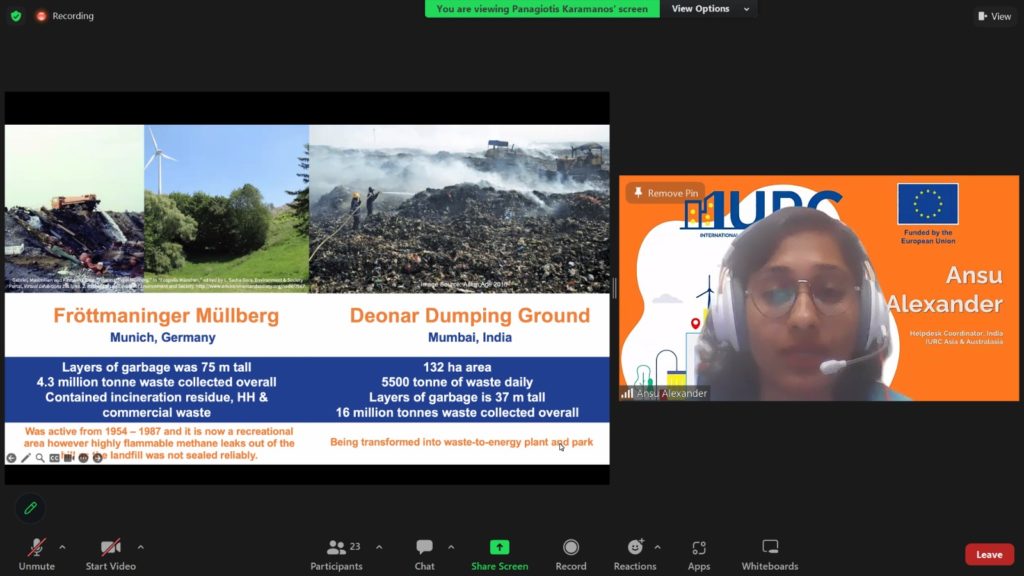 Dr. Singh detailed out the process of biomining along with the current status of landfills/dumpsites, composition of legacy waste, different methods of remediation, considerations during legacy waste processing, etc. The expert presented the machinery used in biomining, considerations during gainful application of recovered legacy waste and common challenges. The case studies of Ajith Singh Nagar in Vijayawada, Atladara in Vadodara and Bhanpur Khanti in Bhopal showcased how best practices in landfill mining contributes to sustainable development. Dr. Singh also mentioned the release of Toolkit: Legacy Waste Management and Dumpsite Remediation to Support Swachh Bharat Mission 2.0 in 2022, and Methane Emissions from Open Dumpsites in India in 2023, which are directly relevant to this topic.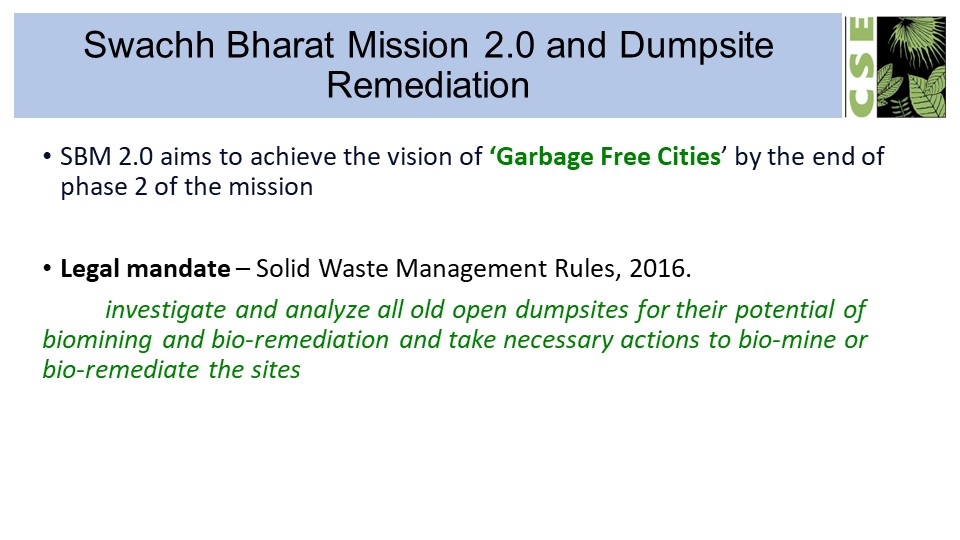 Mr. Rosendal introduced the concept of Enhanced Landfill Nining (ELFM) that connects the vision of circular economy with the need to use land more efficiently. Through an integrated approach, remediation is combined with the excavation, processing and recovery of the deposited waste thereby reducing the cost for remediation, reclaiming valuable urban land and recovering materials. He went on to share the experiences of EU countries in landfill mining projects, such as improving the policy environment, formulation of national regulations, focus on new technologies. He also discussed the various challenges, such as complex regulations, lack of full scale projects, and economic viability. He concluded, by suggesting that landfill mining has to go hand in hand with improved waste management, an effective policy environment, and a market for recyclables.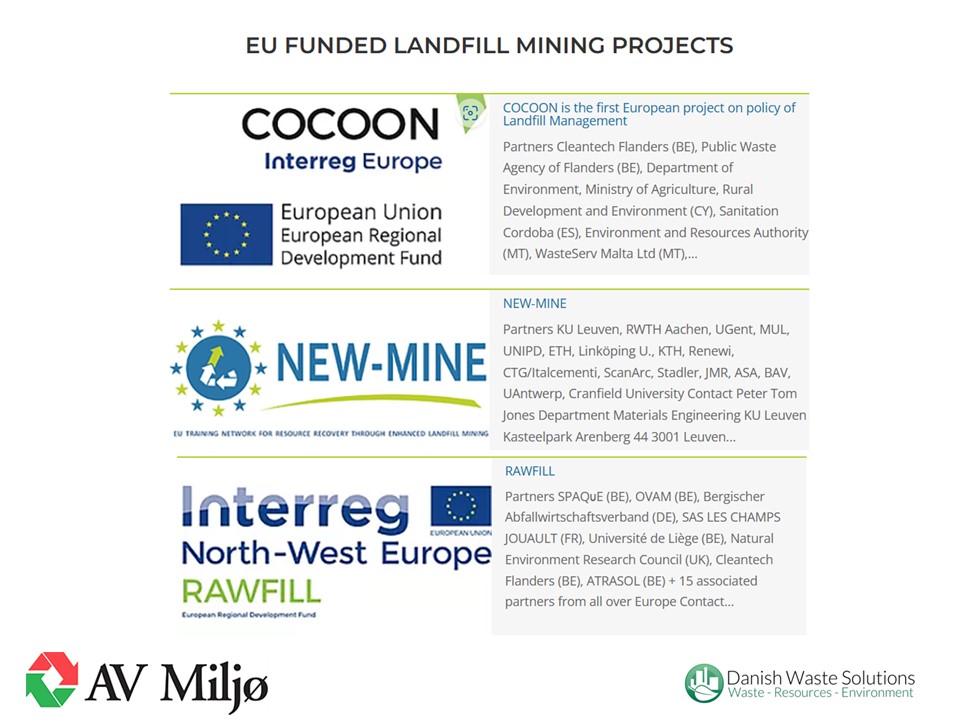 Dr Namgyal, from Leh, shared about the process the city followed to remediate the Bombgarh dumpsite, the challenges faced as well as the accrued benefits. Considering cost and area recovered, harsh climatic conditions, limited working months, higher transportation and labor costs, the most beneficial option was biomining. He shared his views about the machinery used, timeline, operational issues, plans to reuse the reclaimed land for a scientific slaughterhouse, construction and demolition waste treatment facility, green space, solar cell waste to art park and affordable housing project for migrant labour, as well as the necessary policy environment for success.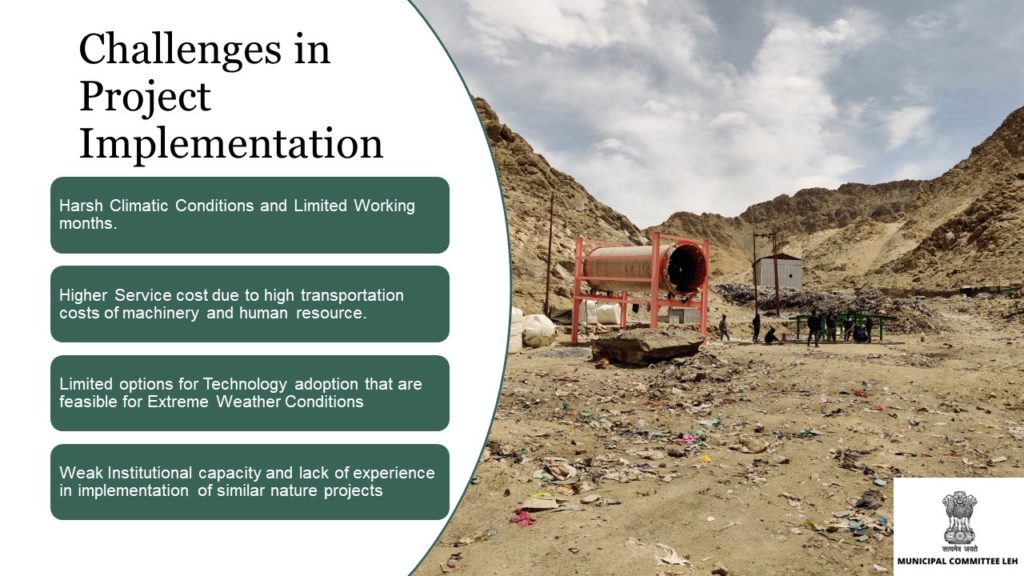 Questions by cities regarding legacy waste biomining, processes, technical issues, and challenges were addressed by the experts from their rich on ground experience. As a concluding statement, the experts indicated that political and administrative willingness mandated through policy and regulations, technological interventions and social awareness are the pillars of efficient solid waste management.
Dr Michael Bucki, Head of Section Sustainable Modernisation, Delegation of the European Union to India delivered the closing remarks by stating that both India and Europe have lot of work to do on solid waste management and particularly legacy waste. He added that Europe is strengthening its rules to make sure that none of its waste is exported abroad and stressed that the concept of circular economy remains pertinent and therefore that it is imperative to increase the proportion of biomining products. Dr. Bucki also expressed his satisfaction with the level of participation and interactions during this event and suggested that it is beneficial to co-develop waste management and biomining solutions.