30 October 2023
As part of the IURC thematic network 'Ecological Transition & Green Deal', IURC AA (India) delivered the thematic cluster event Digital Tools for Flood Management on 30th October 2023. Officials from the cities of Panaji, Kochi, Leh, Christchurch, Semarang, Surakarta, Penampang, Melaka, Rotterdam, Messina, and Meteora/Farkadona/Trikala (Greece) attended the interactive event, as well as representatives from organisations such as the Indian Institute of Technology, Chennai, World Resources Institute India, Resilience Strata Research and Action Forum, GOPA Infra GmBH, HafenCity University, Urban Intelligence Limited, etc.
The key learnings were:
Digital tools for flood management are helpful for cities to identify vulnerable hotspots and plan based on various scenarios.
Lack of data is a key barrier to developing digital systems. It is very important for a city to invest in building an open data infrastructure. In the meantime, cities can utilise existing information, such as input from the Integrated Command and Control Centre (ICCC) or other ongoing projects.
Collaborating with various stakeholders such as academia, research organisations, and civil society will support the development, operation, and maintenance of digital systems for flood management.
Building capacity of city officials is imperative for policy implementation and utilisation.
Mr Panagiotis Karamanos, Country Coordinator – India, IURC Asia & Australasia, welcomed all the participants, described the objectives of the IURC programme, and introduced the agenda and the speakers.
Mr. Bartosz Przywara, Counsellor for Climate/ Energy and Environment, Delegation of the European Union to India delivered the welcome address and indicated that both India and Europe are facing frequent flood events, causing devastating effects in cities. Therefore, the window for action is closing fast considering the severity of climate impacts globally. While many initiatives are ongoing within the EU-India cooperation on sustainability particularly in the sector of water, this workshop which brings together representatives and experts from across the world will help address the use of technologies to prevent or warn about disasters and therefore promote sustainability.
Ms Prachi Merchant, Urban Development Manager, IURC Asia & Australasia set the scene on the flooding context in India & Europe. She also shared a summary of the discussions from IURC's previous workshop on 'Nature based Solutions for Flood Management' held in April 2022 and closed by sharing about the pilot initiatives on water and flood management through the IURC programme in the cities of Kochi & Surat.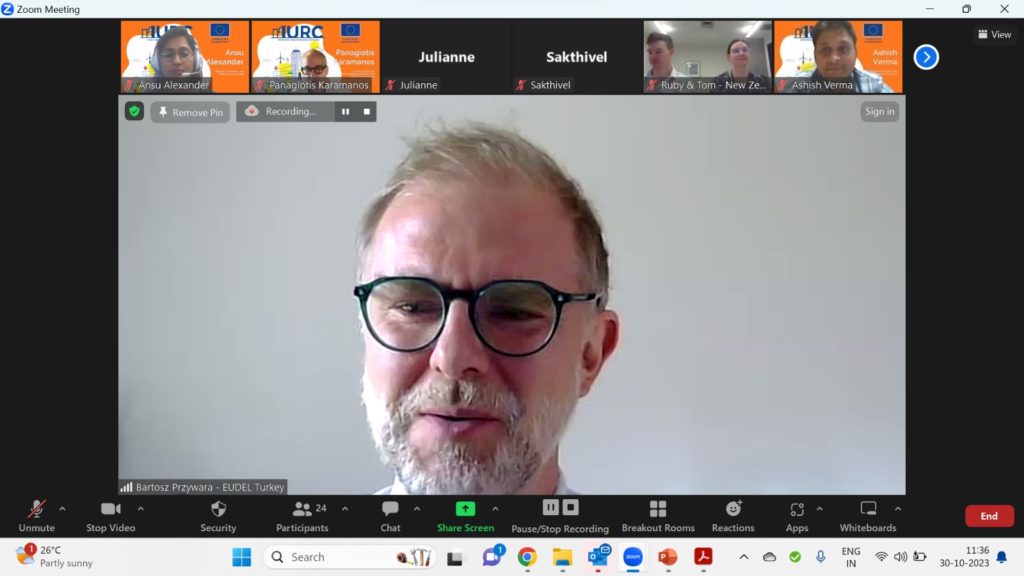 Experts from India, New Zealand and Europe shared about the digital tools employed in the regions for flood management. These presentations were followed by a Q&A session and round of discussion with city representatives on how such digital tools will be useful in their cities. Concluding remarks was delivered by Mr. Pablo Gandara, Team Leader, IURC Asia & Australasia.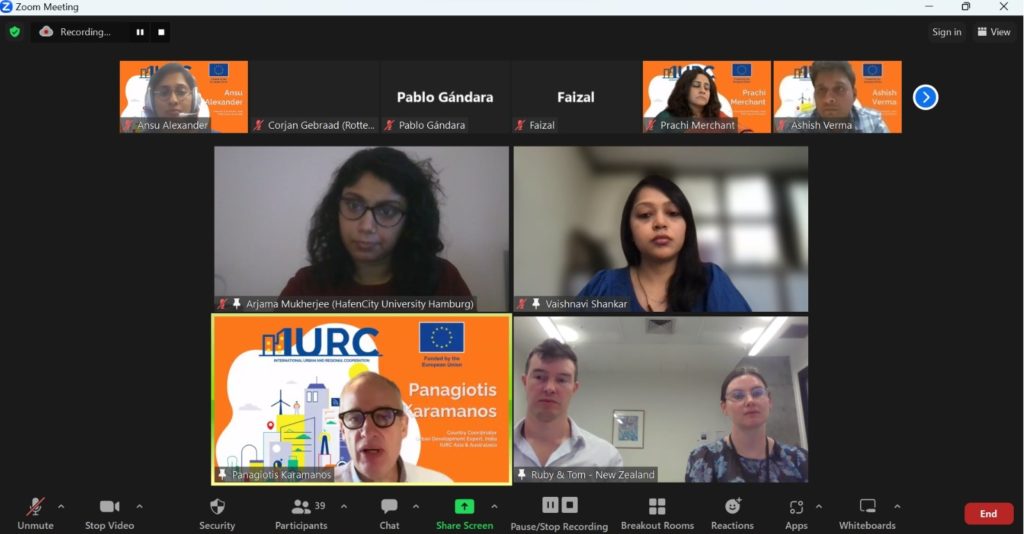 Ms Vaishnavi Shankar, Lead, Climate Centre for Cities, National Institute of Urban Affairs (NIUA), India
Ms Shankar presented the different digital tools a city could use in preparedness, response, recovery & mitigation in flood management. She talked about Government of India's Climate Smart City Assessment Framework implemented through NIUA to help cities assess their own preparedness to tackle the issue of climate mitigation and adaptation. The assessment indicated that 82 out of 126 Indian cities which are part of this framework have not initiated any flood risk assessment. This assessment will facilitate cities to adopt, implement and disseminate best practices and set standards in comparison to international efforts towards a green, sustainable, and urban resilient habitat. Sharing from 'A Catalogue of Best Practices for Building Flood Resilience' by NIUA, India, Ms Shankar shared 2 case studies, on the Flood Forecasting and Early Warning System (FFEWS) adopted by Kolkata Municipal Corporation and a fully automated early warning system adopted by Guwahati Municipal Corporation.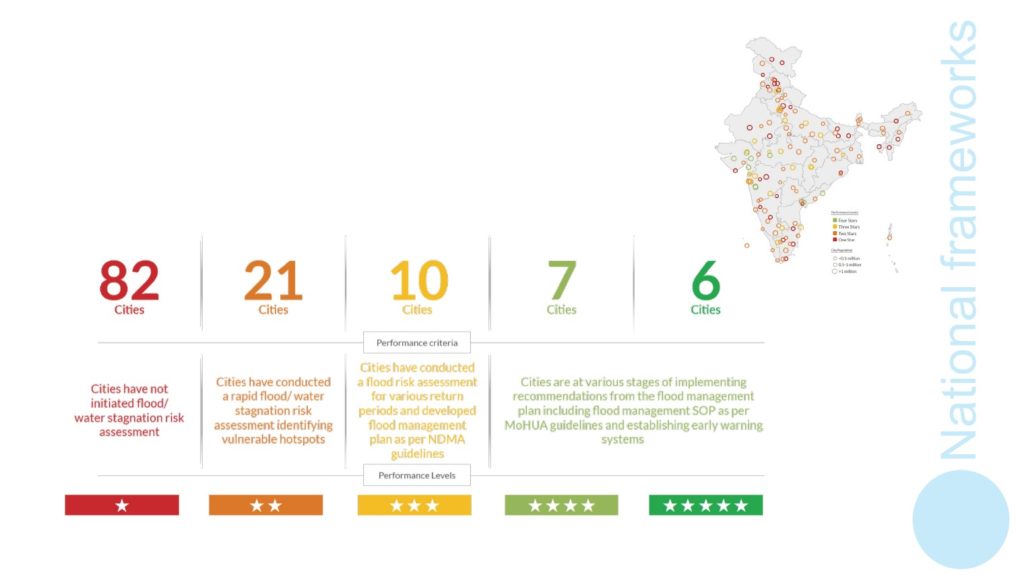 Dr. Tom Logan, Technical Director, Urban Intelligence and Ms. Ruby Clark, Senior Adaptation Advisor, Christchurch City Council, New Zealand
In a district with 400 km coastline and 32, 700 properties exposed to coastal hazards, The Resilience Explorer was developed and implemented in Christchurch city in collaboration with Urban Intelligence and the University of Canterbury to help the city plan for rising sea levels. The Resilience Explorer is an interactive, computerised copy of a town, city, region, or district which helps digitally test different scenarios to assess the impacts on infrastructure and the community. The team shared how various hazards, such as coastal inundation, coastal erosion, ground water rise, river flooding can be integrated into the Explorer and how risk information at an asset level can be obtained. Through this tool, the city is able to engage with its communities, identify the amount of infrastructure that is vulnerable to different amounts of sea level rise over time, and support the development of adaptation plans by helping the city understand which adaptation options will be effective and feasible over different timeframes.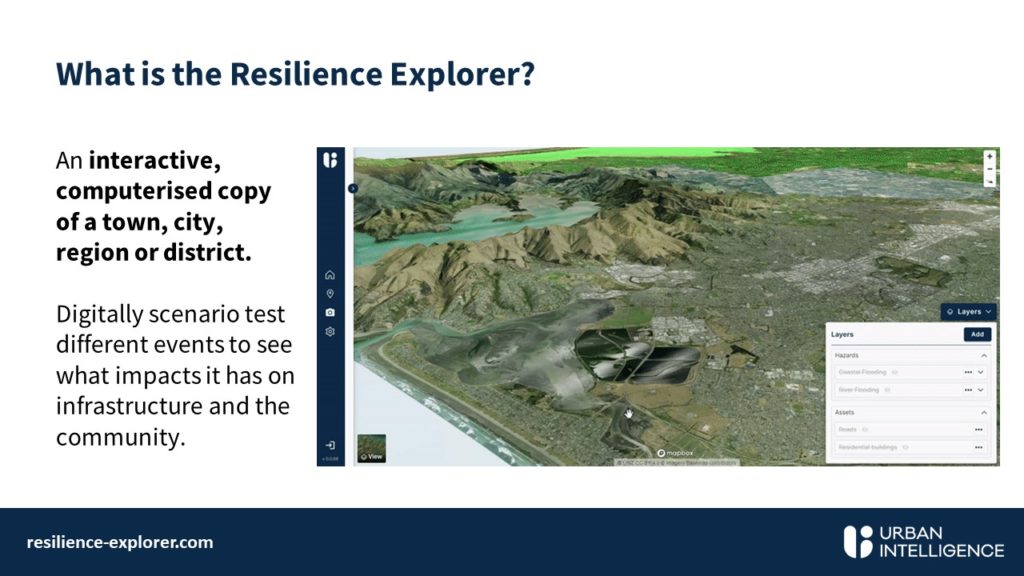 Ms. Arjama Mukherjee, Research Associate and Mr. Ergun Umut Yildiz, Research Assistant, Digital City Science, HafenCity University, Germany
Sharing about the Toolkit for Open and Sustainable City Planning & Analysis (TOSCA) tool, an open-source, web GIS tool for urban analysis, Ms Mukherjee mentioned that 4 pilot applications have been completed thus far and more are on the way. The team shared the TOSCA architecture which has an ability to work on all kinds of geo-spatial data while heavily relying on open-source data to make it accessible globally. Working across cross-cutting issues of data mapping, citizen participation for master planning and urban flooding, the team showcased their example of building a flood use case for the city of Kochi within the IURC programme. Mr Yildiz detailed out the process of developing a flood risk map – the data used, methodology employed, and results obtained. Combining both the flood hazard level and vulnerability level, the flood risk level was assessed.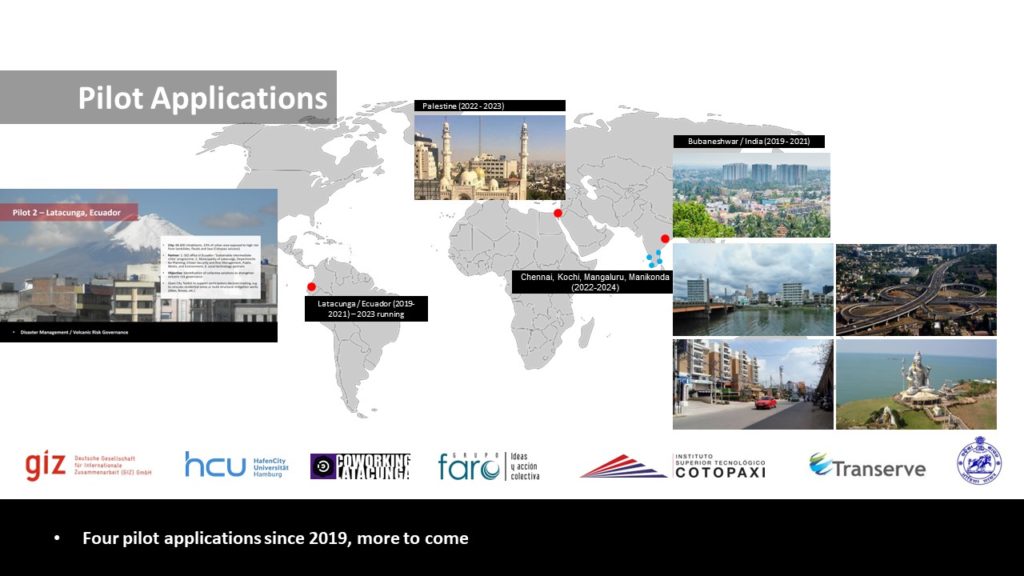 Mr. Pablo Gandara, Team Leader, IURC Asia & Australasia thanked the speakers for sharing best practices on digital tools for flood management. He went on to introduce Portico, a global virtual community which has been developed by a European Urban initiative as a knowledge hub as well as to facilitate exchange of ideas between peers and participation in discussions on sustainable urban development themes. He also introduced the IURC Knowledge library, a knowledge repository of resources and tools developed over the course of the IURC programme. Both platforms will be linked together within Portico and thereby all resources will still be available even after the close of the IURC programme. This will include resources not only from IURC but also from European Urban Initiatives, EU Urban Agenda, URBACT and other Cohesion policy actors to support urban practitioners in building their knowledge and skills. Mr. Gandara concluded by sharing about Horizon Europe, EU's research and innovation centre and their call for proposals from cities and the coaching which will be provided in the coming weeks to be able to apply for the calls.