The IURC covers a vast and diverse geographical area in Asia and Australasia, consisting of nine countries in total and spanning seven time zones. For the next three years, 68 cities from Europe and Asia and Australasia are expected to participate in thematic clustering, city pairing, training and networking events, with the aim of achieving concrete results through pilot projects in relevant areas of sustainable urban development.
IURC Asia and Australasia is a continuation and combination of three IUC projects in the first phase: IUC-Asia, IUC-Japan and IUC-India. Here, we talk to the three key experts of IURC Asia and Australasia about the current and past projects.  
Interviewees:
Pablo Gandara, Team Leader
Hidefumi Imura, Urban Development Expert, Japan
Panagiotis Karamanos, Urban Development Expert, India
What potential does your area hold for successful collaboration?
Pablo: The nine countries in Asia and Australasia we are working with cover a total population of over two billion inhabitants (over 1/4 of the global total) and include some of the world's fastest growing urban populations. The cities' challenges and opportunities vary considerably across the region with regard to demographic, socioeconomic and urban development levels. For example, Japanese cities face much higher population densities than Malaysian ones, and Indian cities grow at a much higher speed than Australian or New Zealand ones. However, most cities have rapidly reacted to the COVID-19 crisis and are launching local policy initiatives for a green post-Covid recovery in areas like urban food, green infrastructure and circular economy. Cities in the regions are eager to exchange solutions with EU cities for their growing populations' needs, including housing, transportation, energy systems, employment and basic services. The rich cultural heritage potential of Asian and Australasian is – compared to European cities – still untapped and bears significant potential for urban cooperation.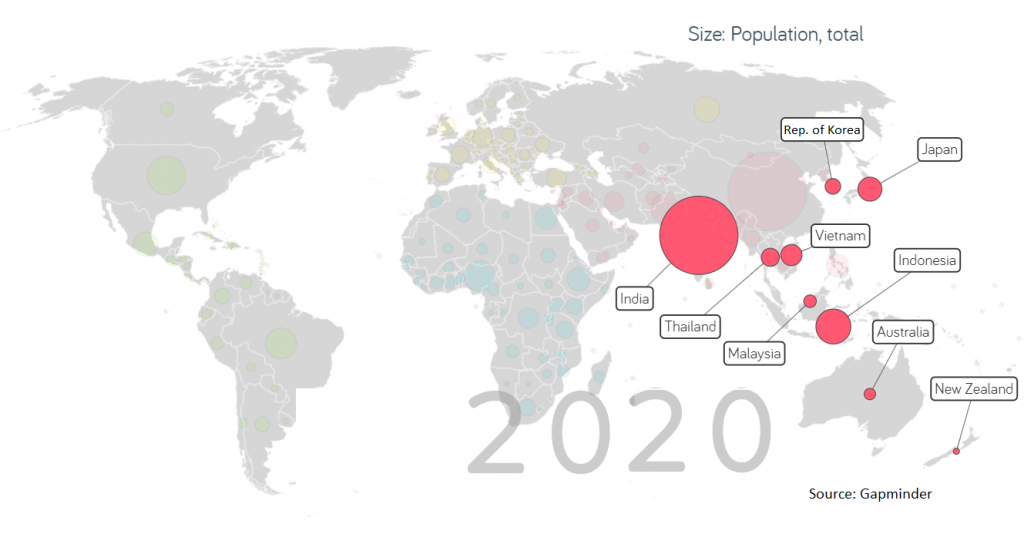 Source: Own elaboration from Gapminder World 
What are the main expected issues – what do you feel your geographical area can gain from, and what can it contribute to, EU cities/regions?
Pablo: Whereas language and cultural barriers are considerable in some countries, English is in the majority of the nine IURC Asia and Australasia countries either the main working language or well-spoken within the city administrations as well as among urban stakeholders from business, academia and civil society. Thanks to the high-level support provided by the EU Delegations, cities in Europe may get access to decision makers from large cities in Asia, willing and capable of mobilising resources for the cooperation. Thanks to the experienced IURC experts' teams in the project countries, we will help European cities to identify the right counterparts to bring concrete results and – thanks to the IURC competitive award to be launched in 2022 – selected pilot projects (to be proposed by the European cities) may be able to receive seed-funding.
Can you give specific cases of successful collaboration, past or ongoing, between an EU city/region and a city/region in your geographical area?
Pablo: In Thailand, we are currently exploring a green city development cooperation with the urban authorities as well as with urban stakeholders from civil society. Also, cultural heritage is an area of high interest for possible cooperation.
In Malaysia, thanks to cooperation with EU cities within the IUC project, cities have developed circular economy solutions to diminish the use of plastics and construction waste. Back in 2020, some 250 experts from the EU and Malaysia took part in online consultations, including quadruple helix representatives from government, the private sector, research and civil society. Three pilot project concept notes and a blueprint for Malaysian cities to shape their transition towards circular economy were drafted (the blueprint is downloadable here). The blueprint includes ideas to shape the current and post-Covid-19 future of cities for the transition.
Hidefumi: Japanese cities have rich experience in smart city development, energy transition and circular economy, and they wish to learn from EU cities about European approaches for green recovery and climate mitigation and adaptation measures. An example is Toyota City, which has Toyota motor company and is interested in the next generation urban transportation system and promotion of "mobility as a service." It is also promoting a FabLab (fabrication laboratory) for nurturing and supporting young engineers. Grenoble-Alpes Metropole in France shared common interests with Toyota City. They cooperated for deployment of hydrogen, use of electric vehicles, and incubation of ventures.  Grenoble-Alpes Metropole was also interested in Toyota's method for engaging citizens in promotion of the Sustainable Development Goals. Grenoble-Alpes Metropole participated in the Symposium organised by Toyota in March 2021.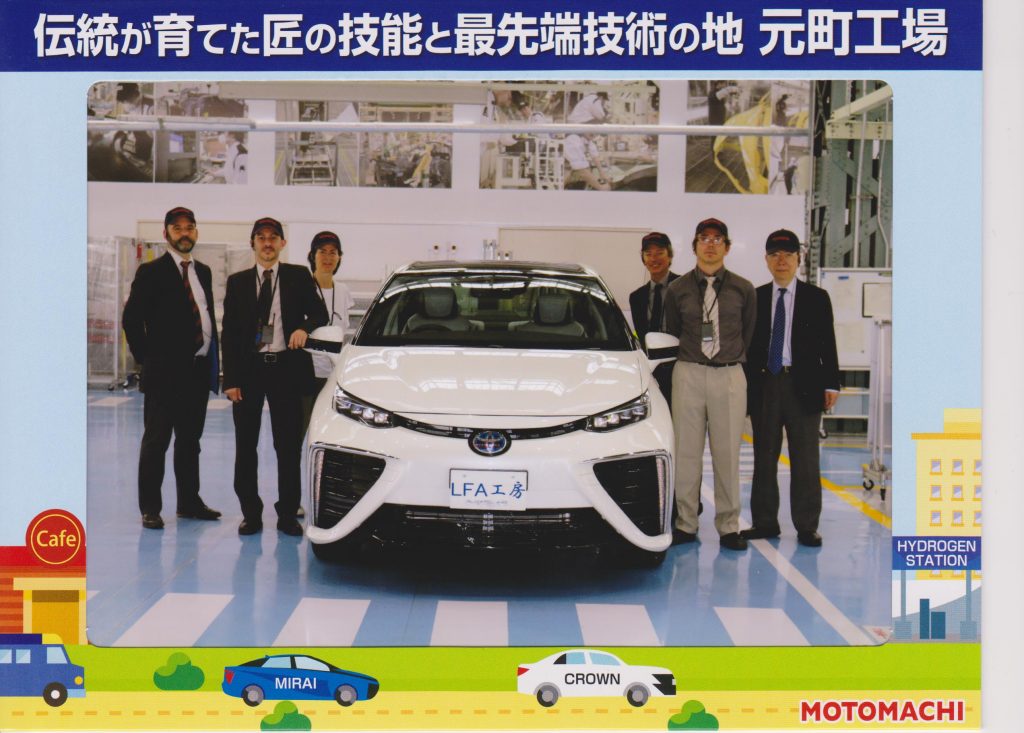 Panagiotis: In India, IUC supported the effective cooperation between the cities of Panaji in Goa and Dubrovnik, Croatia, on mobility. Panaji was inspired by Dubrovnik and is keen to implement a smart parking solution in the city centre. A detailed project report was formulated by IUC-India with city information, urban transport status and challenges, a review of case studies in India and Europe, a parking solution with technical and financial analysis, etc. The proposed solution is based on underground sensors, a mobile application, a guidance system, etc., for approximately 100 car spaces (see figure below). In addition, three EU technology providers made technical and financial proposals. All this information has been shared with the city authorities, while IUC-India is sharing the project information with financing institutions in order to assess potential financing options. For more detailed information see: https://iuc.eu/resources/?s_title_o=panaji&s_topic=&s_sdg=&s_type=&s_country=&s_language=&c=filter.
Can you share some nice memories from previous cooperation?
Pablo: Within the IUC project, I was coordinating the EU-China city-to-city cooperation. One of the most impressive moments of the implementation was the inauguration of the cargo railway line between Mannheim in Germany and Chongqing in China. In October 2018, cranes were moving containers 20 meters above the head of Chinese dragon dancers and the TV reporters in the cargo area. This was an impressive ceremony that marked the result of year-long work between both city administrations and their partners from the business community.
Hidefumi: As a project coordinator for IUC-Japan, I participated in several mutual visits of Japanese and European cities, and the most impressive memory was the cherry blossoms in full bloom in Hirosaki City in Japan when the delegation from San Sebastian City of Spain visited there in April 2018. Hirosaki City was a castle town in the 17th to 19th century, and the castle tower remaining in the castle ruins park in the centre of the city is famous. Countless cherry trees are planted in and around this park, and the colour in full bloom is nothing but splendid. At night, the cherry blossoms were reflected on the surface of the water around the castle, which was also splendid. Walking under the cherry blossoms, experts from Hirosaki and San Sebastian exchanged ideas about renovation of old cities and energy conservation of refurbished buildings.
Panagiotis: In August 2019, eight cities of Gujarat formed the Covenant of Mayors of Gujarat-COMG (i.e., Gandhinagar, Ahmedabad, Surat, Bhavnagar, Vadodara, Rajkot, Junagadh, Jamnagar). Through this network, cities have connected and gained new perspectives on pressing climate change and sustainable development issues. The Climate Change Department and Urban Development Department of the Government of Gujarat as well as IUC-India provided requisite support and guidance to cities in their climate action efforts (e.g. contribution to the development of Climate Action Plans). The IUC-India team was in active dialogue with senior officials of the state and cities to collect information related to climate policies andprojects, and to create core competencies in local government for the integration of climate change and energy resilience perspectives in their planning. COMG shows the commitment of Indian cities regarding climate action.