Capacity building for development of Climate Action Plan
Makassar, the capital of Sulawesi Province in Indonesia, began its cooperation on energy and climate change within the Global Covenant of Mayors for Climate & Energy (GCoM) programme in July 2019 when the European Union made a roadshow to the city. Across Indonesia, cities had faced two interlinked challenges: rapid population growth and the impact of climate change. As a coastal city with hillsides in the periphery that border other municipalities, Makassar was exposed to different climate hazards due to its geographical characteristics, including coastal abrasion, flooding and landslides.
In September 2019, the city signed a commitment letter to receive capacity-building support from the European Union through the IUC programme. It was also one of the five Indonesian cities signing a memorandum of understanding to be a GCoM pilot city and develop a Climate Action Plan. A workshop was held in March 2020 to enhance city officials' ability to develop a greenhouse gas (GHG) inventory, which is important for understanding activities and major sources of emissions. Run by the Centre for Climate Risk and Opportunity Management (CCROM) as a technical partner of IUC Asia, the workshop offered a list of required GHG activity data and the possible sources of data to be gathered. All these would help to identify areas to focus emission reduction activities; establish and measure progress toward goals; refine or improve existing projects; and facilitate decision-making about future policies.
Two more meetings were organised with Makassar City in May and September 2020 to review progress on the development of a GHG inventory, address challenges in data collection and discuss mitigation strategies. Results from Makassar's interim 2019 GHG Inventory Report showed that its CO2 emissions in 2019 increased by about 34% compared to the 2010 level with the energy sector (use of fossil fuels for energy consumption) contributing about 91% of the total GHG emissions. Identified potential mitigation measures included providing rapid mass public transport, fossil fuel switching, development of pedestrian and bicycle lane networks and the introduction of electric vehicles.
Assessing risk and vulnerability
The second capacity-building workshop was organised in June 2020 to assist Makassar City to conduct climate adaptation planning based on a Climate Risk and Vulnerability Assessment (CRVA), which focuses on how vulnerability to a climate hazard can be offset by adaptive capacity. Also, the workshop addressed the need to integrate climate change adaptation considerations into a city development agenda to ensure continued development gains and future inventions that are resilient in the face of a changing climate.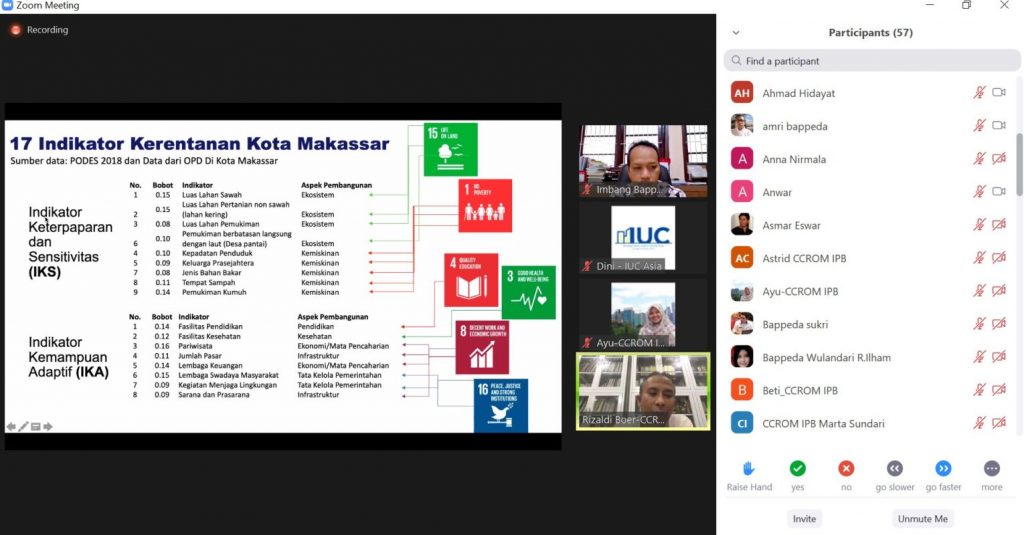 Developing an action plan
Technical assistance was offered to all the GCoM pilot cities to develop their Climate Action Plans. The final webinar was organised in November 2020 to discuss the action plan each city had developed and the lessons learned during the development process. These lessons included the added value of harmonising national mitigation and adaptation platforms with the GCoM Common Reporting Framework (CRF), the importance of synchronising/integrating mitigation and adaptation actions into the city's strategic development strategies, the need for international cooperation through technical training and the better understanding to climate change vulnerability through the making of the action plan. Makassar's presentation at the webinar can be found here.
"The EU is at the forefront of the fight to avert the worse consequences of climate change, and its foreign policy is aligned with those objectives," HE Vincent Piket, Ambassador of the European Union to Indonesia.
For more information on the EU's climate support to cities in Southeast Asia, please download the publication "Climate Action Plan Development in Indonesia, Malaysia and Vietnam".