Some 20 city coordinators from Penang and Malacca in Malaysia, Maia and Vila Nova de Famalicão in Portugal, and NCI / Bologna in Italy participated in the EU-Malaysia Cities Kick-off Meeting on 15 September, marking the launch of the IURC programme in Malaysia.
The meeting was opened by Mr. Francesco Floris, Head of the Economic and Trade Section, EU Delegation to Malaysia, followed by an introduction to the IURC by Dr. Ronald Hall, Senior Advisor to the Directorate-General for Regional and Urban Policy of the European Commission, and the IURC team including Mr. Pablo Gándara, Team Leader of IURC Asia & Australasia, Ms. Jacqueline Chang, Country Coordinator Malaysia and a circular economy specialist, and Mr. Jens Bley, Cluster Manager Smart City & Digital Transition.
The meeting created an opportunity for the EU-Malaysian cities to e-meet and to give a preliminary briefing of what the IURC programme is all about and what is the endgame. It provided a platform to generate better understanding of what the EU-Malaysia city-to-city cooperation hopes to achieve. Also, cities from both sides had the opportunity to ask questions to align thoughts to start thinking of the target focused areas of cooperation while understanding Malaysian cities' key challenges. The meeting also helped to manage expectations of EU-Malaysian cities with regard to the participation in the IURC.
The participants were keen to showcase their cities and thematic priorities and to learn about the next steps for their cooperation. Thematic areas discussed include circular economy, green infrastructure, sustainable urban planning, mobility, tourism, smart city / digital transition and job creation in a post-Covid urban scenario.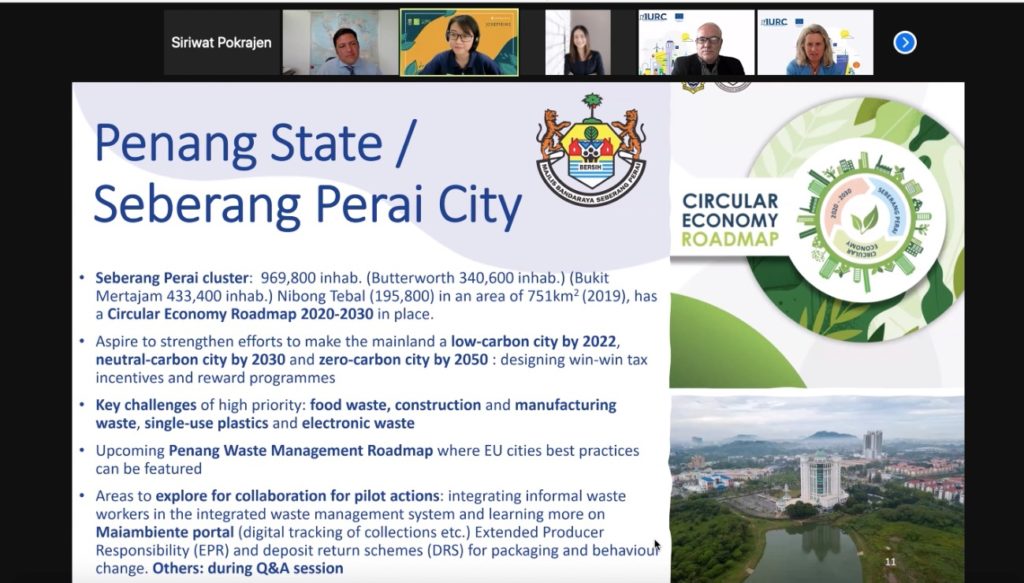 Brief information about the participating cities and organisations in this cooperation can be found in the files below.
Here is a list of organisations from EU and Malaysian cities that participated in the meeting.
Malaysian Cities
City Council of Penang Island
Penang Green Council
Seberang Perai City Council
Melaka Historic City Council
Melaka State Government
Melaka Chief Minister's Department
Urbanice Malaysia
EU Cities
Municipality of Maia
Nuovo Circondario Imolese NCI
City Council of Vila Nova de Famalicão
Eixo Atlantico, Maia