IURC cities engaged in Circular City Hubs discussions and recommendations
Organised on 14 December, the Circular City Hubs thematic webinar was the final one for the 2021 programme year. The IURC Asia & Australasia team attracted 176 registered participants from 23 countries, namely Australia, China, India, Indonesia, Ireland, Japan, Malaysia, Republic of Korea, Thailand, Vietnam, Belgium, Bulgaria, Czech Republic, Finland, Germany, Greece, Italy, Portugal, Sweden, Spain, Brazil, Mexico and Peru.
The fifth thematic webinar was organised jointly by Ms. Jacqueline Chang, IURC Country Coordinator in Malaysia (who was also the moderator) with IURC Country Coordinators and Helpdesk members including Mr. Bruce Wilson and Ms. Maren Klein (Australia), Ms. Dini Laraswati (Indonesia), Ms. Lena Lindahl (Pairing Manager, Japan) and Mr. Siriwat Pokrajen (Thailand).
The thematic webinar focused on the key locus of circular change: cities, which have taken the initiative and implemented a range of circular measures, seeking to become fit for the 21st century. IURC cities and city leaders examined how we could take full advantage of the wealth of opportunities in cities to create a system that can work long-term for the economy, society, and the environment. The key experts from Australia, Indonesia, Malaysia, Thailand and Finland from the IURC network also shared how we can use our current resources to re-design cities from within as vibrant systems that operate and provide better public services more efficiently, improve how buildings are used, re-imagine food smart cities and how to better protect the well-being of citizens.
Mr. Francesco Floris, Head of Trade and Economic Relations from the European Union Delegation to Malaysia, provided the opening remarks and highlighted how the IURC programme is involving city-to-city collaboration with 86 cities in Asia, Australasia and Europe. He thanked the city and circular economy experts for taking the time to share both on-the-ground solutions and recommendations on five identified challenges from key sectors namely (1) waste management; (2) built environment (3) food waste (4) plastic waste; and (5) how Turku's Circular Economy Roadmap is integrating climate plans and biodiversity protection to advance circular solutions at a city level. He also shared how the IURC serves as a facilitator for the cooperation between EU, Asian and Australasian cities to encourage exchange of inspirations and best practices in mainstreaming circular economy principles to enable cities to become more resource efficient.
Key takeaways from the thematic webinar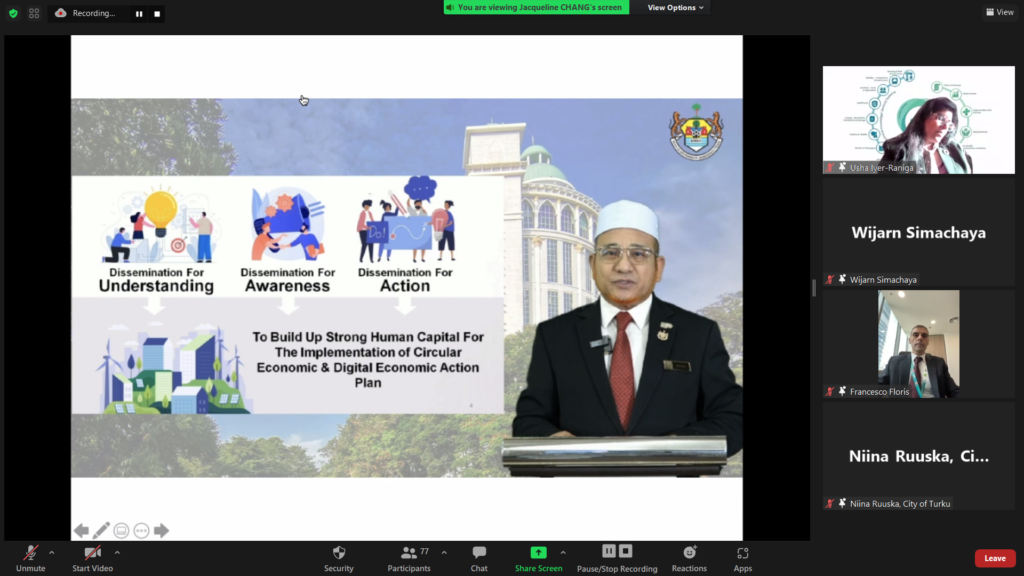 YBhg. Dato' Sr Hj Rozali bin Hj Mohamud, Mayor of Seberang Perai, Malaysia, presented the Seberang Perai Circular Economy Roadmap 2021-2030 and shared how Seberang Perai is collaborating with IURC cities in Europe such as Maia and Vila Nova de Famalicão in Portugal and other countries to realise their targets of becoming a carbon neutral city by 2030, a zero-carbon city by 2050 and how to better address climate change effectively. He highlighted that the Seberang Perai City Council has charted a clear direction for the city and is committed to uphold the Penang 2030 agenda "A Family Focused Green and Smart State that Inspires The Nations" to becoming a green and resilient city which practises inclusivity and is equitable and people-centric focused. To achieve the SDG targets, the Mayor shared the Seberang Perai's corporate KPIs such as to increase recycling rates to 70% from 55.9% (as at 2020, which currently is the highest recycling rate in Malaysia), reducing solid waste by 50% per capita (from 1.6kg per capita to 0.8kg per capita per day) and to provide 100% LED street lighting throughout the city.
To assist the Seberang Perai to recover from the post COVID-19 pandemic, the circular economy roadmap will guide city implementers to reduce the amount of domestic solid waste disposal by implementing projects to include Waste to Energy, Waste to Protein and Waste to Compost. Some key highlights were Padang Chempedak Green Education Centre with UPSI and Urbanest and its application of the fertigation technology, development of a mini manufacturing kiosk for a community plastic recycling knowledge programme with University Sains Malaysia, community gardening programmes for 30 communities in 3 districts, various urban farming programmes coupled with competitions, community growth markets and upcycle carnivals such as the first upcycle park in Bandar Perda in Malaysia, which was featured in the Malaysia Book of Records 2018. He also shared with the IURC cities that Seberang Perai will host a study tour visit taking place from 14 March 2022 onwards and shared key projects sites where participants can witness how a zero-waste community and organic farming was cultivated in Taman Bagan Lalang (urban town) and in Permatang Nibong Village (green village). He also highlighted the school projects implemented by green schools in Penang and green school awards, which are held yearly.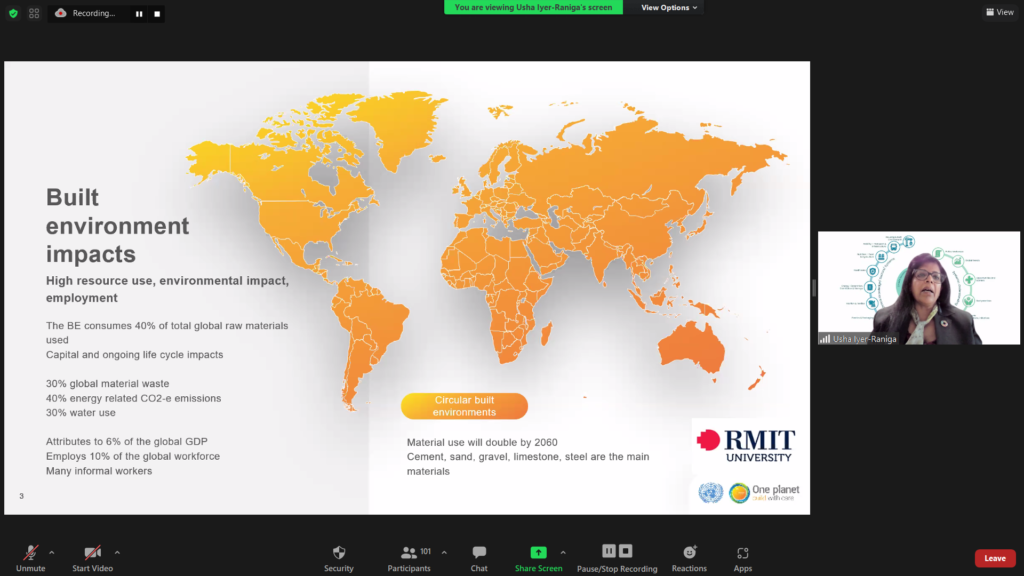 Professor Usha Iyer-Raniga from the School of Property and Construction Management, RMIT University, set the scene and shared some key findings with the audience. By 2050, municipal solid waste globally is expected to change from 2 billion tonnes in 2016 to 3.4 billion tonnes. Globally, buildings and construction are responsible for nearly 40 per cent of CO2 emissions and by 2035 the potential for global energy savings attributed to the built environment is 40%. She highlighted that with global building stock set to double in area by 2060, the built environment sector needs a transformative shift towards more sustainable development if it is to deliver the net zero emissions ambition.
This can only be achieved through collaborative working practices across all disciplines and scaling the on-the-ground initiatives. From project planning and financing to design, construction and management, the built environment is complex, with projects involving many stages of work. Developing a sustainable and resilient built environment fit for the future will require industry, finance and policy leaders with advanced knowledge and skills in leading interdisciplinary teams through collaboration, innovation, and sustainability. Hence, built environment professionals have to deliver exceptional future-fit circular built environment projects that encapsulates the deep-skill discipline of many individuals who share a collective vision and purpose. She provided references to 20 case studies in Africa, Asia, Latin America and the Caribbean as well as 10 global recommendations. She also invited the stakeholders to take part in One Planet SBC Circular Built Environment (CBE) State of Play Survey.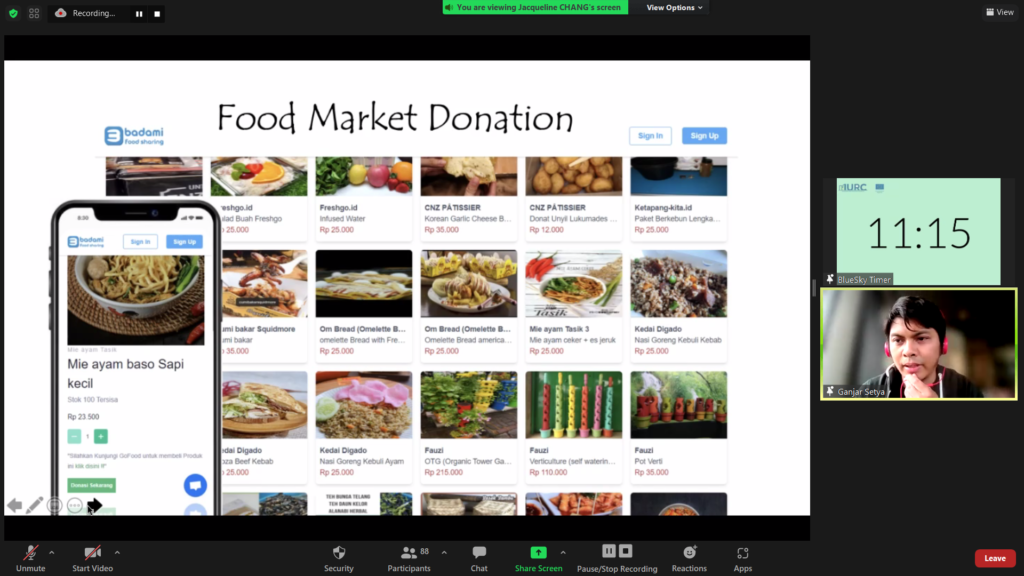 Mr. Ganjar Setya Pribadi from the Communication and Information Technology Division of the Bandung City Government, Indonesia, shared how digitisation can address the urban regenerative food system. Collaborating with the partners, the Bandung City Government developed a digital platform, "Badami Food Sharing", offering an innovative solution to reduction of food waste and sharing the food with those in need via an app. This kickstarted a caring movement which was activated during the pandemic to address the food waste crisis in Bandung city based on the core principles of honesty and trustworthiness that benefits the masses. He explained that the platform worked in several innovative ways to bridge the public to reach out to those in need.
Firstly, it allows the public to purchase food directly from the food suppliers of micro, small, and medium enterprises (MSMEs) either for their consumption or for donation purposes. He emphasised that this solved a two-pronged problem in Bandung City: MSMEs had faced a downturn in business during the COVID-19 pandemic and the vulnerable groups suffered from lack of food and nutrition. Secondly, the platform allowed the public to donate money through the crowdfunding platform, which was further used to purchase the food from the MSMEs directly. Lastly, Badami also served as a donation hub to collect any food surplus that would otherwise go to landfills. Since its launch in December 202o, Badami has donated food surplus to more than 2,500 people. One of the important key taglines from the videos was "Donate digitally during the pandemic to benefit the masses" and "Your donation sparks joy in others". The key lessons learned revealed in his presentation demonstrated a successful model of how digital solutions are key enablers to advance circular food solutions during the pandemic as well as the active involvement of community members such as the Badami Food Heroes.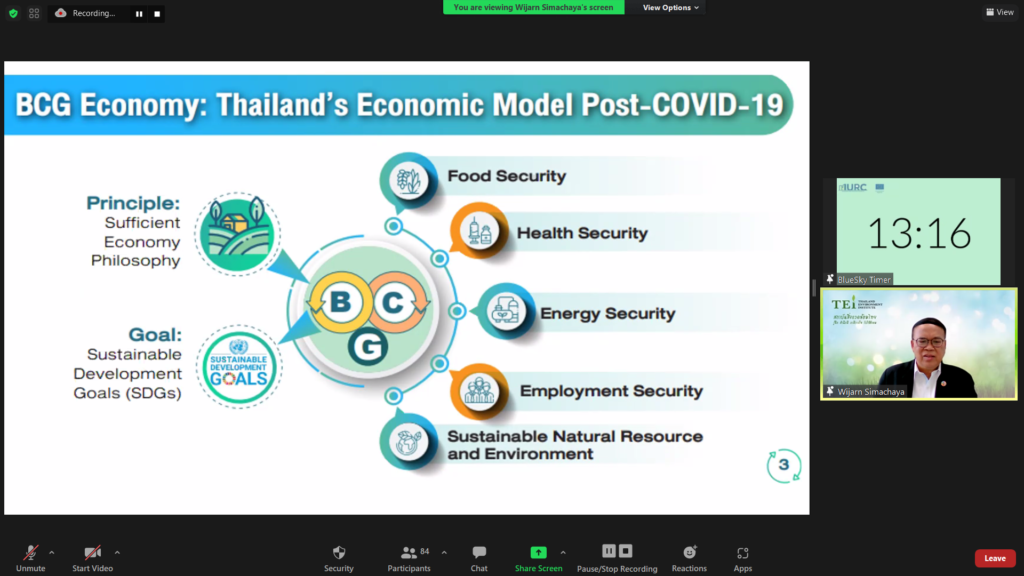 Dr. Wijarn Simachaya, President of the Thailand Environment Institute (TEI), Secretary-General of Thailand Business Council for Sustainable Development (TBCSD) and the Chairman of the Circular Economy under the Bio-Circular-Green Economy Model, explained Thailand's BCG Economy Model and how it interrelates with the nation's circular economy initiatives and Thailand's Big Rock 4.0 as a sustainable and inclusive approach for the region's socio-economic development in the post COVID-19 era. Under a framework that will be effective from 2021-2026, the Thai government will sharpen the country's capacity in science, technology and innovation to boost competitiveness of key sectoral players. Essentially, the BCG economic model aims to drive the country's economic growth from within by achieving the United Nations' Sustainable Development Goals, while maintaining competitiveness in the global economy and catching up with increasing global attention to circular and green economy principles. In turning waste to use, regenerating natural systems, shifting towards more environmental products, amongst others, the Thai government expects the circular and green economy to create new investment opportunities among small and medium-sized enterprises and communities.
He highlighted how the Big Rock project opens pathways for Thai cities to collaborate with city experts under the IURC programme to tackle 3 major challenges by exploring the know-how to create comprehensive integrated plastic waste management solutions, management and integration of information for reduction of food loss and food waste at a national level, and the development of a circular economy in the construction sector. In relation to Thailand's Public-Private Partnership for Sustainable Plastic and Waste Management (PPP Plastics) , he shared two city models. One was from Khlong Toei (a district in Bangkok) focusing on tackling plastic waste (bags and film packaging) with department stores, hospitals, hotels and office buildings where drop-off points called "Magic Hand x Won" are applied in strategic locations to create a close loop system. The second one was from Rayong (a city on the east coast of the Gulf of Thailand) and how the PPP Plastic's Infrastructure has integrated circular economy waste management models. He shared how the "Rayong Less-Waste project" aims to expand the community and local waste management model with a circular economy model in Rayong Province by transferring knowledge to create knowledge and understanding of waste management to cover all 68 municipalities of Rayong Province. This helps to generate income, a career, good quality of life and reduce the amount of plastic waste that goes to the landfills in Rayong. He also highlighted how the five key drivers acting as working mechanisms of the BCG-Circular Economy is applied in the city context.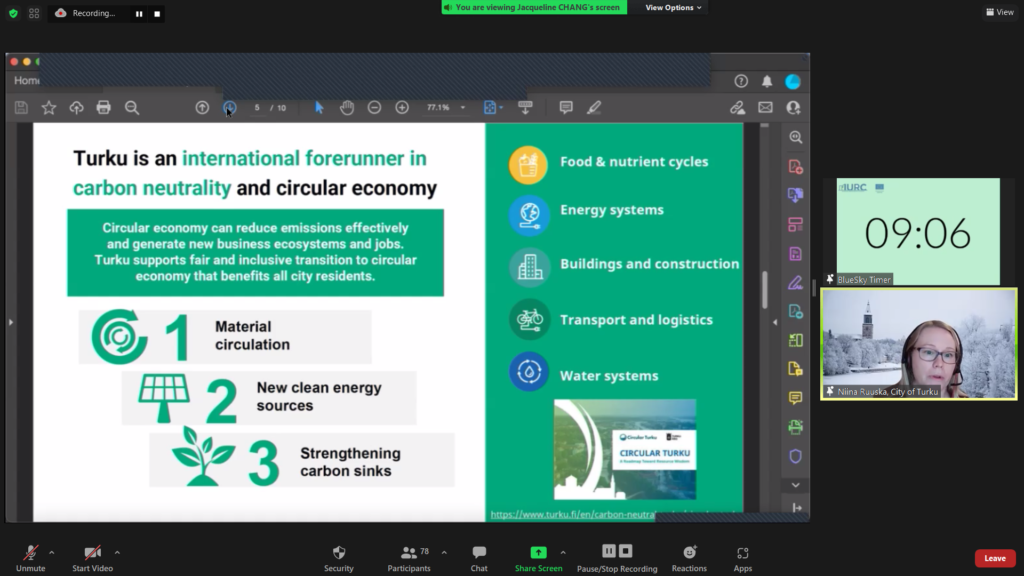 Ms. Niina Ruuska from the Climate and Environmental Policy Unit in the City of Turku, Finland, ended the thematic webinar by providing a succinct sharing of how the Circular Turku roadmap is the first circular economy roadmap to include a social risk assessment for the planned interventions to ensure the Circular Turku transition is fair and inclusive. In the last two years, the city of Turku convened over 200 local and regional stakeholders to design interventions that enable the transition for Turku to a circular economy. She also explained how it helped address greenhouse gas emissions in a systemic manner, beyond territorial and sectoral boundaries.
She also highlighted how Turku is integrating climate plans and biodiversity protection in five key sectors (food, transport and logistics, buildings and construction, energy and water) to identify interventions along ICLEI´s Circular City Actions Framework. These interventions were designed to support a transition to zero emission and zero waste and protect biodiversity, in line with Turku´s resource wisdom goals. She explained for each of the five key sectors, it is critical to ask how the planned interventions could be designed to support equitable access to public services and infrastructure, how the city of Turku could build on public participation early on in the planning process, and how the city could benefit the local workforce as well. She also shared how the mapping of these risks can benefit other cities currently working on their circular economy plans.
Outcomes from the Slido Poll: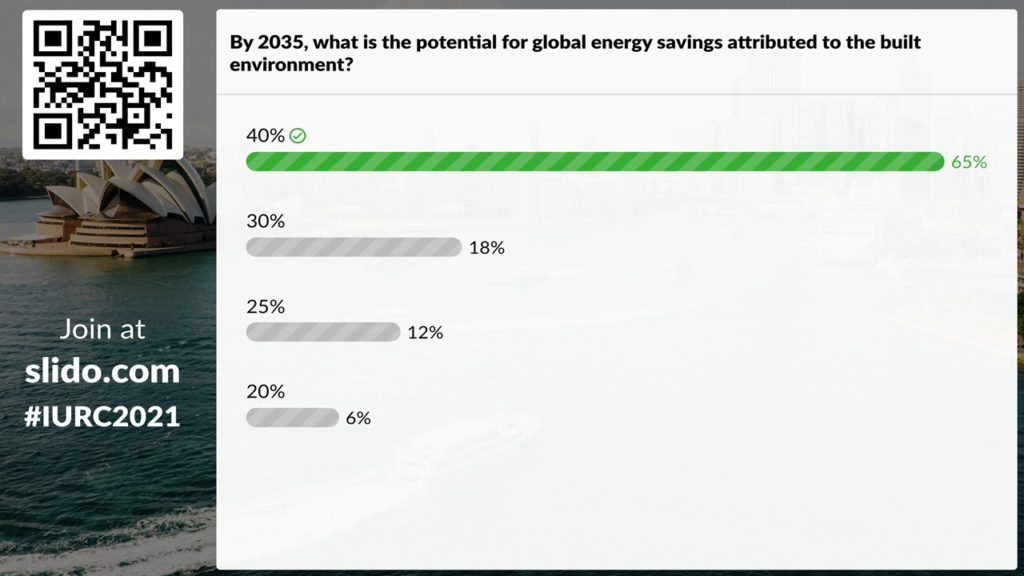 Recording
Download Presentation Slides:
1.1 IURC Cities: Seberang Perai's Pilot Action Collaboration with Portuguese Cities by the Mayor
1.2 Video Montage: Seberang Perai Circular Economy Roadmap
2 Pathways for Circular Built Environments
3. Towards Bandung Smart & Sustainable Cities: Urban Regenerative Food Systems During COVID-19 Recovery through Digital Solution
4. How Thailand is Applying a Bio-Circular-Green Economy in Its Urban Agenda
5. Circular Turku Road Map – Towards a Resource-wise City in 2029