Chiang Mai has become the second Thai city to join the IURC programme and will cooperate with Granada, a top city in the IUC phase that led cooperation on the topic of blockchain. Apart from city officials and the IURC team, joining the kick-off meeting between the two cities on 23 March 2022 were HE David Daly, EU Ambassador to Thailand, Ms Cristina Elisa Aguilar Jiménez, Deputy Head of Mission and Chargée d'affaires of the Embassy of Spain in Bangkok. The two and the Deputy Mayor of Chiang Mai Municipality, Mr Jiroj Rochanasaowapak, gave a warm welcome to the participants before each city got to present themselves and their interests for cooperation.
Regarding the topic of cooperation between Chiang Mai and Granada, Ambassador Daly said, "We're delighted to learn that the Municipality of Chiang Mai showed an interest to focus on the topic of smart cities for its cooperation with Granada. Smart cities are set to deliver better public services. They are also cities that commit to more efficient uses of energy and other resources, working to reduce greenhouse gas emissions by developing new business opportunities and enhanced transparency and involvement of senior citizens in urban management. In this regard, Granada is a suitable match for Chiang Mai, as it is not only a city of culture, but also of science."
Towards the end of his speech, after highlighting the prominent role cities play in achieving sustainability goals, the EU Ambassador also noted the current situation in Ukraine with cities being invaded and destroyed and that our thoughts were never far from Ukraine people in these difficult times.
Later, the Deputy Mayor of Chiang Mai expressed gratitude that his city was invited to be part of the IURC programme and to learn from and share experience with a leading city such as Granada. Meanwhile, the Chargée d'affaires of the Embassy of Spain offered the embassy's support to make this cooperation a success.
Pablo Gandara, Team Leader of IURC Asia & Australasia, provided an overview of the programme, the specific activities for 2022 as well as a summary of topics that both cities have in common. Representatives from the two cities, including Krittiya Burarak, Chief of the Section of Foreign Relations, and Trinnawat Suwanprik, Coordinator for Chiang Mai Smart and Innovation City, and Francisco Herrera, Deputy Mayor for Science, Innovation and Digital Transformation, Smart City, Infrastructure and Telecommunications, and Francisco Benitez, Senior Advisor to Granada City, outlined their respective city's visions and missions as well as their existing and future plans for smart city development.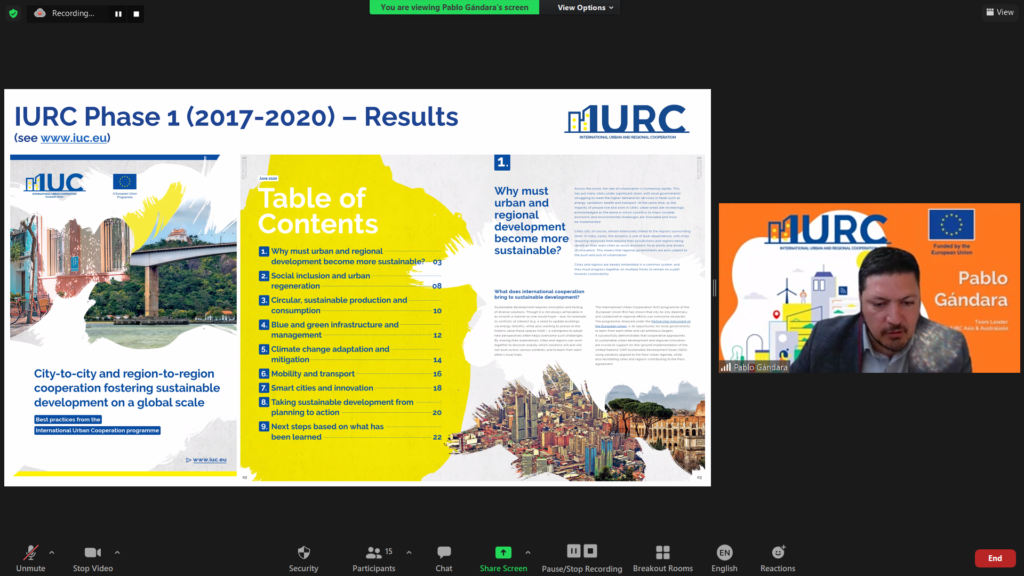 Michel Mouchiroud, Deputy Head of FPI Regional Team for Asia & Pacific, provided closing remarks, thanking all the participants for their involvement in the project and for the information shared during this meeting. He said, "I think quite clearly the presentations—and Pablo already touched upon this in the summary of the different topics that were mentioned—really show how both your cities are innovators and forward thinkers in terms of urban development."
For the next 15 months or so, Chiang Mai and Granada will exchange knowledge and best practices in the hope of making their cities smarter and identify a joint pilot action. They will also have opportunities to visit each other and learn about each other's projects on site. Their next meeting will be right away in early April. The EU Ambassador himself will also visit Chiang Mai during the Songkran Festival (traditional Thai New Year) in mid-April and will meet with the Mayor of Chiang Mai to discuss this urban development cooperation in the context of strengthening EU-Thailand relations.