The EU and China share the objective of sustainable green growth. Policies and investments are put in the position to support the innovation in green technologies and the transformation of industry towards modern and competitive economies. the European Union has made its emission reduction programme not only more ambitious towards green and digital transition but legally binding in Industrial Emissions Directive. The EU- China Summit has agreed on further cooperation on trade and economics, climate change, Agrifood etc.. It can contribute to promoting joint industrial solutions for a decarbonized society.
On the local level, cities and regions are at the forefront of the green and digital transition. Technology and industry sectors have already cooperated in areas such as renewable energy and energy efficiency, industrial symbiosis, new materials and low-carbon mobility. This cooperation can be accelerated to cost-effective, low-carbon industrial solutions which benefit the EU, China and other parts of the world.
The webinar, dated 29 April 2022, is organised as a part of the IURC China thematic cluster working session, aiming to share how cities and regions achieve green and digital transformation in technology and industry, and discuss how EU-China cooperation can help to reach the goals. Delegates from more than 20 cities and regions, together with industry leaders and research institutions joined the webinar.
OPENING SESSION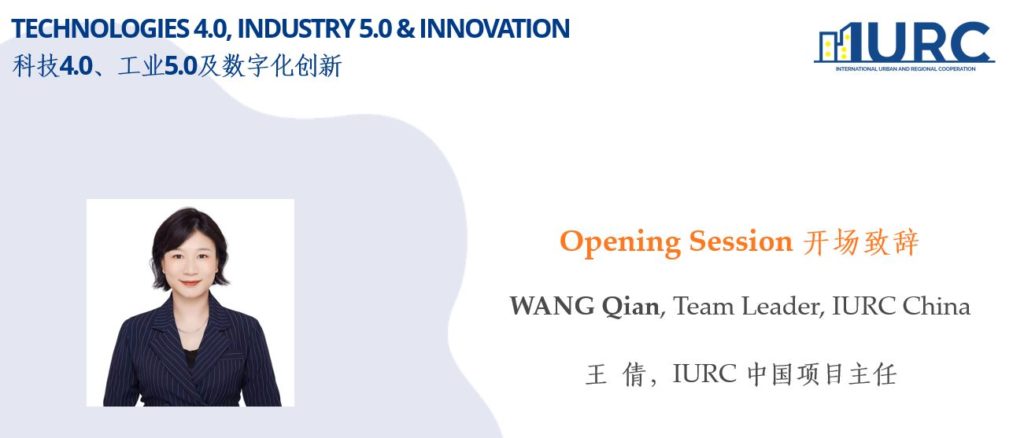 Ms. WANG Qian, Team Leader of the IURC-China, gave the welcoming speech.

Mr. GUO Yuanlai, the cluster manager of the Technology 4.0, Industry 5.0 and Innovation of IURC-China, gave an introduction on the policy, knowledge and practices on technology and industry with an EU-China comparative perspective.
PANEL PRESENTATIONS AND DISCUSSIONS

Guangzhou, China | Digital Integration and Innovation in Manufacturing Industry
Mr. LIU Jiangguang, Director of International Cooperation Office, Guangzhou Development District


Sofia, Bulgaria | Digitalisation, Innovation and Sustainability
Ms. Slaveya Georgieva, Senior expert in Digitalisation, Innovation and Investment Unit of Sofia Municipality
Mr. Velko Velkov, Senior expert in Digitalisation, Innovation and Investment Unit of Sofia Municipality

Wuhan, China | Digital Economy Development in Wuhan
Ms. ZHOU Qianjin, Section chief staff of Wuhan Economic and Information Bureau

Mannheim, Germany | European Market Entry Support for Chinese Tech companies
Ms. Song Jia, Head of China Desk of Mannheim Municipality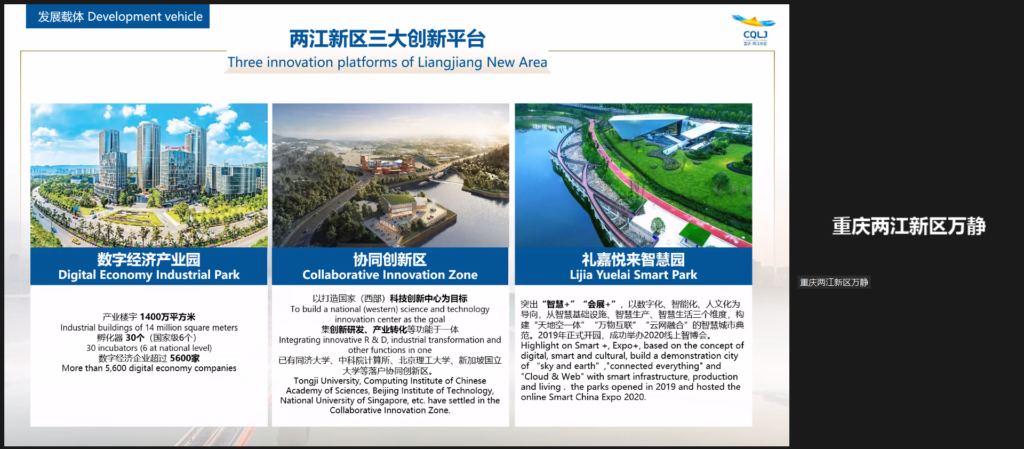 Chongqing Liangjiang New Area, China | Digital Economy and Industrial Innovation
Ms. WAN Jing, Head of Free Trade Investment Department in Chongqing Liangjiang New Area

Region of Valencia, Spain | Digitalisation and Innovation Ecosystem
Ms. Raquel Aguado Muñoz, Head of the international specialisation service, Valencian Institute of Business Competitiveness (IVACE)

Sisak Moslavina County, Croatia | Gaming Industry, AI and Blockchain Systems
Vlado Vujicha, Head of the Department of Tourism, Investment and General Affairs in SIMORA

Zhengzhou, China | Industrial 5.0 and Digital Innovation
Mr.NIU Huazhun, Director of Innovation Business Support Center of China Unicom in Zhengzhou

Ljubljana Urban Region, Slovenia | Digitalisation, Smart Factories, Innovation Hub and Circular Economy
Ms. Tina Pezdirc Nograšek, Head of the Regional Creative Economy Centre of Ljubljana Urban Region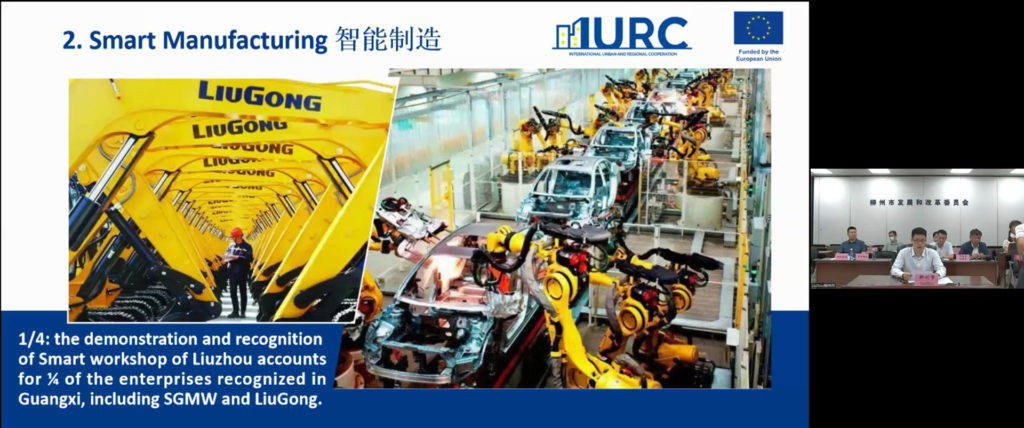 Liuzhou, China | EU-China Cooperation on Digital Machinery Industry and Renewable Energy
Mr. WU Qijun, Deputy Director of Foreign Affairs Office in Liuzhou

West Region, Greece | Industry 5.0, Innovation, and Blue Economy
Mr. Dimitrios Karagiannis, Region of Western Greece, Patras, Greece

Beijing, China | Strategies for Beijing Economic and Technological Development Zone with High Profile Industries, Efficiency and Sustainability.
Mr. JIANG Zhihui, Deputy Director of Economic Development Bureau of Beijing Economic and Technological Development Zone Management Committee

Bielsko-Biała, Poland | Innovation Hub for Green and Digital Industrial Transition.
Mr. Jan Sienkiewicz, Head of International Project Department, Regional Development Agency of Bielsko-Biała
QUESTIONS AND DISCUSSIONS
In the Q&A session, the delegate of Sofia emphasized the importance to include different stakeholders both private and public, domestic and international. Delegates from Chongqing suggested online channels for further dialogues and discussions. Delegate from Zhengzhou supported technological solutions as part of the cooperation process. Afterwards, the cluster manager responded by asking the panellists for concrete information to pin down cooperation areas.
CLOSING SESSION

Concluding the webinar, Ms. WANG Qian, the Team Leader of IURC China explained the next steps and expressed gratitude for the leadership of the cities and region through their commitment to EU-China cooperation, paving the way towards green and digital transition across industrial ecosystems.
The event was moderated by Ms. FENG Keru from the IURC-China team.