Within the thematic network "Ecological Transition-Green Deal," IURC in India is working with 6 cities on the topic of flood management. On 12th April 2022, IURC hosted a thematic cluster webinar on 'Nature-based solutions for flood management'. This event aspired to facilitate exchange of best practices on flood prevention, an early warning system and flood management coping mechanisms.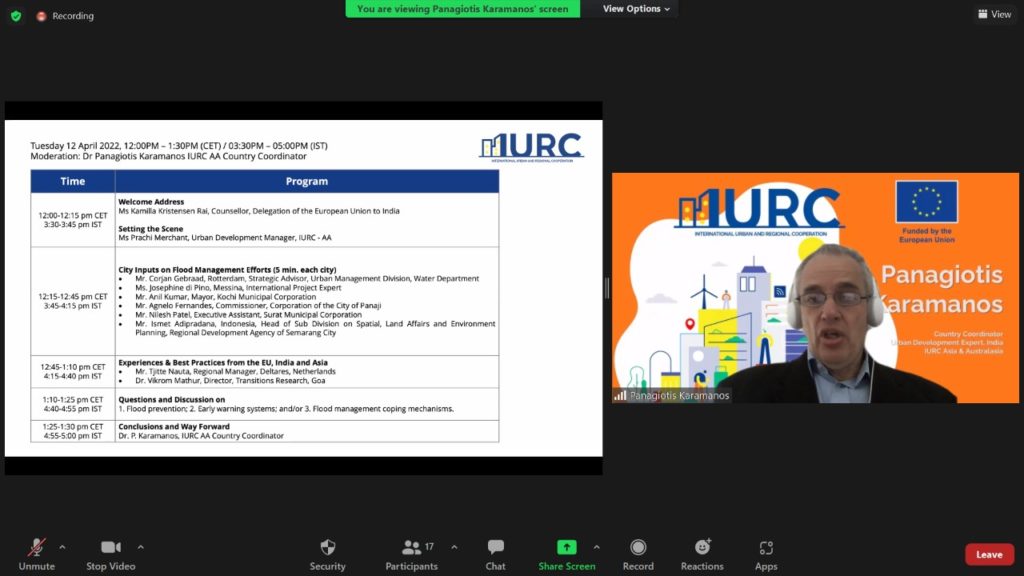 City officials from Kochi (India), Panaji (India), Surat (India), Rotterdam (Netherlands), Messina (Italy), Semarang (Indonesia), George Town (Malaysia) and Penang (Malaysia), were joined by two flood management experts, Mr. Tjitte Nauta, Regional Manager Asia from Deltares, Netherlands, and Dr. Vikrom Mathur, Director, Transitions Research, Goa, India, to discuss nature-based solutions.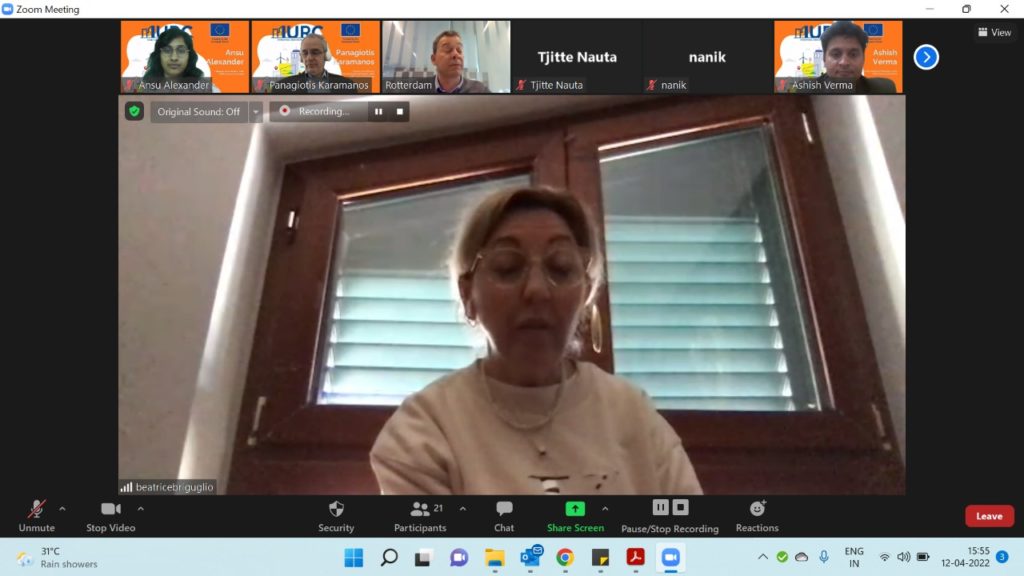 The webinar was moderated by Dr. Panagiotis Karamanos, Country Coordinator, while Ms. Kamilla Kristensen Rai, Counsellor, Delegation of the European Union to India, opened the session with her welcome address. Ms. Prachi Merchant, Urban Development Manager set the scene through her presentation. Then, 6 cities presented their flood management efforts starting off with Mr. Corjan Gebraad, Strategic Advisor, Urban Management Division, Water Department, Rotterdam, followed by Ms. Beatrice Briguglio, International Project Expert, Messina; Mr. Anil Kumar, Hon. Mayor of Kochi; Mr. Agnelo Fernandes, Commissioner, Corporation of the City of Panaji; Mr Nilesh Patel, Executive Assistant, Surat Municipal Corporation; and Ms. Wahyu Ambari, Sub-Coordination of Transportation & Natural Resources, Planning Development Agency of Semarang City. Some of the key proposals are listed below:
Primary and secondary dikes along the rivers, dams and barriers to protect the city from flooding;
Greening of river banks;
Development of the city as a sponge where the city uses all possible spaces to store water and drain it underground;
Water storage areas (at ground, above ground, underground), while also being used as multi-functional spaces;
Diversion of high water flows to create areas to store water;
River normalization to increase channel capacity;
Mangrove forest reforestation, planting of trees to increase water absorption and reduce surface water run-off;
Rainwater harvesting;
Incorporation of a combination of structural and non-structural measures, grey and nature-based solutions depending on the space available, flexibility and budget;
Use of Decision Support Toolbox to support decision makers in a dialogue on flood management and identification of adaptation measures based on hydrological effectiveness and costs;
Use of multiple smaller nature-based solutions which can collectively contribute to meet flood resilience objectives.
Rejuvenation of natural water bodies;
Preparation of data-centric flood mitigation plans;
Implementation of a system to monitor territories to identify micro-movements and thereby create a sophisticated alarm system.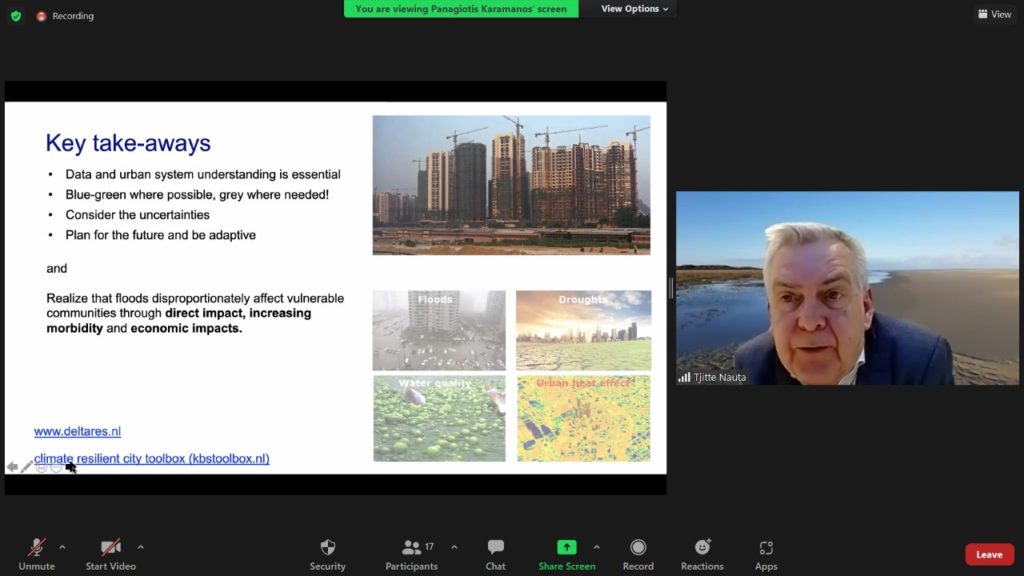 Mr. Nauta emphasised the need to address accelerated sea levels and storm surges through improved system understanding. Sharing from his work on Integrated Flood Resilience Strategy for Yangon City, he highlighted that resilience strategies for flood risk management should not only aim to resist flood risks, but should also focus on relief, recovery and adaptation. He went on to share the Resilient City Toolbox, which was developed to support decision makers regarding identification of adaptation measures based on hydrological effectiveness and costs. He concluded that while implementation of multiple smaller nature-based solutions can collectively contribute to flood resilience objectives, a combination of grey and nature-based solutions may have to be incorporated depending on the space available, flexibility and budget.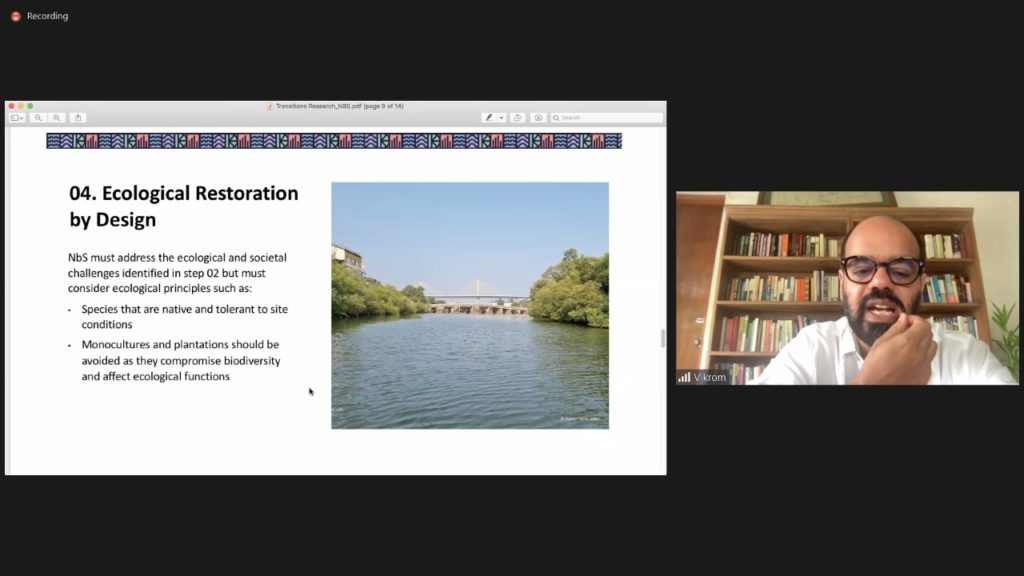 Dr. Vikrom Mathur shared the toolkit they developed for the implementation of nature-based solutions in collaboration with the state government. The toolkit allows for experimentation, co-creation with citizens, learning through multi-disciplinary approaches and engagement with multiple stakeholders. He highlighted that nature-based solutions must include: 1. ecological restoration; 2. protection and maintenance through community awareness and signages; 3. restoration and incentives such as cash for work schemes, loan collaterals, restorative aquaculture activities, blue carbon activities; and 4. monitoring through the development of a robust framework with social and ecological indicators with an option of intervention if targets are not met and communication strategies.
After a round of questions and answers, the session was concluded with closing remarks. As a way forward the cities will focus on the development and implementation of the Urban Cooperation Action Plans considering nature-based solutions to address flood management challenges.
Presentations
1. IURC: Nature-based Solutions for Flood Management
2. Rotterdam: Highlights of Flood Management in Rotterdam
3. Surat: City Inputs on Flood Management Efforts
4. Semarang: Urban Flood Management Based on Nature Solutions
5. Deltares: Integrated Flood Resilience
6. Transitions Research, Goa: Toolkit for Implementation of Nature-based Solutions