The MUFPP & IURC has been running an Asia Pacific food policy training since March 2022, having covered two aspects of food policy: 1) Governance of Food System and 2) Sustainable Diets & Nutrition. The third webinar, held on 22 July 2022, addressed the topic of "Social & Economic Equity". It presented how cities tackle inequality and poverty related to the food system.
Pablo Gandara, Team Leader of IURC Asia & Australasia, greeted the participants and provided an overview of the agenda. As a Head of the MUFPP Secretariat, Filippo Gavazzeni was delighted to welcome the three new MUFPP signatories: Seberang Perai of Malaysia, Quezon City of the Philippines, and Chiang Mai of Thailand. He also announced the 1st MUFPP Asia Pacific Regional Forum, which would take place in Bandung, Indonesia, on 3-4 August 2022. Further, he mentioned the 8th MUFPP Global Forum, scheduled from 17th to 19th October 2022 in Rio De Janeiro, Brazil.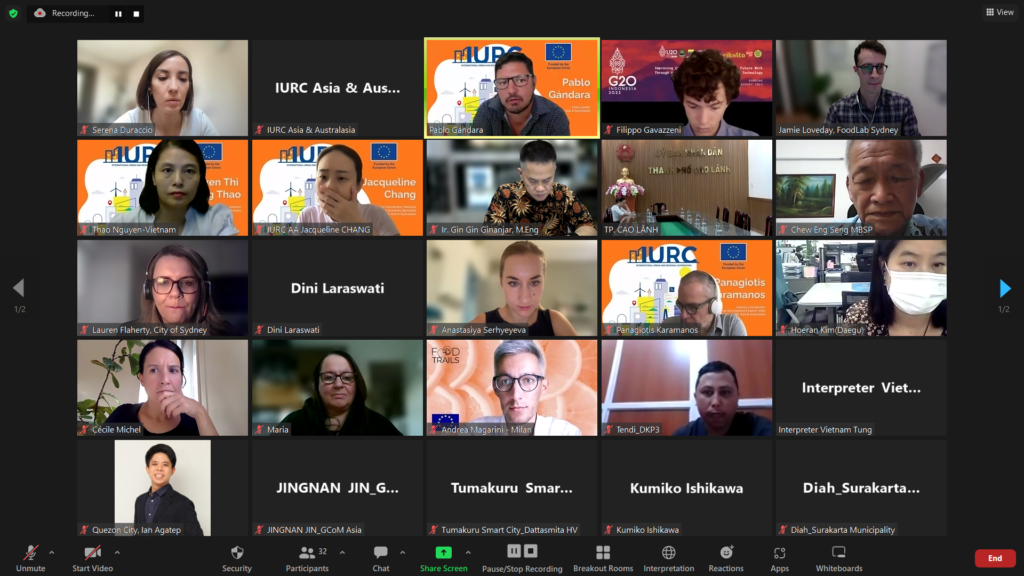 Later, he explained the six recommended actions falling into the "Social & Economic Equity category". All actions address the inequality and poverty related to food, such as forms of social protection systems like cash and food transfer, food bank, community food kitchens, and emergency food pantries; access to healthy food for all citizens; social and solidarity activities; networks and support grassroot activities; participatory education; and training and research. Since 2016, FAO and the MUFPP Secretariat have developed a set of indicators to monitor the actions. To facilitate the use of indicators, a set of methodological guidelines has been developed, which is available here.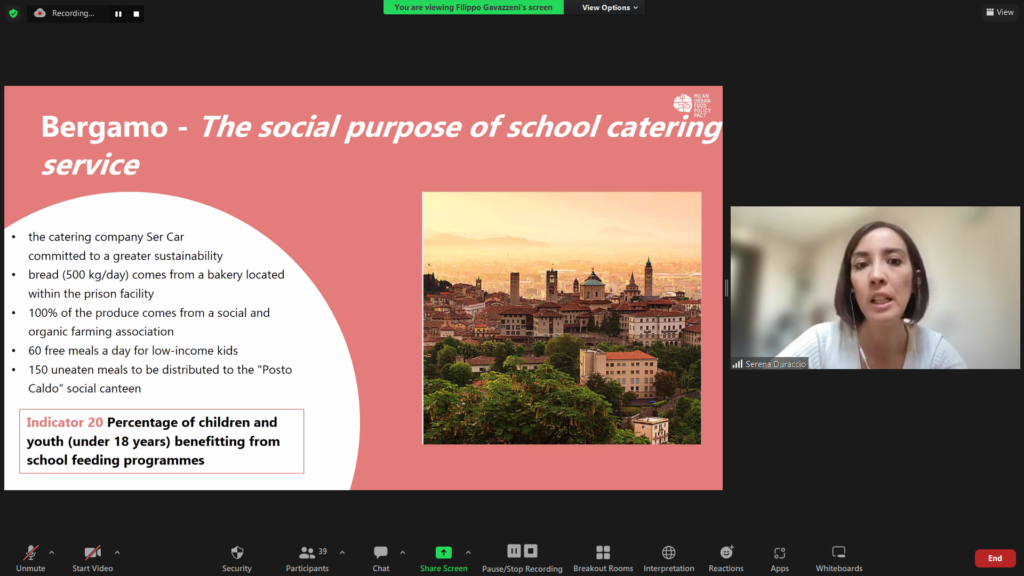 Serena Duraccio, an officer at the MUFPP Secretariat, shared best practices in this category from Bergamo, Italy, and Paris, France. Bergamo has focussed mainly on the social purpose of the school food programme. The city has been working over the years with a catering company, where since 2021, the catering company has committed to a greater sustainability. They provide school canteens with bread that comes from a bakery located within a prison facility. About 160 free meals a day are distributed to low-income kids, and 150 uneaten meals are given to the social canteen. This case demonstrates Indicator 20, where it looks at the percentage of children and youth benefitting from school feeding programmes.
Paris has concentrated on the diversification of food aid with sustainable foodstuffs. For example, they have purchased 5 tons of fruits and vegetables per week from small farmers. All their actions show Indicator 19: the percentage of people supported by food and/or social assistance programmes.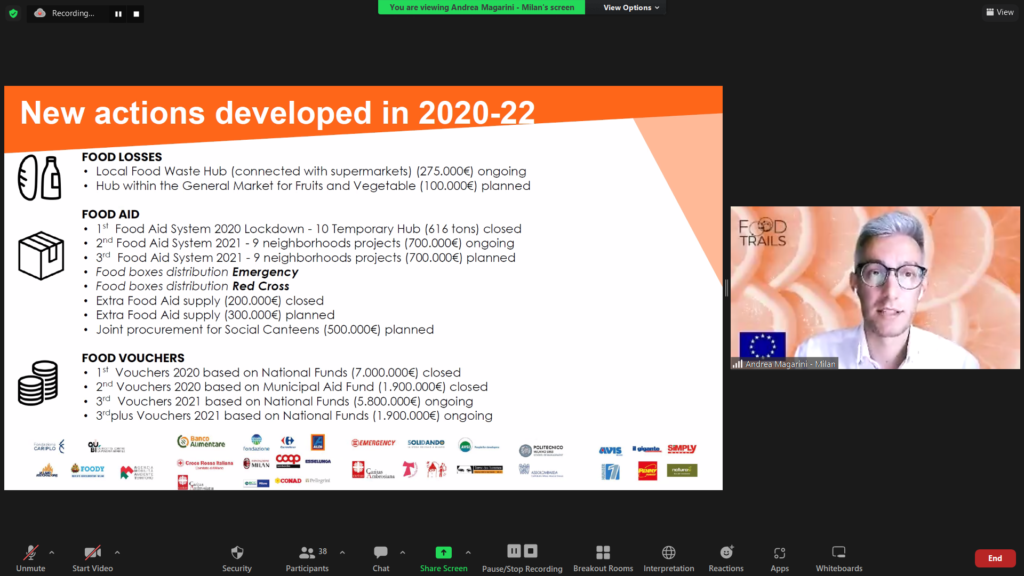 Andrea Magarini, representing Milan City, shared the Milan Food Aid System as part of this category. In general, the city divided its efforts in this category into Food Losses, Food Aid, and Food Vouchers. Andrea explained the various methods of the food aid system, which was started in March 2020. A new food aid system has been introduced since 2021 and engages civil society organisations in providing services. In addition, the city has made some improvements in food loss redistribution. Based on its internal experience, the city defines the following food aid operational models: soup kitchen, food aid, emporium and shop, and food voucher. It is very important to map the food aid infrastructures in order to gain geographical information on the food policy.
Sydney's experience on FoodLab was presented by Lauren Flaherty, Strategy Advisor of Sydney, and Jamie Loveday, Program Manager of FoodLab Sydney. FoodLab is a food business incubator that helps reduce the social and economic barriers for local food entrepreneurs from vulnerable backgrounds to start or scale their food business in Sydney. It was launched in 2019 with support from the University of Sydney, the City of Sydney, FoodLab Detroit, and many other partnerships and collaborations. The programmes and events empower and equip food entrepreneurs in their food business journey through practical workshops, mentorship, cohort-based learning, networking, testing strategies, work placements, and market opportunities.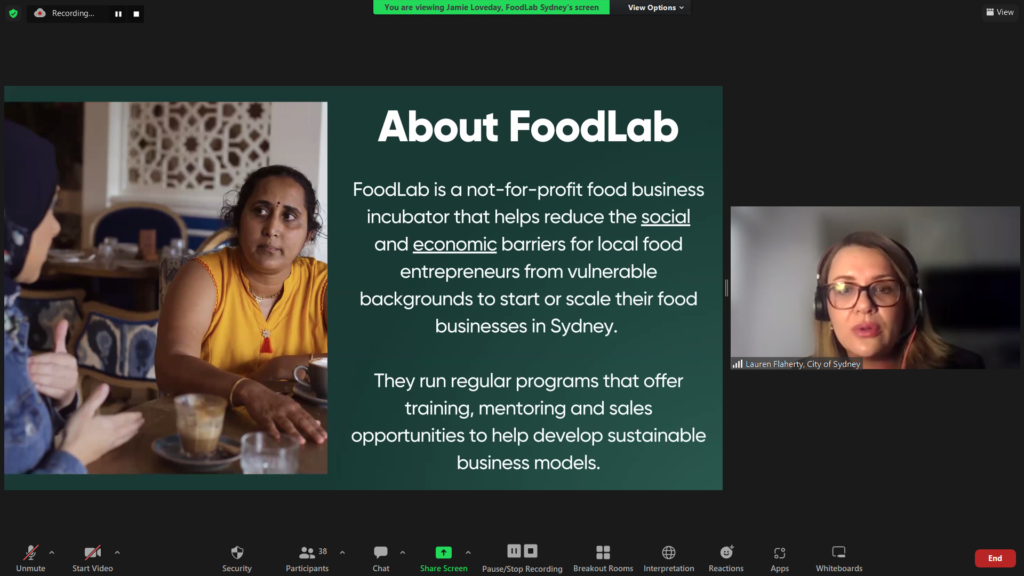 Before closing the webinar, Gin Gin Ginanjar, Head of the Food Security and Agriculture Department of Bandung City, invited the participants to join the 1st MUFPP Asia Pacific Regional Forum. The hybrid event is hosted by the Bandung City Government, along with the MUFPP Secretariat and other partners. It will focus on overcoming existing inequalities in accessing food, obtaining greater food security and boosting job creation. The two-day event will consist of two activities: During Day 1, the forum will offer the chance to discuss challenges and solutions to urban food systems from cities in Indonesia, the Asia-Pacific Region, and the European Union. On Day 2, field visits will inspire participants with tangible solutions from Bandung. Participants can register here.
Presentations