On Monday, November 7th, the region of Magallanes and the Chilean Antarctic welcomed the delegation of the Ostrobothnia region, as part of the second phase of the International Urban Cooperation Programme, which aims to lead and develop a form of decentralized international cooperation in matters of regional innovation.
This first day had the important participation of the regional government, led by the regional governor Jorge Flies Añón, with whom they had the opportunity to talk about various issues and cooperation opportunities between both regions. Representatives from the development and industry division of the regional government also accompanied the Finnish delegation on this day, Etel Latorre, Head of the Development and Industry Division – DIFOIN, Claudia Gallardo, Professional, Development and Industry Division – DIFOIN and Walter Ojeda, Head of Water and Grassland Issues, Development and Industry Division – DIFOIN.
In this visit the governor highlighted the need to collaborate and understand the functioning of Ostrobothnia, in 3 matters that are emerging in the region:
o    Antarctic and Sub-Antarctic Science
o    Information technologies (Big Data)
o    Green hydrogen
Special mention is made of the potential and importance of logistics and port services, and how these issues require collaboration from other regions, but also from universities and other regional organizations.
Mention is made of the importance of foreign companies investing in the Magallanes region and the importance of having tax laws that encourage this investment (unique in Chile).
The importance of the construction of the Antarctic Science Institute is highlighted, where more than 20 countries will have a space to work and collaborate.
The Ostrobothnia delegation undertakes to share the name of the finnish companies that they consider to be of interest to Magallanes (description, capabilities, etc).
This first day ended with a visit to the Union Association of Antarctic Logistics Services, APAL. Here the delegates had the opportunity to meet with important members of the organization: Tania Piuceic, President APAL, Nicolás Paulse, Executive Director de APAL, Verónica Peragallo, Director APAL y José Retamales, Manager APAL, and discuss topics of great relevance for the region such as the opportunities for sustainable development in Antarctica through E-fuels and also the potential that the region has in the future. development of green Hydrogen, but also understand what are the challenges and gaps that must be considered for this type of long-term development.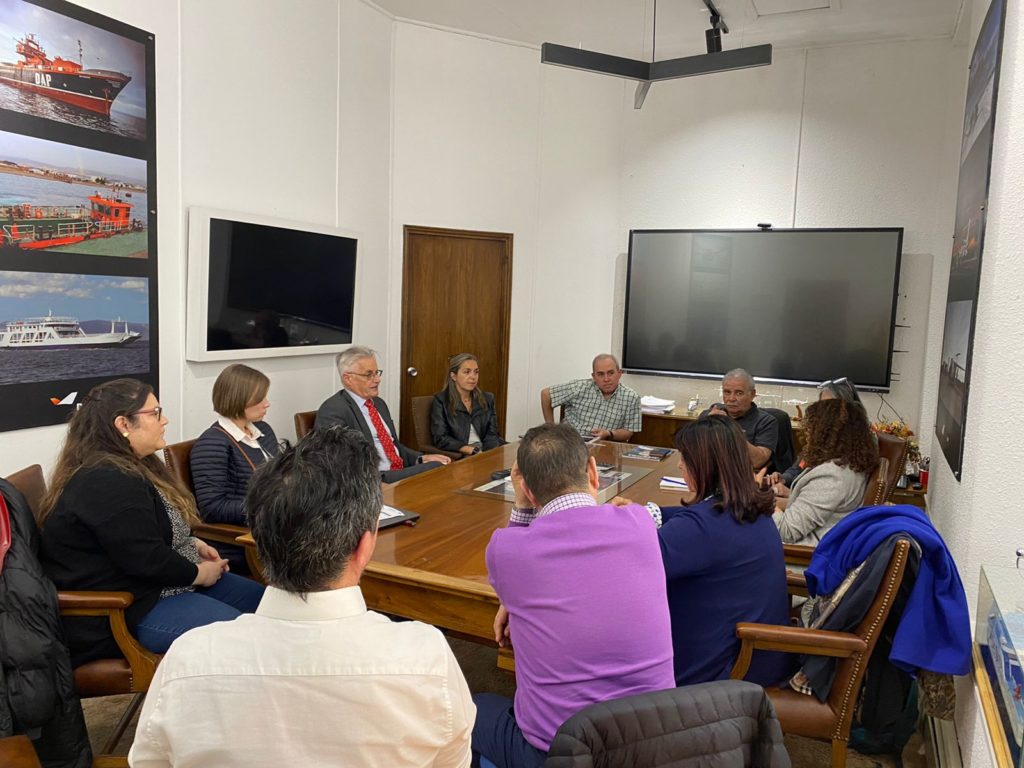 The IURC Programme constitutes the second phase of the International Urban Cooperation Programme (IUC, 2016-2020) and aims to lead and develop a decentralized form of international urban and regional cooperation in the fields of sustainable urban development and regional innovation. The programme supports pairings between cities and regions of the European Union with their counterparts in six Latin American countries: Argentina, Brazil, Chile, Colombia, Mexico and Peru. In total, the network of cities and regions of IURC Latin America is made up of 24 cities and 20 regions.
Follow IURC news on:
https://www.linkedin.com/company/iurc-latin-america/
Author: Camila Larenas
November 8, 2022