In IURC cities, both in Europe and China, urban renewal has become the major approach to meet the increasing demand of residents for urban space and facilities without the expenses of large-scale demolition of existing buildings and urban fabric. Many neighbourhoods and buildings are in critical demand of renovation aiming for healthy environmental quality, energy & resource efficiency, and aesthetics of the built environment. In this context, on October 28th, the cities of Santiago de Compostela, Bari, Zhengzhou, NCI of Bologna, Yangzhou, and Murcia gathered together sharing their experience in innovative urban regeneration approaches using new technologies with cultural and ecological perspectives.
This webinar is a part of the activities in the EU Climate Diplomacy Weeks 2022, which invites participation in the global campaign to encourage cooperation on climate change and inspire concrete actions for sustainable, inclusive, and climate-resilient cities.
Octavian Stamate, Counsellor of Climate Action and Energy in the EU Delegation to China, gave an opening remark. He encouraged the join actions facing climate challenges in urban areas through energy transition in urban regeneration and renovation wave and added value to the city-to-city cooperation in IURC-China.

WANG Qian, Team Leader of IURC-China, delivered the welcome speech and invited for constructive conversation and collaborative learning.
DAI Guowen, the SUD experts, introduced the policy and practices on urban renewal and renovation, underling the exemplary good practices of EU-China city-to-city cooperation and suggested potential cooperation areas in green building, renewable energy and energy efficiency, water management, urban mobility, nature-based solutions and circular economy.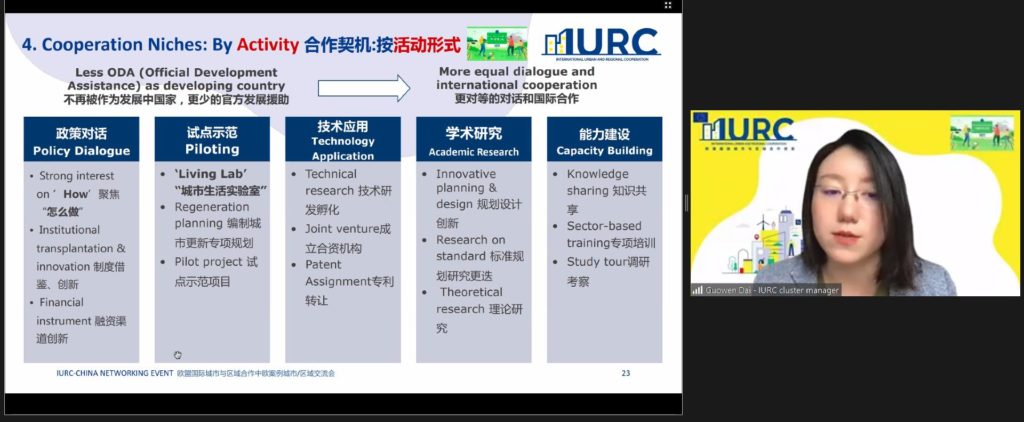 Ms. Idoia Camiruaga from Santiago de Compostela shared the city´s experience of urban interventions. Santiago de Compostela is well-known for its European cultural heritage. Local urban planning has maintained the compactness and mixed functions of traditional Spanish urbanism. Due to Santiago's exceptional historic core, urban planning has emphasized conservating and regenerating the spatial quality of its built environment, at the same time balancing between the spatial quality and tourism development
Mr. Vitandrea Marzano from Bari shared the city´s wide range of initiatives and solutions for sustainable urban transformation in its complex urban structure made of three different districts, reflecting the unique qualities of the built environment and social life.

Mr. LI Weitao and Mr. LU Dengpan from Zhengzhou shared the city´s best practices for renovating a factory area. With changes in urban development patterns and manufacturing needs, much of the factory became vacant. In recognition of the important historical significance of the building, the factory area was renovated as an innovation district.


Mr. Marino Cavallo from the New District of Imola (NCI) – Bologna shared the urban region´s regeneration tools for the green and smart city with technology & cultural aspects in the three municipalities of the NCI– Bologna.

Ms TU Qian from Yangzhou gave an overview of the city's urban transformation from an ancient royal town to an "industry city" and now to "an ecological garden city". She highlighted the regeneration of Renfengli historic cultural district. The water system in the historic urban area is improved, the historic streets are renovated, the local urban life is well-preserved.
Mr. Kasper van Hout from Murcia shared this southern European city´s urban planning approaches to improve sustainability,  resilience, and circularity. He gave an exemplary project of regenerating the Segura River area by recovering riverbanks, restoring indigenous flora and fauna, opening access to the citizens, creating a network of cycle paths and greenways etc.

In the Question and Discussion session, cities shared urban renewal strategies and pathways for a better resilient and livable city.  Zhengzhou invited international actors in urban regeneration planning and Yangzhou welcome European expertise in developing a cultural and ecological urban district.
WANG Qian, the team leader of IURC-China, gave a closing remark inviting leadership in climate actions and EU-China city-to-city cooperation on urban renewal and renovation wave.
The webinar is moderated by Keru Feng from IURC-China