From 13-19 November, the team of the EU regions conducted a study visit to Japan, with a total of 24 participants from six EU regions and the European Commission (DG REGIO and EUD Japan). The team composed of Auvergne-Rhone-Alpes (France), Basque Country (Spain), Catalonia (Spain), Emilia Romagna (Italy), Ljubljana Urban Region (Slovenia) and Val d'Oise (France); and Aichi, Kyoto, Osaka, Hiroshima and Oita Prefectures of Japan. They were divided into two groups, one visiting Aichi and Hiroshima Prefectures and the other Osaka and Oita Prefectures from 14-16 November, with the two groups meeting up in Kyoto Prefecture on 17-18 November. On 18 November, the visit concluded with an Exchange Meeting held in Keihanna Science City in Kyoto Prefecture attended by the EU regions and with online participation by Japanese prefectures.
Both the EU and Japan are promoting decarbonization, and hydrogen is a key innovation issue for the future. Aichi Prefecture, where Toyota Motor Company, which manufactures the Fuel Cell Vehicle, "Mirai", is based, is promoting the Aichi Hydrogen Society Initiatives and is trying to increase the number of hydrogen stations. Hydrogen-fueled forklifts are actually in use at Chubu International Airport in Aichi. A similar project is also implemented at Kansai International Airport in Osaka Prefecture. The team also visited a green hydrogen production facility in Oita Prefecture, where hydrogen is produced by utilizing geothermal energy. By observing these real examples, the European participants were able to gain inspiration for the realization of such concepts as the Hydron Corridor and Hydrogen Valley, which are being promoted in the EU.
The open innovation strategy is a common challenge for the EU and Japan: how to utilize the various types of information and knowledge that already exist and are openly available, how to link this to entrepreneurship, how to provide local companies with such business opportunities, and how to support companies and citizens who are motivated to do so. This is a common challenge for the European regions and Japanese prefectures. In this aspect, the team observed three facilities in Japan. The first is STATION Ai, scheduled to open in 2024 in Aichi Prefecture. Its operation is an initiative of Softbank (a major telecommunication company in Japan), with financial support from Aichi Prefecture and Nagoya City. Currently, its predecessor, Pre STATION Ai, is active, with Softbank staff providing support in all phases of seed identification, practical application and commercialization, including providing ideas and connecting to a human resources network. The second is Hiroshima University's initiative to foster innovation through collaboration between the university, local authorities, businesses and communities in and outside the region. It is unique in that the university is taking initiative to revitalize the region through nurturing startup ecosystems with participation of diverse stakeholders. The third is KICK (Keihanna Open Innovation Centre @Kyoto), which was established in the Keihanna Science City. The City is home to 150 public and private research institutes, including ATR (Advanced Telecommunication Research Institute International). By linking these human and intellectual resources, it aims to innovate in four fields: Smart Life, Smart Energy & ICT, Smart Agriculture, Smart Culture & Education. Its building has a vast floor area of 21,000 m2, and companies selected through an occupancy screening process will be able to enjoy the R&D environment by locating here. Each of these three facilities has different characteristics, which is highly suggestive when considering the future direction of open innovation.
One major role for regions and prefectures to play in promoting innovation is to provide a public infrastructure for R&D that can be used by companies, especially small and medium-sized enterprises (SMEs), at low cost. This requires physical infrastructure such as laboratory facilities and equipment, as well as knowledge networks to share the know-how generated in universities and research institutes. The open innovation facilities introduced above is an important infrastructure in this respect, but the team also visited other infrastructures, including the Knowledge Hub Aichi, which is equipped with experimental and analytical devices and equipment such as a synchrotron which are available for use by SMEs at a relatively low cost. Specifications of the equipment are not necessarily very high, but they are expensive enough for ordinary businesses to purchase.  Hiroshima University, with the support of Hiroshima Prefecture, operates the Digital Manufacturing Centre, which accumulates a large amount of data on product design and manufacturing and aims to make design and manufacturing smarter through modelling and simulation using this data.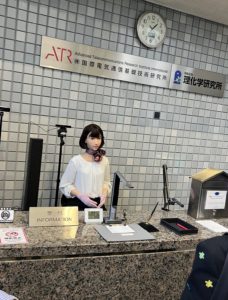 In Keihanna Science City, ATR collaborates with many institutions worldwide in the field of information and communication technologies such as robotics, avatars and artificial intelligence, and the research results obtained there can provide seeds for innovation. There was a valuable opinion from European participants that exchange of ideas between Europe and Japan on how the results of Deep Science and Deep Technology in universities and research institutes can be socialized and commercialized in the real places.
Moreover, the team visited the Northern Osaka Health and Biomedical Innovation Town (KENTO) promoted by the Osaka Prefecture. Health and welfare is a common theme, especially for regions facing an ageing society. For other topics, the Earth Disaster Intelligent System & Operational Network and the production and use of avatars in Oita Prefecture were observed. There was also an opinion to point out the importance of "air mobility (flying cars)", which is one of the challenges at the Osaka Kansai Expo 2025.
The objective of the project is to promote cooperation between EU regions and Japanese prefectures with a focus on region-based innovation policies and activities. Innovation in the region is key to advancing smart specialisation strategies for the EU regions and implementation of economic revitalisation and competitiveness policies for the Japanese prefectures. Thematic areas for cooperation include common policy priorities for the EU and Japan such as decarbonization, digital transition, industrial transformation for green economy and demographic transition. The project aims to foster exchange of each other's experience and knowledge on how innovations related to these policies are implemented, and to identify topics of mutually meaningful and feasible co-operation, which will develop into concrete collaboration between EU regions and Japanese prefectures.
The project is planning to organize a visit of Japanese prefectures to Europe in May/June 2023. This will enable both the European regions and the Japanese prefectures to deepen their understanding of each other's initiatives and to promote more concrete cooperation on topics of mutual interest.