Within the framework of the collaboration between the Municipality of São Paulo and the Municipality of Milan supported by the IURC programme, an important exchange between the Politecnico took place on Tuesday 25th October, 2022. Pedro Martin Fernandes (Advisor, City Hall of Sao Paulo), was invited to give a lecture at the Politecnico di Milano, Master Program in Building and Architectural Engineering. The lecture was titled "Urban Regeneration in Sao Paulo: New Waterfront as Possibilities for Transformation" and the conference was part of the Polimi programme of invited guest speakers. Massimo Tadi (associate professor and Director of the IMM Design Lab, Politecnico di Milano), believes that the exchange of knowledge taking place during the lecture allowed all the participants to be fully aligned on the nature of problems faced by contemporary cities and in this regard, to share possible methodological approaches and actions to develop common solutions. The impact of the lecture was significant as students had the opportunity to understand theoretical perspective from a new point of view, applied to a real project and based on integrated strategy for problem solving.
New possibilities of collaboration opened up, understanding the need to harness urban potential to address problems, as well as opportunities, around the adoption of sustainable urban actions and the design of strategies to promote environmental sustainability, social equity, and economic competitiveness. Milan and Sao Paulo are both successful examples of bilateral cooperation on these topics, in the framework of the IURC-LA programme and of their long-term friendly and collaborative relationships.
Overview of the context
One of the IMM Design Lab main research focus has to do with the relation existing between urban-morphology and environmental (energy) performance of a city, seen as complex urban systems, and to investigate the resulting interaction through the IMM methodology, developed for this purpose (http://www.immdesignlab.com/informazioni/).
Since 2016, the IMM Design Lab has also been working on one specific aspect of this broader relation, summarized as: the relation between environmental performance and social inclusion. In this regard, environmental performance implementation could be seen as driver for upgrading informal settlements, which has been studied and applied to many different contexts, very often with the collaboration of the municipality of Milan, including in Dakar (Senegal), Quiellimane (Mozambique), Bogotá (Colombia), and Rocinha, Rio de Janeiro (Brazil).
In this framework, local municipalities tend not to be fully aware about the complexity and the challenging nature of relationships between environmental performance and social inclusion in informal settlements. These relations are inherently multi-faceted, as persistent social issue are difficult to solve and tend to be interconnected with complementary problems (lack basic services and clean water, sanitation, waste management, energy poverty, mobility, etc.). This interaction is thus influenced by multiple and often conflicting values, interests, and perspectives. Therefore, the traditional silos approach appears as limited to attend this context, as well as other related formal urban transformation projects. There is also a general lack of political will and of effective governance mechanisms to support the implementation of effective solutions, as well as a lack of capacity building initiatives in informal settlements, which limit opportunities for communities to shape their environment and improve social outcomes.
In the framework of the IURC-LA programme, a delegation from Milan had the opportunity to undertake a Study Visit in Sao Paulo in September 2022. One of the field visit carried out was to the "Cantinho do ceu – South Sao Paulo waterfront project". The delegation has been positively impressed by Sao Paolo Municipality's understanding of the problem and its comprehensive response with this amazing project. They showcased high levels of awareness about environmental performance and social inclusion complex and intertwined relationship in the design of informal settlements, that requires a systemic, holistic, and integrated approach, while involving a wide range of stakeholders in the decision-making process. It was a remarkable experience for Milan's delegation to meet residents involved in the planning and design process, ensuring that upgrading efforts are guided by principles of social justice and equity.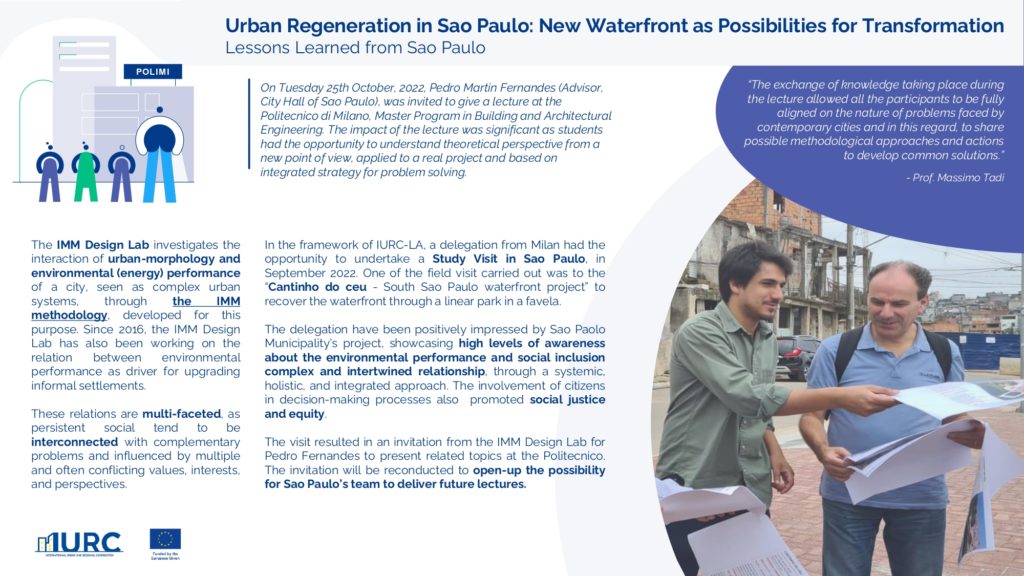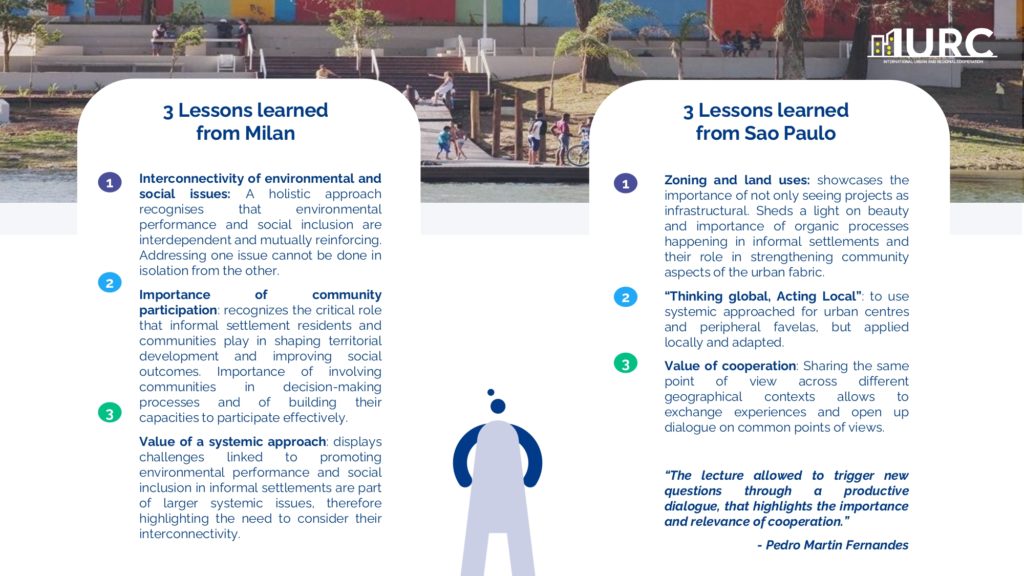 Click here to read the takeaways.