The IURC Asia and Australasia (AA) team organised a webinar within the IURC thematic network n°2 "Urban and Regional Renewal". The event focused on Tactical Urbanism in Public Spaces, an area that has gained strong relevance in cities around the globe. Pedestrian plazas, pop-up bike lanes, pop-up parks and innovative playgrounds are just some of the examples developed by city authorities and civil society to improve the liveability of their cities. Actions are piloted in the short term to test functionality and achieve people's acceptance for long-term solutions.
The event included presentations by two European and two non-European cities. During his introduction, IURC AA Team Leader Pablo Gándara emphasised the use of urban prototyping as a tool to improve liveability, strengthen communities and react to changing/challenging urban environments (pandemics, natural catastrophes, shrinking city centres, declining commercial activities, etc.). He provided some examples from European cities and referred to relevant EU resources like the EIT Urban Mobility Academy, the Urban Innovative Actions (UIA) and URBACT. Among others, he referred to the Walk'n Roll project, which has recently published a guidebook on mobility and public spaces with experiences from 28 European cities. The IURC AA team had already run a webinar series on urban design with Bangkok back in 2021, he said.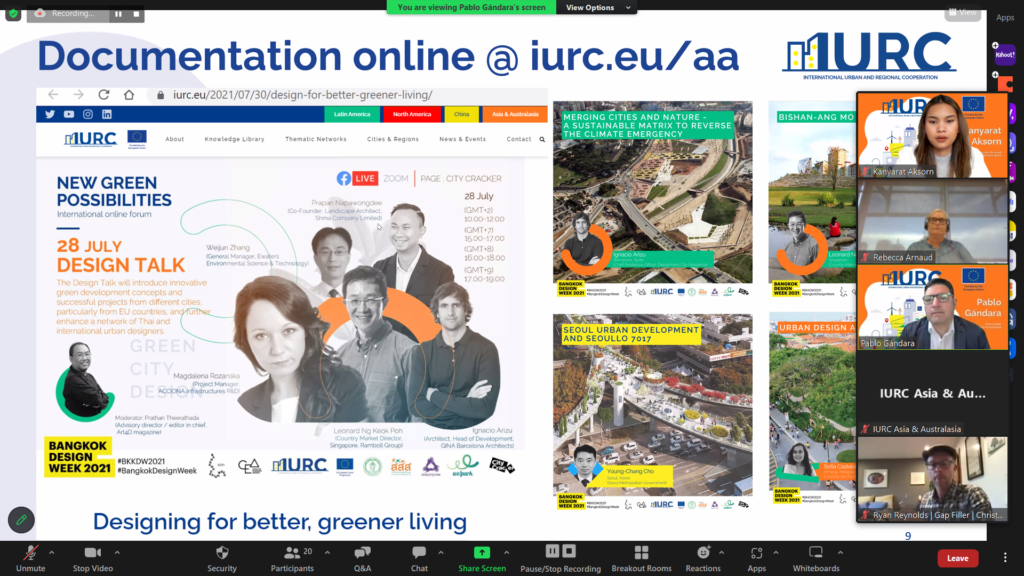 Rebecca Arnaud, Legacy and Precinct Planning Manager at Brisbane City Council, explained some tactical urbanism measures while developing the Albert Street Green Spine, the Fish Lane, and the Victoria Park / Barrambin areas. Experiences include the use of the undercroft of the rail line as a new public space at the Fish Lane and Botanica, the outdoor contemporary art exhibition at the City Botanic Gardens with state-of-the-art projections, unexpected installations and interactive artworks to captivate all ages. The city has been also testing the CityLink Cycleway, which was tested from February 2021 to March 2022 as a two-way separated path that replaced a kerbside traffic lane along key CBD streets. Based on the external evaluation, the Council has determined the trial to be successful and is currently assessing options to make CityLink Cycleway permanent. Rebecca emphasised the importance of citizens' engagement to develop public spaces and referred to Brisbane's Big Book of Ideas, a result of the Inner Spark – a city-wide conversation and engagement program launched by the city council in 2022.
Dr Ryan Reynolds, Director of the social enterprise Gap Filler in New Zealand, introduced the company's tactical urbanism experiences in Christchurch. After the catastrophic earthquakes in 2009-2010, the empty city spaces available were used to roll out unique and place-specific creative events, interactive installations, etc. The goal was to activate the local community and to grow a sense of identity, making places more exciting, sociable and diverse. Ryan, who had showcased some experiences to Spanish city delegates during the IURC study visit to Christchurch in November 2022, delivered also a wider introduction to the tactical urbanism concept as a participatory approach that values local knowledge & lived experience. He provided hands-on examples from Christchurch including the Dance-O-Mat, the Open City Paking Meter and the Super Street Arcade. Further experiences of Gap Filler are available at the company website: https://gapfiller.org.nz/portfolio/.
Prapan Napawongdee, Founding Director of the landscape design company Shma Limited in Bangkok, presented WePark, a platform to create parks as a response to the little area of green space in the overall city infrastructure. Prapan mentioned that some public spaces in the city do not reflect the people's behavior since "creating green space is not about quantity, it's about creating places for people". He mentioned some ideas on how to transform abandoned areas into new green areas and presented some criteria/goals for urban green public space developed in cooperation with Bangkok Metropolitan Authority (BMA) within the Green Bangkok 2030 initiative. The vision is to move from a few large-scale parks to many small-scale ("pocket") parks that require lower budgets and are more accessible. He introduced the pocket parks at Wat Hua Lamphong railway station and Rukkhaniwet area, and explained that – in a participatory process – experimental models were implemented before design development. He also mentioned Klongsan, a pop-up park developed 2020 in a private slot in cooperation with the landlord. Shma has built a knowledge platform/database for interaction and big data analysis.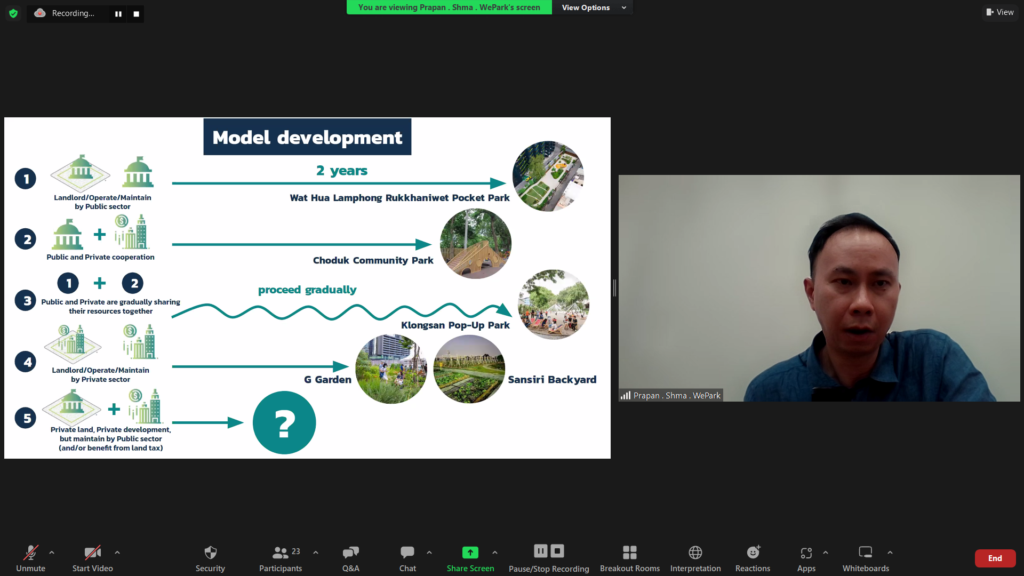 Maurits Lopes Cardozo, from Bike-minded Design Consulting B.V. in Rotterdam, focused on cycling infrastructure in the Netherlands. With separated paths in red asphalt, seamless regional routes offer high-quality bikeways as an attractive alternative in (auto)congested urban areas, he said. Maurits provided some examples of quick-to-build cycling facilities necessary as building infrastructure can take a long time and "sometimes you need to act quickly or temporarily". In Vasteland, quick safety measures were implemented to find space for pedestrian and cyclist safety. The Parkkade was introduced as an attempt to quickly calm traffic. Further examples included the one-direction street trial at Zwartjanstraat (2022) and a 3-month placemaking experiment on an intersection at Rotterdam Kruisplein.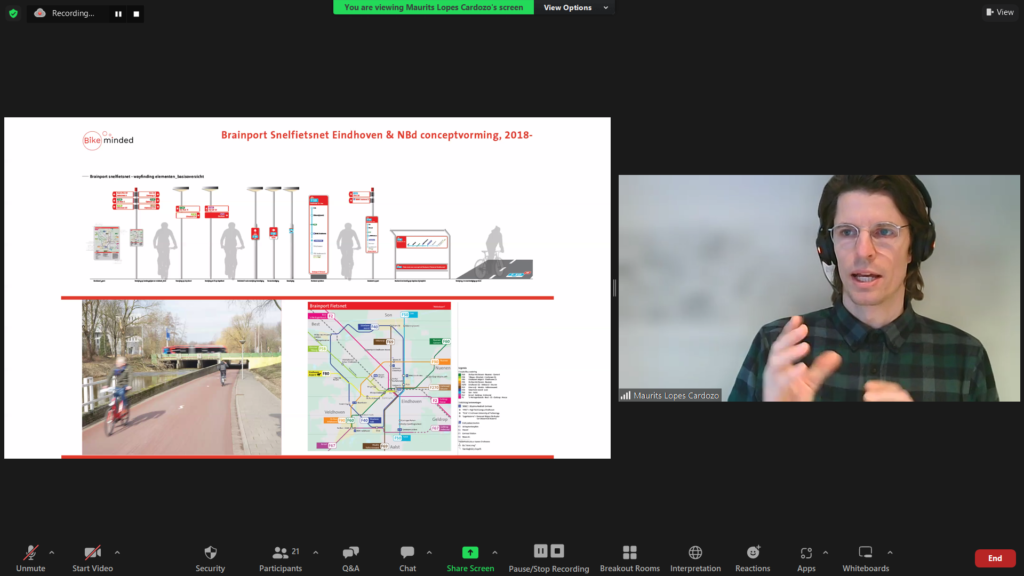 The vivid discussions with webinar participants led to identifying potential pilot areas and stakeholders to explore cross-country actions at the city level. It was agreed to hold a follow-up seminar in the coming months.