The third session of the "New Green Possibilities" International Forum reiterates the importance of design and engineering to the improvement of quality of life. The Design Talk brought together speakers from five leading urban design firms from Europe and Asia and addressed common issues that many cities around the world are facing, such as climate change, air pollution, floods, lack of green public space and energy inefficiency. The Design Talk was the 3rd session of the "New Green Possibilities" series, which dealt with urban policy, platforms for citizens engagement, and urban business.
The talk kicked off with a presentation by Magdalena Rozanska, R&D Projects Engineer and Coordinator at Acciona, highlighting how modern life revolves around cities and buildings. To bring nature close to our lives, she introduced the Urban GreenUP project, which has catalogued nature-based solutions to greening buildings and cities. Many of these solutions are not difficult to create, such as green roofs and green corridors, bringing benefits such as shelter or a resting area, CO2 absorption and air purification, noise prevention and support to pollination. All the solutions implemented are also monitored with the support from citizens. Next, the speaker introduced the SmartEnCity project, in which Acciona was involved in the district heating intervention in one of the districts in Vitoria Gasteiz to make the heating system greener and smarter. Towards the end of the presentation, Magdalena noted the importance of co-creation and co-development processes in which citizens are involved.
Green design solutions were further explored in the presentation of the second speaker: Ignacio Arizu, Head of Development at Gina Barcelona Architects. These solutions are mapped as a comprehensive Sustainability Matrix, including ten topics (biodiversity, water, sustainable mobility, productivity, heat island effects, urban recycling, cradle-to-cradle design, near zero emissions, self-sufficiency, and health and wellness) and three scales of work (city and territory, landscape, and building). For example, for "biodiversity/landscape", Ignacio introduced a project where a landfill was transformed into an agricultural area to bring life back to where life was completely lost. Another example is the Green Riyadh Programme, which deals with productivity at landscape level. The programme designed productive gardens at public spaces in Riyadh, Saudi Arabia, bringing local production closer to citizens. At the end of the presentation, Ignacio noted that the attempt of reverse climate change is what guides the practice at Gina Barcelona Architects.
The third and fourth speakers of the talk specifically dealt with the topic of water management. Leonard Ng Keok Poh, Country Market Director of Ramboll Studio Dreiseitl, showcased his company's water sensitive urban design (WSUD) works in Singapore in two scales: park and building. The Bishan-Ang Mo Kio Park saw an upgrade of the old park and the improvement to the capacity of the Kallang channel for better drainage. With a lot of engineering, the park now not only offers a spectacular recreational space with rich biodiversity, but also functions as a flood plane during the monsoon season. At building scale, Leonard presented the Kampung Admiralty, which is a multifunctional retirement community. It integrates a green roof, a vegetative filter, a rain garden, a rain harvesting tank, cleansing biotopes and an eco-pond and this can save up to a million gallons of water annually.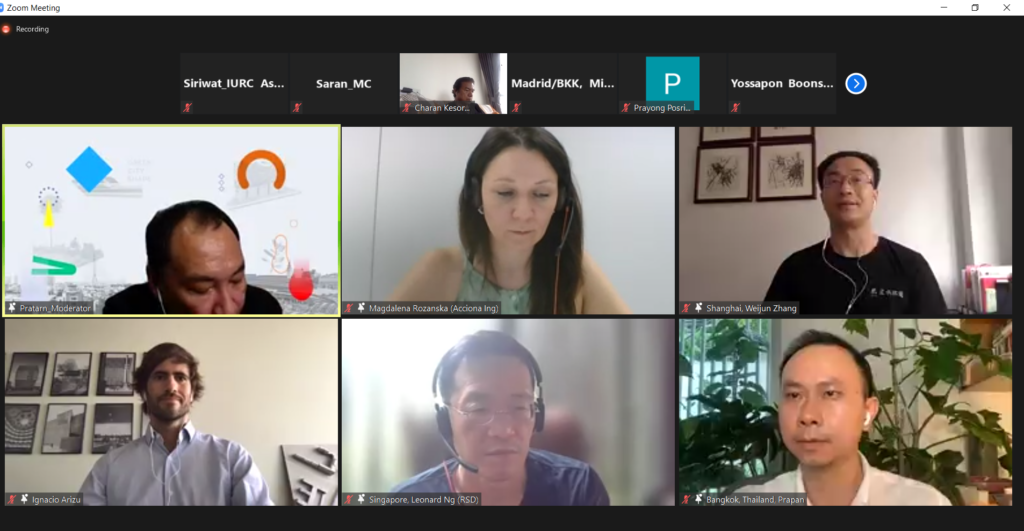 Meanwhile, Weijun Zhang, General Manager, Ewaters Environmental Science & Technology, discussed water management at city scale by presenting the Suqian Sponge City Development Plan in Jiangsu province, China. Suqian's ecology and networks of rivers and lakes had deteriorated due to urban development. So, the sponge city concept was applied to redevelopment to tackle issues including water pollution, waterlogging and flooding, and insufficient protection of ecological functions of the waters. This grand scheme consists of 79 projects in the project area, costing 650 million RMB in total. In addition to the planning part of the project, design standards and guidelines, control and monitoring mechanisms, and capacity building activities were developed for stakeholders to ensure proper management. Two projects were highlighted as examples. One is the JD E-commerce Gateway Town, which includes a rain garden, bioswales, an ecological tree pool and other traditional sponge technologies such as water treatment facilities. The other is the Maling River Ecological Restoration Project, which solved the water quality of the Maling River and improved drainage.
The last speaker, Prapan Napawongdee, a landscape architect at Shma Company Limited, presented an array of innovative designs to provide more green space to city dwellers and tackle issues such as air pollution and floods. Examples include a shelter covered by a net and filled with trees to protect people from sunlight and air pollution; a floating park constructed on a sand barge providing greenery and cultural activities; a house that is turned into a forest to achieve lower temperature; and the Jin Wellbeing County condominium project that avoids causing flooding in its neighbourhood by having a water system that can drain, retain and purify rainwater for use during the dry season. In all, the focus is placed on providing greenery that can grow further in the long run and benefit both humans and other animals and putting in place a water system to handle flooding, which is very common in Southeast Asia.
Did you join our forum? We'd love to hear your thoughts on our event. Email us at info-aa@iurc.eu.
To watch the talk, visit https://fb.watch/72a0SqfvFb/.