The "New Green Possibilities" international forum kicked off on 19 July with the Policy Talk, inviting city officials from Hamburg, Rome, Seoul and Bangkok to share their "green city" experience. Five speakers participated in the talk, all highlighting citizen engagement as an essential process in urban development. The process is key to meeting the needs of the public and achieving projects that are inclusive and can be sustained in the long term. The Policy Talk was the 1st session of the "New Green Possibilities" series, which dealt with urban platforms for citizens engagement, urban design and urban business.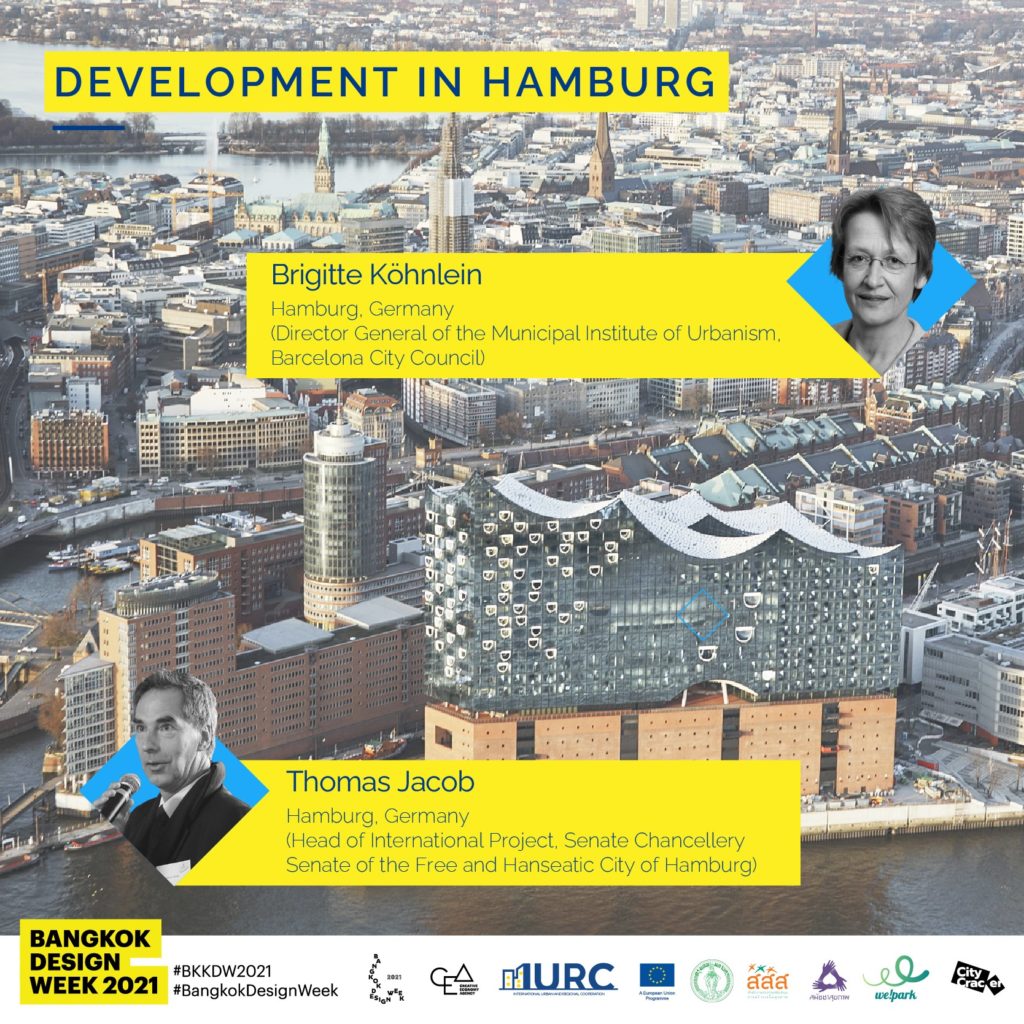 Thomas Jacob, Head of International Projects, Senate of the Free and Hanseatic City of Hamburg; and Brigitte Köhnlein, Deputy Head, Department of Federal, European and International Affairs, Ministry for Environment, Climate, Energy and Agriculture, City of Hamburg, made a presentation on Hamburg's path to being a green city, which involves schemes such as improved transport and mobility, the adoption of solar and renewable energy, and the green roof strategy.
Regarding the green roof strategy, Brigitte said, "We want to make the green network denser and therefore have as many green roofs as possible. This strategy is comprehensive. And it includes monetary incentives, but also regulation, communication and research. Before we set up the strategy, we consulted with all stakeholders—housing associations, developers, builders, craftsmen, architects, landscape gardeners, development banks, chambers of trade and commerce. So, in our opinion, this is a basic pre-requisite for a successful campaign."
Patrick Maurelli, Senior Advisor at Risorse per Roma, made a presentation on Rome's many initiatives related to green areas, such as the adoption of municipal green areas and the promotion of urban agriculture.
"One of the policies on green areas is the adoption of municipal green areas as a valid solution: letting the citizens take care of public space and greenery," said Patrick. "It's something that comes from the citizens, as a demand from the citizens themselves. But it is now regulated. There are now more than 45 hectares that are adopted. And there is, of course, a guideline for citizens and associations that want to adopt a green area."
In the area of urban agriculture, he cited several projects, including the initiative to give land to young people for cultivation. He said, "It's quite a good success, this initiative. It's quite important because agriculture is not something you look as a green landscape, but to be cultivated. It needs work. And it's important that young people also start to appreciate this sector and give new ideas to the agricultural sector," said Patrick.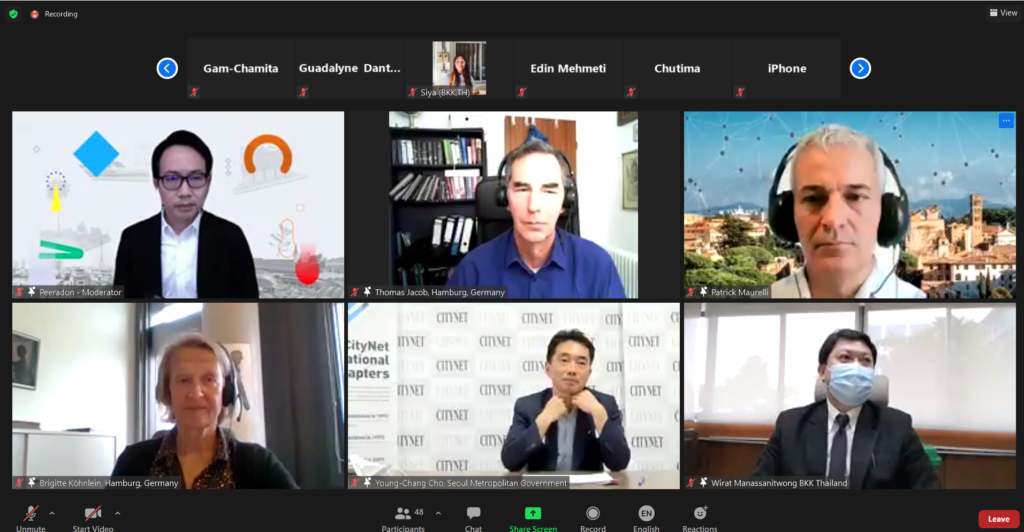 Young-Chang Cho from the City Transportation Office of the Seoul Metropolitan Government (SMG) delivered a presentation on the Seoullo 7017 project, which transformed the Seoul Station Overpass into a pedestrian road full of trees. The SGM conducted some 600 meetings and communication activities to get public approval.
The project connects to business areas and large parks in the city, provides recreational space and cultural facilities, and bring nature back to people and increase biodiversity. He concluded his presentation by saying, "Based on communication with citizens, we will create a big picture of Seoul-style urban regeneration."
Wirat Manasssanitwong, Director-General of the Environment Department, Bangkok Metropolitan Administration (BMA), presented the Green Bangkok 2030 initiative, whose objectives are to increase the share of the population that can access green public spaces within 400 m from 13% to 50%, increase green space per capita from 6.9 m2 to 10 m2, and increase tree canopy cover from 17% to 30% by 2030.
"We want to increase green areas that meet international standards," said Wiwat. "So, the Environment Department, as one of the agencies responsible for promoting a quality environment, we realise the significance of adding more green space and we see the potential of unused land that belongs to the government and the private sector that is scattered around Bangkok, for example, the areas under expressways and gaps between buildings. We are implementing the Green Bangkok 2030 to synergise all the relevant agencies from the government and private sectors and civil society who want to join and commit to increasing green areas in Bangkok."
For a video recording of the forum, please visit https://fb.watch/v/1PuBA6jMw/.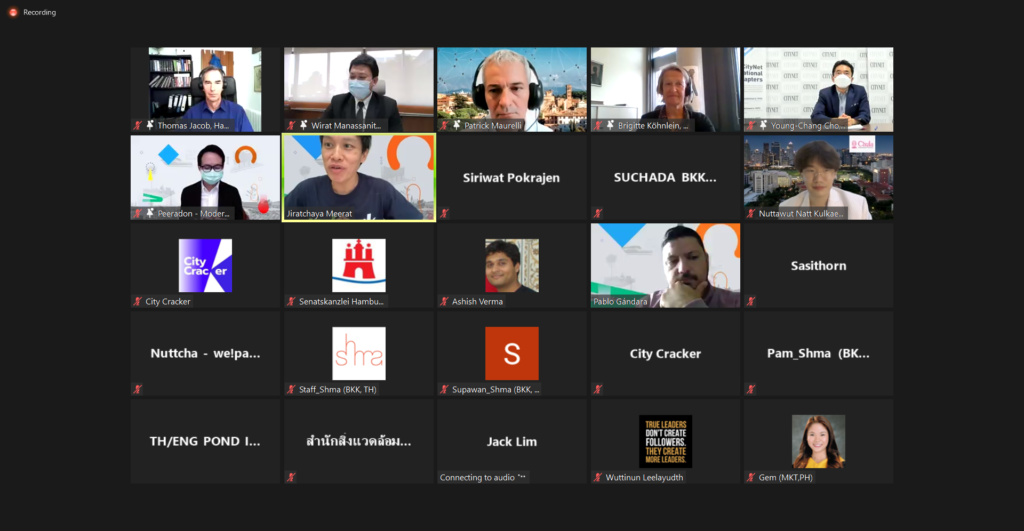 Did you join our forum? We'd love to hear your thoughts on our event. Email us at info-aa@iurc.eu.