The Delegation of the European Union to New Zealand has launched a new seminar series entitled Policy Futures: EU-Aotearoa New Zealand. The purpose is to deepen policy dialogue on issues of mutual relevance, such as climate action, digital policy and the future of multilateralism. The series will support exchanges between New Zealand and EU researchers, practitioners and decision-makers across government, business, academia and civil society.
The first seminar was held online on Wednesday 7 June 2023 and focused on lessons learned in the partnerships on Sustainable Cities. This theme was chosen to honour the EU Green Week (3-11 June 2023), as well as policies such as the EU Green Deal, the EU Urban Agenda, the European Urban Initiative and the 100 climate-neutral and smart cities by 2030.
Kevin O'Connell (Deputy Head of Mission, Delegation of the European Union to New Zealand) welcomed the 96 participants and introduced the policy future series. He acknowledged that each city has its own history, identity and geography and cannot be compared as such. However, they do share common challenges and ambitions, whether it's on climate change, renewable energy or smart mobility, He then handed over to Professor Paul Dalziel (IURC Country Lead for New Zealand), who gave a brief overview of the IURC programme. Representatives of the European Cities had prepared a brief video for the seminar. Eglė Randytė (Vilnius, Lithuania), Sarah Lund (Lemvig, Denmark), Diego Gil (Málaga, Spain) and Juan Carlos Escudero (Vitoria-Gasteiz, Spain) introduced their cities and made some comments on the collaboration with their New Zealand partners.
The New Zealand representatives gave PowerPoint presentations on the activities and ongoing results from participation in the IURC programme. All three participants had hosted missions from their European partners. Christchurch City had visited Málaga and Vitoria-Gasteiz in November 2022. New Plymouth will visit Vilnius in July and the Wakatū / Nelson collaboration will visit Lemvig in August.
Jacqueline Baker (Deputy Chief Executive, New Plymouth District Council) began a presentation on the partnership with Vilnius. Technical difficulties meant Paul Dalziel finished the talk. It focused on more than 20 on-line seminars covering topics such as the 2050 Taranaki roadmap to a low emissions future, hydrogen, renewable energy and a central city strategy. He also referred to the IURC journey so far, focusing on renewable energy and reducing CO2 emissions (mainly in heating and transport). Paul referred to potential pilot actions identified and mentioned that a Taranaki delegation will visit Vilnius in July 2023.
Miriana Stephens (Wakatū Incorporation) explained the journey with the Klimatorium in Lemvig. This began in 2016 with the launch of Wakatū's intergenerational vision, Te Pae Tawhiti. Wakatū, Whakarewa Trust and the Nelson City Council have established a relationship with the Klimatorium because of shared values, innovation mindsets, openness to collaborate, and commitments to actions addressing climate change. The partners are collaborating to prepare a concept for a Climatorium for the Nelson region, which is called Tūpuna Ao Ora, which means Good Ancestors in Climate. This vision is to be good ancestors by creating a world leading centre for climate resilience partnership, so that Te Taiao (our natural world) and Tangata (our people) are healthy. Miriana and further representatives from Wakatu will visit Lemvig in August 2023.
Christchurch City is partnered with Vitoria-Gasteiz and Málaga in Spain. Three staff members of the Christchurch City Council spoke (Tony Moore, Principal Advisor, Climate Resilience; Jane Morgan, Team Leader, Coastal Hazards Team; Julianne Hughey, City Initiatives Lead, Smart Christchurch), as did a representative of the city's economic development agency (Simon Anderson, Regional Growth Manager, ChristchurchNZ). Their presentations focused on what they had been able to offer their European partners, what they had learned from the collaborations, and an introduction to some ongoing projects. Important tools for the collaboration have included the Ōtautahi Christchurch Risk Explorer and the Smartview city data visualisation platform. The collaboration will be highlighted at the Smart Christchurch Innovation Expo in September this year. Christchurch delegates visited Malaga and Vitoria Gasteiz in November 2022.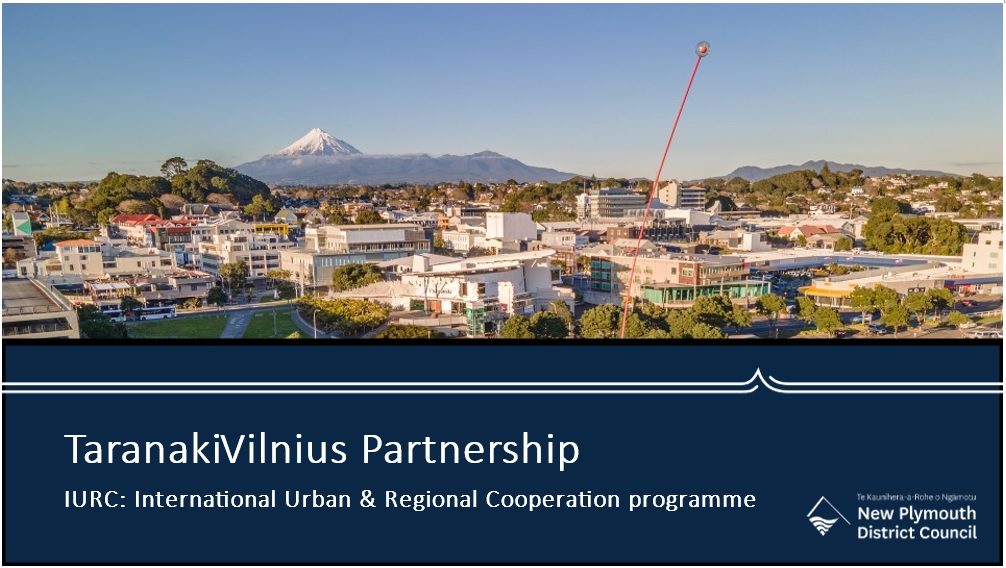 There was time at the end of the presentations for two questions. The first was how the New Zealand participants had found the experience of engaging with European cities that are quite different in scale and context. All three cities had found considerable common issues around issues of sustainability and liveability that had generated concrete projects for collaboration. The second question asked how the European partners had found the experience of New Zealand's engagement with Māori communities acting as mana whenua (territorial authority of tribal lands). That engagement had been an essential part of the visits by all three missions to New Zealand, and there had been strong recognition of the importance of Indigenous knowledge in creating sustainable cities. Paul Dalziel thanked Kevin O'Connell and his EU Delegation colleagues for hosting this inaugural webinar in the Policy Futures series. He thanked those who had prepared presentations, those who helped organise the seminar, and all those who had joined the event.
A recording is available here.