26-30 August 2023
Supported by the International Urban and Regional Cooperation (IURC) programme funded by the European Union (EU), Dublin City Council sent a 3-person delegation to Seoul (Republic of Korea) to initiate pilot project implementation in the fields of urban mobility and digital transition. This study visit is part of the competitive award given by the European Union, aiming to further develop the cooperation in building data-analytic capacity in both cities.
The Seoul Metropolitan Government, covering the capital city of the Republic of Korea, governs a population of more than 9 million people. In 2004, Seoul launched TOPIS in order to manage the traffic congestion and provide practical solutions to its citizens. TOPIS is an intelligent traffic-information service that enhances mobility, supporting policy decisions by collecting, managing, converging, and providing traffic conditions and information to citizens.
The delegation from Dublin is led by senior representatives from the Dublin traffic and Climate Action departments. Delegates are learning how Seoul currently implements sustainable urban mobility solutions, while identifying innovative solutions to be applied to the newly established traffic data centre in Dublin.
Moreover, delegates met with the European Union Delegation to the Republic of Korea, reporting on the study visit's results, and learning about possible collaboration within the EU Horizon Europe programme and seeking further cooperation with other EU programmes.
Taking part in the visiting delegation from Dublin City Council were:: Karen Hosie – Senior Transportation Officer, Niall Bolger – Senior Executive ITS Officer and Sabrina Dekker – Climate Action Coordinator.
Day 1
On 28 August, the senior transportation experts from Dublin City Council started their first day of the visit to Seoul as a part of the joint IURC pilot action. As Dublin City Council plans to open a new traffic data centre, this pilot action and study visit aims to provide exemplary practices of traffic data management operation from Seoul to improve data analytic capacity in both cities.
Afterwards, the delegation visited TOPIS, a world-renowned intelligent traffic information comprehensive service center, where they learned about #GreenTransportation policy and #SeoulITS system.
Later in the day, the delegation visited T-money which is a smart card and manages Seoul's AFC (Automatic Fare Collection) where they learned #InnovationalSolutions on transportation and payment system such as #Taglesspay and #AI-taxi!
Day 2
On the second day of the visit, Dublin City Council experts paid a visit to the Traffic Information Center in the Seoul Police Agency and Traffic Management Center at the Seoul Facilities Corporation to have a holistic view of Seoul Metropolitan Government's #TrafficManagement system with optimized traffic control and cooperation mechanism between different operating agencies.
Through these visits, Dublin delegation exchanged knowledge and experience on #AI-based detection system and open data platform with #transportation experts from Seoul. As providing approachable data to the public is very crucial but also challenging, both cities discussed to further cooperate on that topic in the future. The challenges and pressing issues addressed during the visit will be included to Dublin-Seoul's joint e-book publication to be published later this month.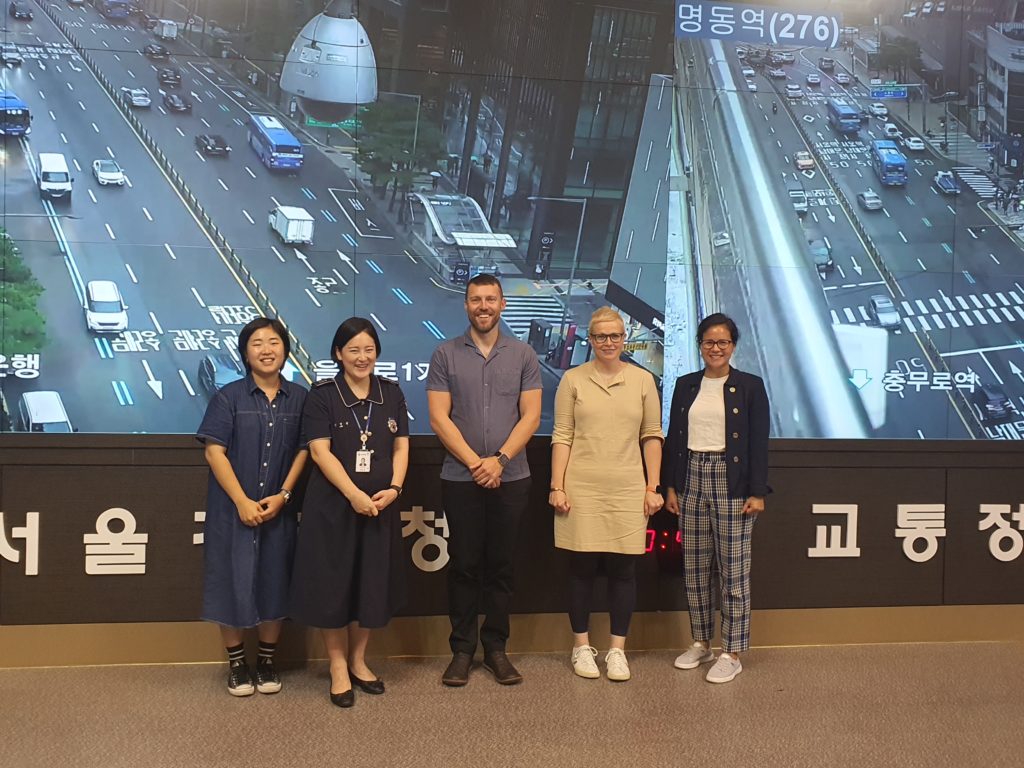 Day 3
On the final day of the visit, the Dublin City Council delegation experienced Seoul's self-driving service called #RoboShuttle, which is an autonomous demand-responsive vehicle service operated by Hyundai Motor. This autonomous driving service is equipped with an AI-powered system and Level 4 autonomous-driving technology. Through this experience, Dublin delegation explored Seoul's futuristic transportation system with advanced technology.
Furthermore, the delegation also tried Seoul's popular bike-sharing service #Ttareungi, a public service operated by Seoul Metropolitan Government to learn how the city optimizes traffic flow with expansion of bike lanes. The day was completed with the wrap-up session and briefing at the Delegation of the European Union to the Republic of Korea to develop ideas on pilot action initiative on #UrbanMobility and #DigitalTransition.