As part of the IURC Programme, Chennai (Chengalpattu district) in India, the City of Trier in Germany, the Hindustan Institute of Technology and Science (HITS), Chennai and the Trier University of Applied Sciences (TUAS) have been cooperating on a sustainable campus concept. To set the basic framework for a circular economy, a biogas pilot plant was constructed at the HITS campus which is converting untapped organic waste to useful energy.
A biogas plant is a facility that converts organic waste materials into biogas through a natural process called anaerobic digestion. This renewable energy technology utilizes microorganisms to break down organic matter, such as agricultural residues, food scraps, and animal manure, in the absence of oxygen. As the organic material decomposes, it produces methane-rich biogas, which can be used as a clean and sustainable source of energy for cooking, heating, and electricity generation. Additionally, the residual slurry left after the digestion process can be used as a nutrient-rich fertilizer. Biogas plants contribute to waste management, reduce greenhouse gas emissions, and promote the production of renewable energy in an environmentally friendly manner. The pilot plant handles 300 kg/day food waste produced within the campus premises, while the output is used for cooking. The plant comprises of the following components: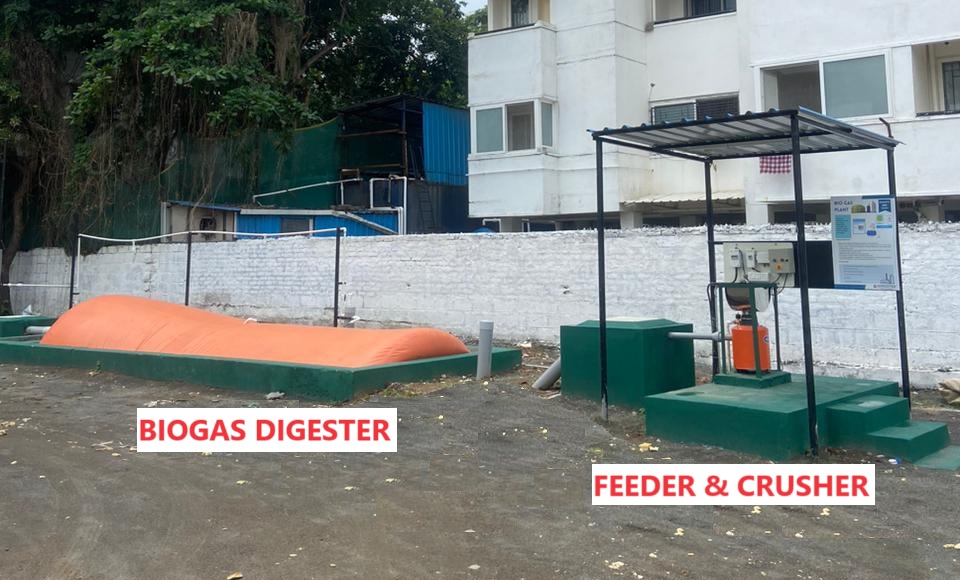 On 14th September 2023, the biogas plant was inaugurated in the presence of Mr Pablo Gandara, Team Leader, IURC Asia & Australasia, Dr Panagiotis Karamanos, Country Coordinator (India), IURC Asia & Australasia, Prof. Dr. Peter Koenig, Head, Automotive Engineering, TUAS, Dr Felix Bentgens, Assistant Professor, TUAS, Dr Anand Jacob Verghese, Chancellor HITS, Mr Ashok Verghese, Pro Chancellor, HITS, Dr Aby Sam, Executive Director, HITS and Dr. S N Sridhara, Vice Chancellor, HITS.
An IURC Programme status update meeting was also held on the same day with Mr. A Rahul Nadh, IAS, District Collector, Chengalpattu, Mr. G Lakshmipathy, IAS, District Sub-Collector, Chengalpattu, Mr S Mallikarjuna, Director, Indo-German Chamber of Commerce, IURC, HITS and TUAS delegates to discuss the results of the programme achieved within a quadruple helix model of cooperation, opportunities for upscaling similar solutions at the district level, as well as prospects for future collaboration. The biogas plant showcased the possibilities for a larger scale community system to achieve a greater impact in the quest towards a circular economy.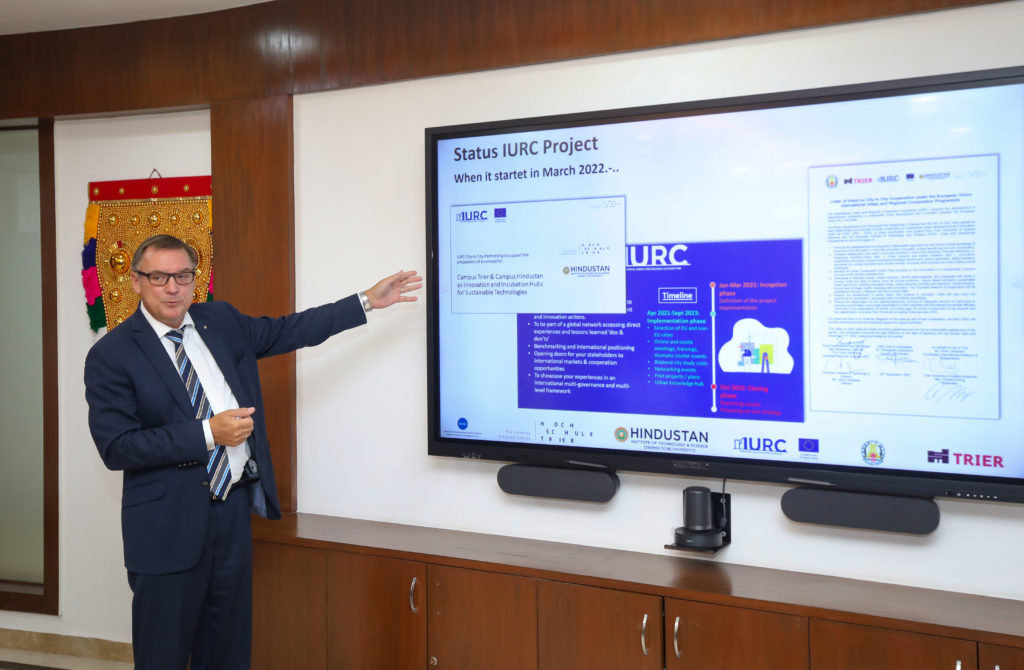 A short video on the biogas plant, a circular economy pilot as an outcome of the Chennai – Trier Cooperation, is available on the IURC YouTube Channel.