The IURC-China programme held the Promotion Ceremony of Rome Garden and Culture & Tourism Exchange in the International Horticulture Expo 2021 Yangzhou on 8th July. Representatives from Rome Municipality and Yangzhou City Government took part in this event.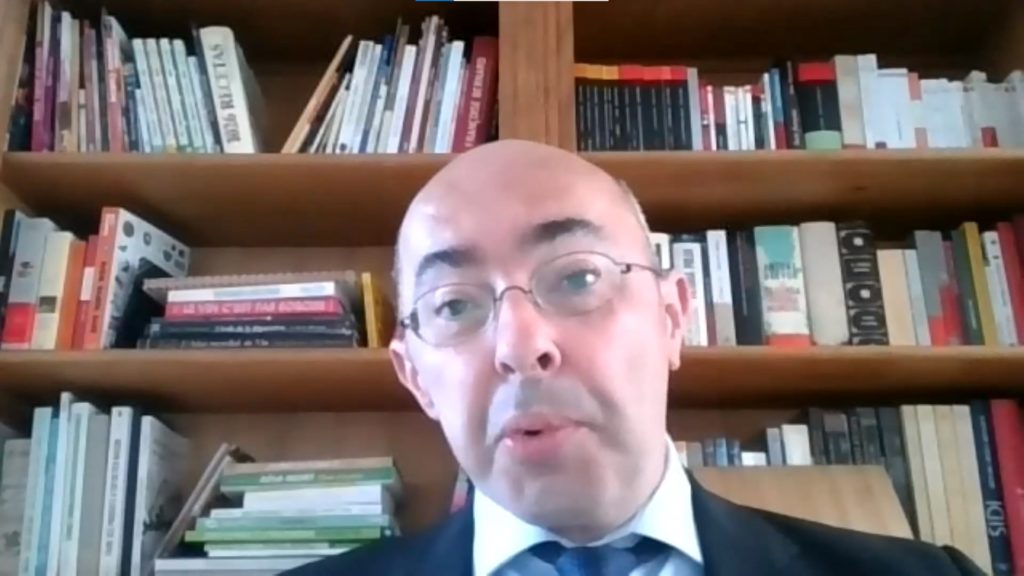 Mr. Ramón López Sánchez, Policy Coordinator for International Relations of DG REGIO in European Commission delivered the opening remarks.
He pointed out that this ceremony was not only to highlight Rome's important participation in the IHE 2021 Yangzhou, but to explore new cooperation avenue in the fields of culture and tourism. The cooperation supported through IUC, he continued, was a great example of how to implement the UN's Sustainable Development Goals and the European Union's Urban Agenda at local level and how local authority can achieve this goal in partnership with local stakeholders, i.e., academia and the private sector. He further expressed his gratitude to Rome and Yangzhou for this unique achievement, which shows that even in this difficult time, we could still change things together by bringing concrete solutions to deal with the common challenges. He was proud to witness the great willingness and commitment from both sides to stand together to help each other as real friends and partners.
The whole purpose of international cooperation, he explained, which the European Commission is aiming to continue to support through IURC, International Urban and Regional Cooperation, the 2nd phase of IUC and currently the world's most ambitious city to city cooperation programme, is to link European cities with counterparts in Americas, Asia, and Australasia. Under IUC Programme, 85 city parings were established, bringing together 168 cities, including 76 cities from 20 member states of the European union, as well as 40 regions from across Europe, Asia and Americas. Together they have developed joint plans, implementing actions to address the most urgent urban issues, such as urban congestion, urban equality, social inclusion, or green transition. Rome and Yangzhou are among those who have delivered significant and far-reaching results.
The European Union, he concluded, very much hope that this event will lead to a strong tie and further joint actions and projects between Rome and Yangzhou.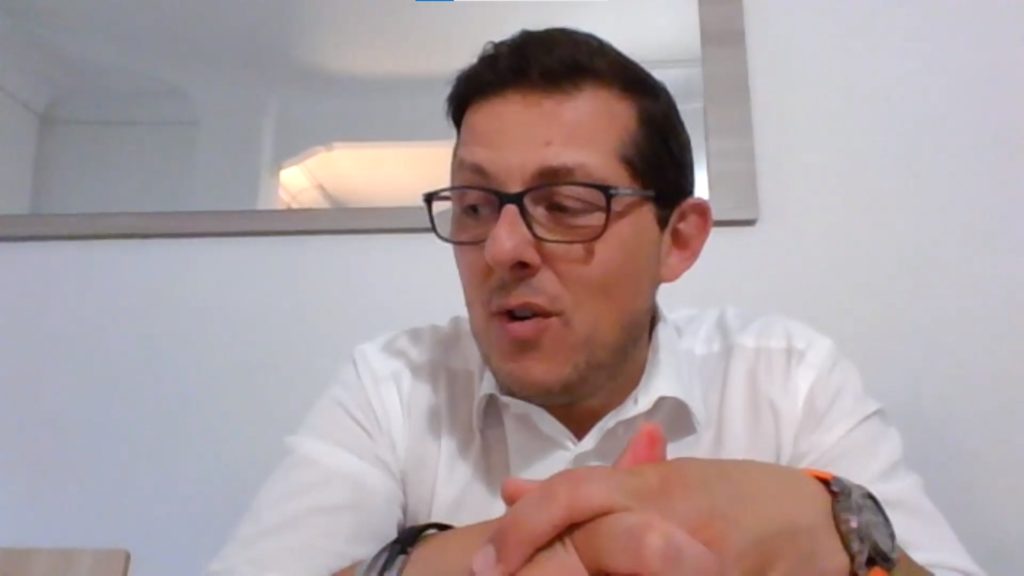 Deputy Mayor Gianluca Tedesco, Head for Tourism of Rome Municipality, thanked the Expo organizer and Sapienza University for Rome's participation in the Expo, showcasing Rome's expertise in urban agriculture and green building.
He stressed Rome's commitment to continue the cooperation with Yangzhou, especially in tourism. Besides, Rome launched a tourism promotion early this year. Although there is no flight between Italy and China at the moment, he concluded, hopefully it will be resumed in September or October.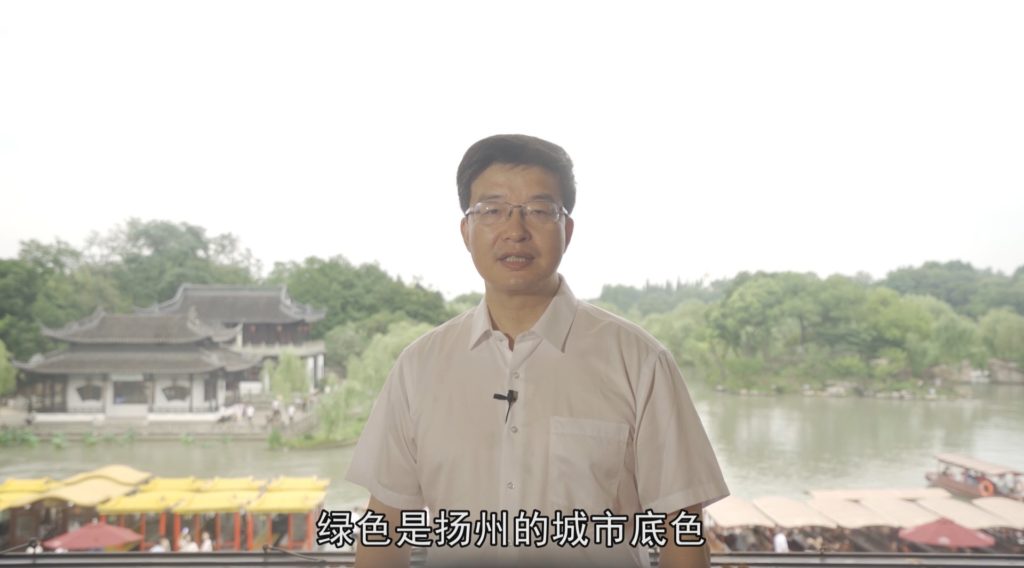 Deputy Mayor YU Ting of Yangzhou City Government addressed and congratulated the audience for the successful cooperation between Rome and Yangzhou.
He started with that last year Barcelona, NCI of Bologna, Rome and Stuttgart accepted Yangzhou's invitation to participate in the International Horticulture Expo 2021. These cities not only design their own gardens, but showcase the quintessential elements of European gardens, pavilions and other unique green features. He was deeply grateful for their dedication to this wonderful gardening event.
He further mentioned that Yangzhou is the canal and gastronomic capital of the world, as well as the cultural centre of Eastern Asia. Like Rome, it has a history of more than 2500 years. Yangzhou is most livable and very green and a city of innovation, focusing on advance manufacturing. On the other hand, he went on, Rome is the capital and largest city of Italy, as well as the political, economic, historical and cultural centre.
He was eager to hear the cooperation suggestions from the European side at this event and would like to welcome more cities from the EU to engage in the fields of culture, tourism, and friendly exchange, in order to share the development opportunities, deepen the EU-China collaboration and make further contribution to it.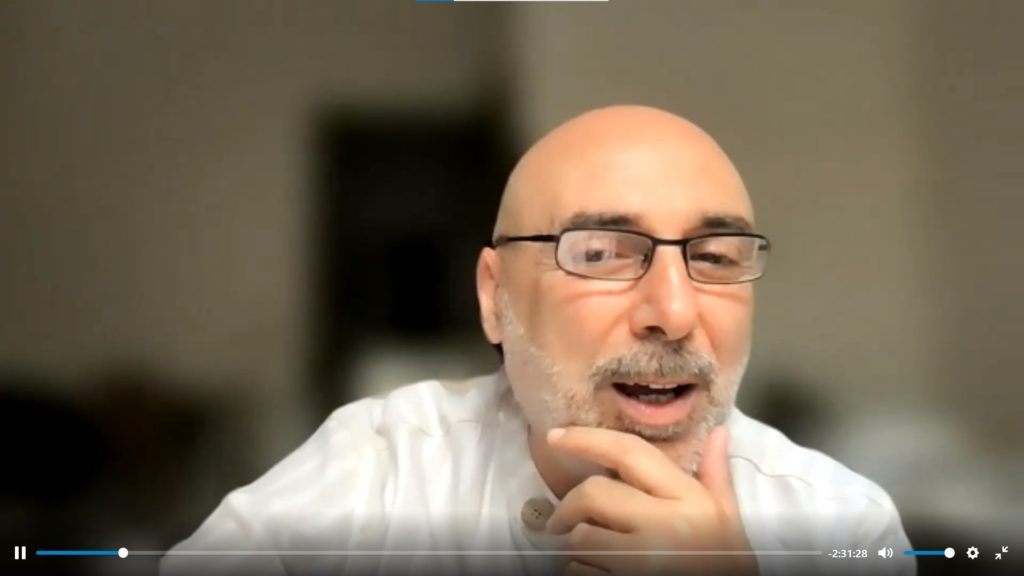 Dean Orazio Carpenzano from Faculty of Architecture Sapienza University of Rome exchanged his thoughts with the audience.
He began with a brief introduction of Faculty of Architecture, which is one of the Sapienza's 11 faculties and has 58 departments, one School for Advanced Studies, one School of Aerospace Engineering for post-degree, as well as numerous research and service centres.
He stated that Sapienza is committed to achieving the 17 UN Sustainable Development Goals (SDGs) through its educational activities, research, service to society, and cross-cutting policies. In addition, scientific research activity at Sapienza covers a broad spectrum of disciplines and reach levels of excellence in many areas, including archaeology, physics and astrophysics, humanities and cultural heritage, the environment, nanotechnologies, cell and gene therapy, design, aerospace, social and economic sciences. Sapienza currently offers over 280 degree-programmes, among which over 50 are taught in English, 200 Advanced Professional Courses, 80 PhDs and 80 specialization schools. He summed up that the research activity of the faculty could be synthetized into two main areas, namely "Architecture and Sustainable Cities" and "Historical Heritage Preservation".
Besides, Sapienza also provides its students many international opportunities, including double degrees, scholarships abroad, internships in European and non-European countries, and international PhDs. In particular there are 25 International Protocols for academic exchange with Chinese Universities.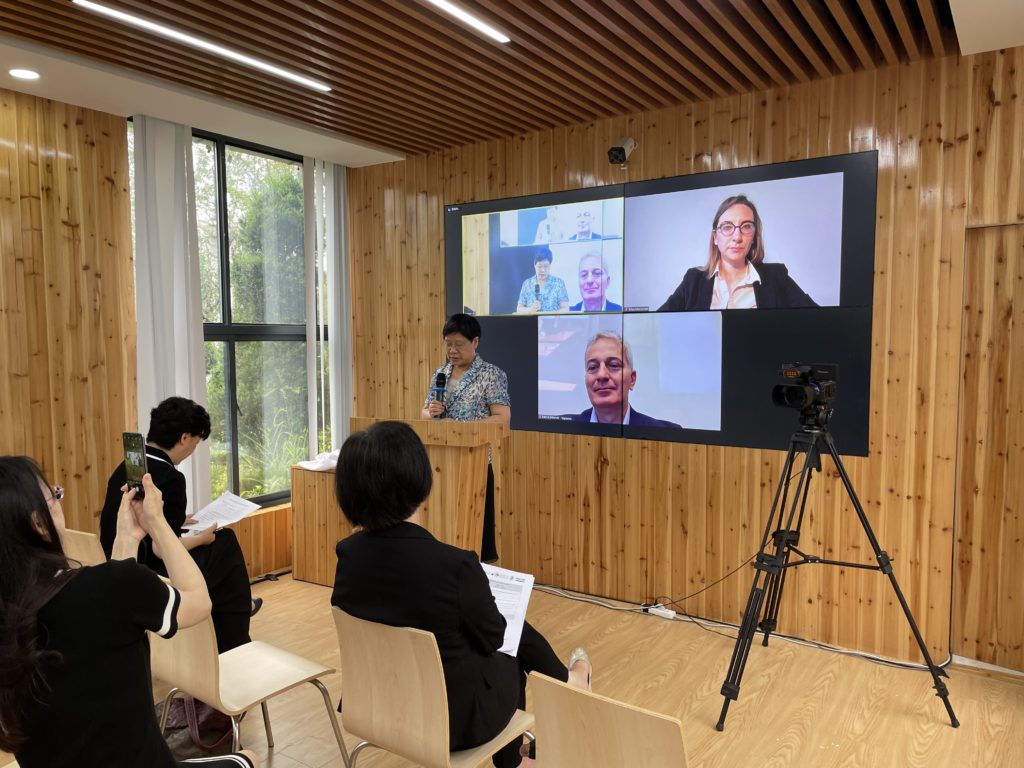 Ms. CHENG Zhaojun, Deputy Director of Yangzhou Development and Reform Commission, addressed the audience.
She said that in October 2019, Yangzhou was selected by NDRC as a pilot city of EU-China regional cooperation. With the joint efforts from Yangzhou DRC, Foreign Affair Office, Bureau of Housing and Construction, Yizheng City and Yangzhou University, Yangzhou eagerly advanced the cooperation with European cities. Not only did Yangzhou start the preparation of EU-China High-level Seminar on Regional Cooperation, but successfully secured the participation of 4 EU cities such as Rome in IHE Yangzhou. Besides, academic cooperation has been fostered between Yangzhou University, Sapienza University of Rome and University of Bologna, resulting in an array of projects and intentions for partnerships.
In recent years, she continued, Yangzhou has been pressing ahead the cooperation with EU cities in various areas, STI in particular. 70 agreements of in technological and industrial cooperation have been reached. Urban sustainable development, in partnership with GIZ on ancient township preservation and renovation technologies is a highlight. Yangzhou is keen to befriend more EU cities and engage itself in exchanges and mutual visits when opportunity allows.
In the end she spoke of the fields Yangzhou would be interested to cooperate with European cities. And they are industrial transformation, technological innovation, culture & tourism, urban construction, green development, higher education, vocational education, etc.
And then started the 2nd session "Culture & Tourism Exchange between Rome and Yangzhou".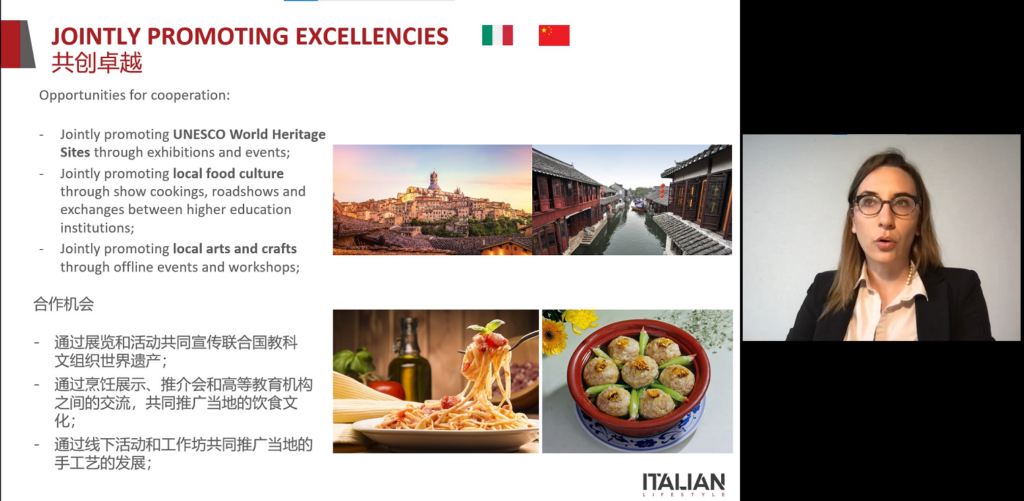 Ms. Elisa Morsicani, CEO of Italian LifeStyle CEO, shared her thoughts on "the Prospects of Sino-Italy Cultural Exchange".
She started with the presentation of the project Vento d'Italia, a national initiative, patronaged by the National Tourism Board as well as the Ministry of Culture and Tourism, promoting Italy as a tourist destination and efficiently welcoming Chinese tourists through technological innovation such as WeChat Account and Mini-programme.
Vento d'Italia aims at offering Chinese tourists the opportunity to discover, experience and feel the truest essence of the Italian Lifestyle before, during and after their trip and all of the high-quality contents are in Mandarin. The project has expanded beyond Rome and established close partnerships with Siena, a UNESCO World Heritage Site, Florence, Milan and many more. Vento d'Italia has so far received more than 1 million engagements and has more than 200,000 users.
In addition, she suggested some possible bilateral cooperation in culture, tourism and business. Firstly, to jointly promote UNESCO World Heritage Sites through exhibitions and events; then, to enhance the exchange of food culture through themed events, cooking shows, and exchanges between higher education institutions; thirdly, to boost local arts and crafts through offline events and workshops; and the last, to promote green tourism through showcasing the natural scenery of gardens and canals. Furthermore, she believed that study visits of Italian and Chinese delegations will stimulate business exchanges.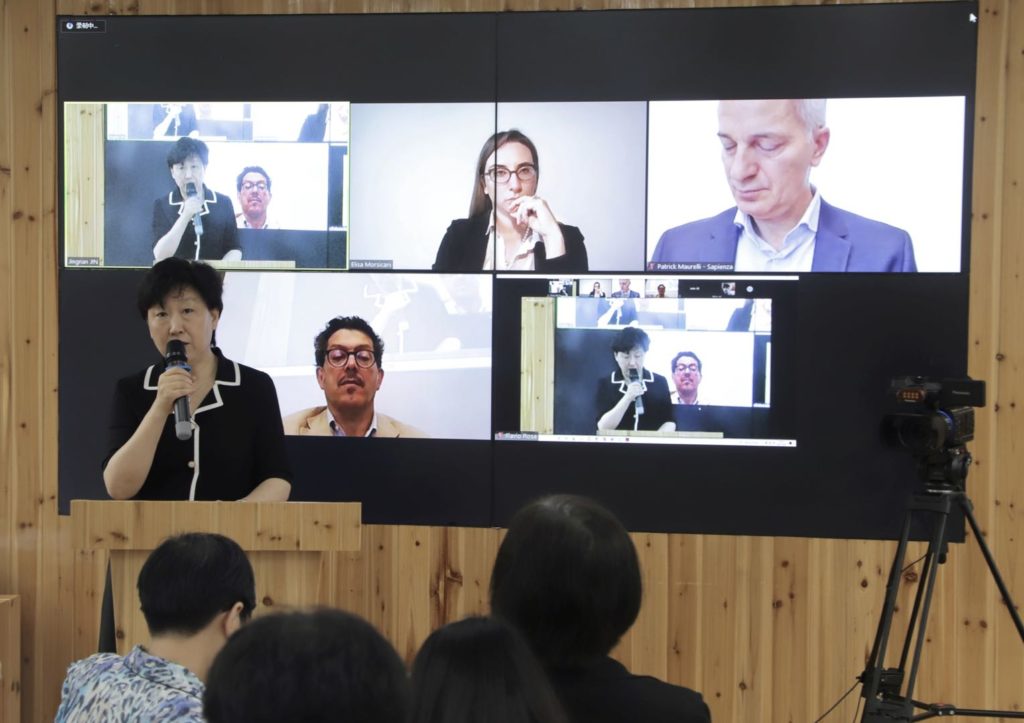 Ms. CHENG Lingchun, Deputy Director of Bureau of Culture, Radio, Television and Tourism in Yangzhou Municipal Government, introduced Yangzhou's Tourism Culture and Prospects of Cooperation with Europe.
She started with mentioning that last November President Xi was visiting Yangzhou and he referred to the city as a great place to be and a historical and cultural city of China. Yangzhou is known to the world with its attractions: the Great Canal enlisted as UNESCO's World Heritage, Ming-Qing dynasty ancient street, Slender West Lake and the classic Geyuan Garden as well as its fine cuisine, etc.
And then she pointed out that the municipal government was dedicated to building Yangzhou as an optimal domestic tourist destination with international reputation. In recent years, Yangzhou has centered its marketing campaign on the themed seasonal attractions in all 4 seasons. The effort is to strengthen the promotion in the EU market. Apart from the dual-city standard – gastronomic guide to Huaiyang cuisine and service for international tourists in partnership with Orleans France, Yangzhou has established a promotional centre in Spain. In addition, Yangzhou worked with BBC to produce a promotional film which took the angle of a young couple who experienced the slow life style in Yangzhou. When it comes to digital promotion, the local authority has been operating an all-English website to entertain global tourists and hosted the international tourist KOLs and influencers to Yangzhou.
To eye for the future, she concluded, Yangzhou would like to continue to be part of China-EU cultural exchange. Positioning herself as the "World Capital of Canals", "World Capital of Gastronomy" and the "City of East Asian Culture", Yangzhou is going to craft tourist routes for international tourists in a post-pandemic era via online-offline promotions.
Ms. XU Jing, Deputy Director of Foreign Affairs Office in Yangzhou Municipal Government, introduced Yangzhou's Connections with European Cities.
She stated that since 1990s, Yangzhou has come into twin cities with 9 EU cities from 9 member states and formed friendly relationship with other 27 cities across 18 countries. Our cooperation and exchange with Italy have been a shiny example of such relationship. Threading on the steps of Marco Polo 700 years back in time, Yangzhou has inherited its historic friendship with Italy and brought it even further to sign twin city agreement with Rimini while building friendly relationship with Venice and Siena, as well as a close tie with Parma, a worldly renowned gastronomy city like Yangzhou.
This April, she continued, the Consul General of Italy to Shanghai, Mr. Cecchi attended the opening ceremony of the IHE Yangzhou at our invitation before paying a visit to the Marco Polo Memorial. During his visit, Mr. Cecchi proposed to cooperate with the Memorial, together with Venice city council and Ca' Foscari University of Venice, adding colours to our 2022 China-Italy Culture and Tourism Year.
The cooperation with the French city Orleans on promoting inter-city tourism standardization, she pointed out, has won Yangzhou the "France-China Cooperation Award on Local Government". As for the cooperation with the Dutch city Breda, the focus is on water, agriculture, tourism and trade, all framed in a five-year cooperation plan. Additionally, Yangzhou is also working with Cambridge and Kaiserslautern on two-way incubators to foster STI. Via the IURC platform, the Yangzhou Office of Foreign Affairs has taken the opportunity of this IHE to strengthen its relationship with Rome, Bologna, Barcelona and Stuttgart and to deepen China-EU tourism and cultural exchange as well as to share new opportunities for cooperation.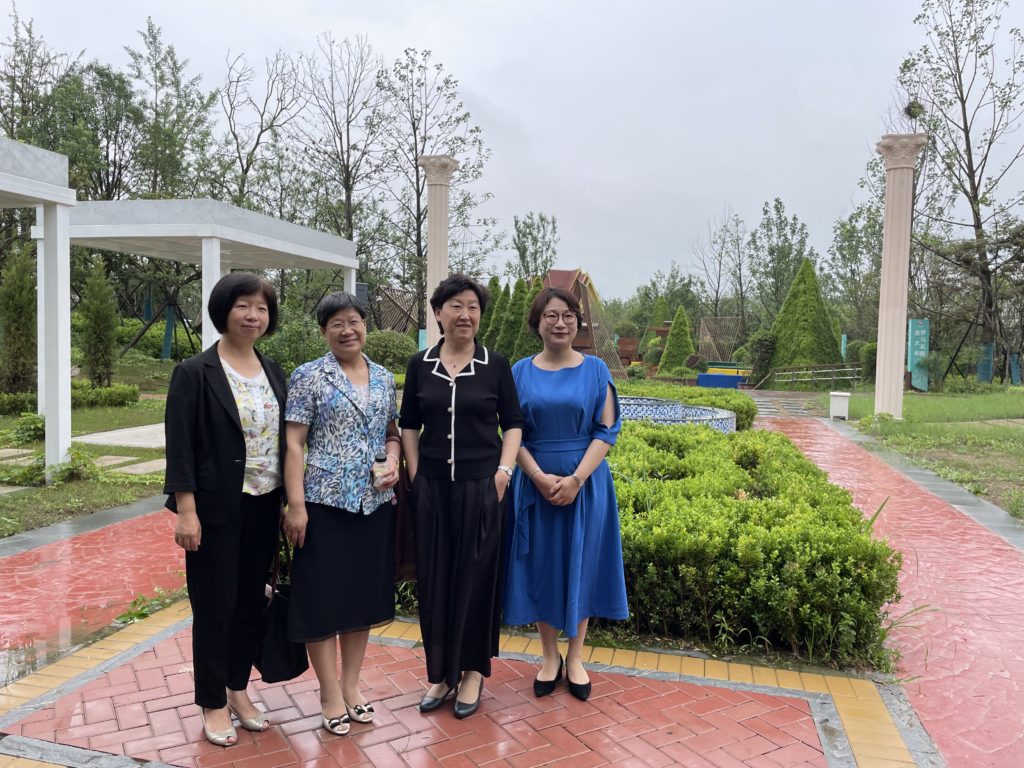 PPT
Elisa Morsicani_The Prospects of Sino-Italy Cultural Exchange