For cities to achieve carbon neutrality, renovating old buildings so that they are energy-efficient is crucial. According to the Joint Research Centre (JRC) of the European Commission, buildings represent 40% of total energy consumption and 36% of GHG emissions in the EU. Without such renovation, the net zero carbon goal would be unlikely.
On 29 November 2021, IURC Asia & Australasia teamed up with the Institute for Global Environmental Strategies (IGES), which provides helpdesk service to paired EU and Japanese cities in the programme, to organise a webinar titled "The Role of Municipalities in Promoting the Renovation Wave" as part of the International Forum for Sustainable Asia and the Pacific 2021 (ISAP2021). The session featured four main speakers, who shared information on EU policies for renovation of existing buildings as well as experiences from cities in this regard. It was moderated by Ms. Ryoko Nakano, the Research Manager of City Taskforce at IGES. Mr. Hidefumi Imura, Professor Emeritus at Nagoya University and Senior Fellow at IGES, provided a background to the webinar. Meanwhile, Mr. Pablo Gándara, Team Leader of IURC Asia & Australasia, engaged the speakers in discussions and gave information on the next steps for thematic cross-country cooperation.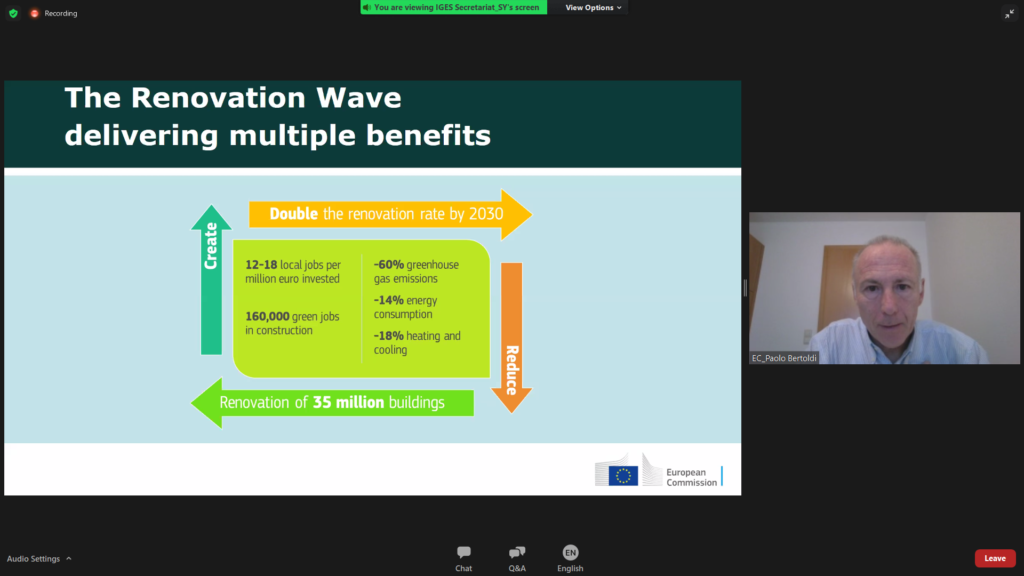 Dr. Paolo Bertoldi, a senior expert at the JRC, highlighted EU policies on buildings and energy efficiency including the Renovation Wave, the New European Bauhaus, the Energy Performance of Buildings Directive, the Energy Efficiency Directive and the Ecodesign Directive, which target both existing and new buildings. Dr. Bertoldi noted that the current renovation rate is less than 1% per year and it will need at least to double for the EU to reach its energy efficiency, renewables and climate objectives.
The Renovation Wave can bring many direct and indirect benefits, including the reduction of GHG emissions by 60% and of energy consumption by 14%, the creation of 160,000 green jobs in the construction sector, increased value for renovated properties and less outdoor air pollution. With a high annual investment of 275 billion EUR, incentives and financing schemes are important. These schemes include tax reduction, zero interest loans and subsidies for energy-poor households. In addition, one-stop shops have been set up at local level to centralize public services related to renovation and ensure the quality of interventions.
The JRC senior expert also mentioned the progress of cities that are signatories of the Global Covenant of Mayors for Climate & Energy (GCoM), which included 9,858 cities in the EU representing 217 million inhabitants. The buildings in these cities account for 56% of GHG emissions. The building energy sector is addressed by 90,000 actions and measures, the majority of which aim at improving energy efficiency of lighting systems, building envelopes, space heating and hot water systems as well as electric appliances. Some cities propose renewables for space heating and hot water systems.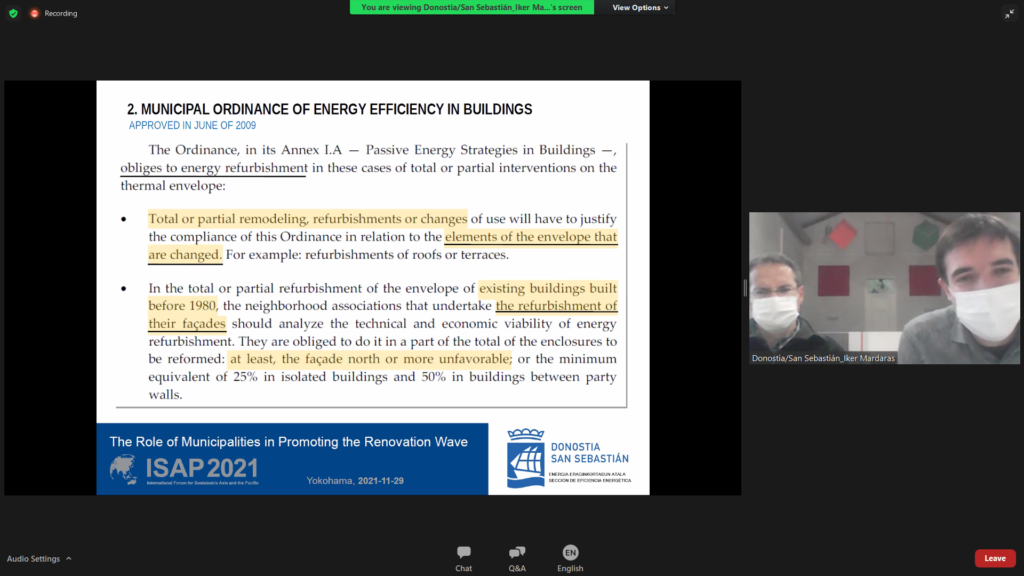 The first city to share its renovation experience was Donostia-San Sebastián, represented by Mr. Jon Gastanares and Mr. Iker Mardaras Larrañaga from the Energy Efficiency Section. Located in the north of Spain, the city has a cold winter and a not too warm summer. With an average temperature of 13 degrees Celsius, heating is a big part of energy consumption in buildings. Donostia-San Sebastián launched the Climate Plan DSS 2050 in 2018 and announced a climate emergency in 2020. The goal is to reduce CO2 emissions by 40% in 2030 and 80% in 2050. Currently, buildings constitute almost 22% of the total emissions in the city.
70% of buildings in Donostia-San Sebastián were constructed before 1980 and are not thermally insulated. To achieve the aforementioned goal, the municipality needs to refurbish more than 3,000 buildings per year. Between 2009 and 2020, 20% of 88,327 dwellings were renovated. The driver for building owners and builders was the municipal ordinance with numerical targets for energy performance levels that need to be observed. Without complying to the ordinance building permits were not be given out by the municipality. These amount to reductions of total energy consumption and CO2 emissions in housing by 7% and 6% respectively and of total energy consumption and CO2 emissions in the city by 2.7% and 0.73% respectively. The figures might be small, but the process gained the support of various stakeholders.
The two speakers also showed cases of refurbished municipal buildings, whose interventions included changing of the electrical systems, thermal installations and thermal envelopes of buildings, production of renewable energy from biomass and solar PVs. Eleven buildings have solar PV installations and 5 facilities are in the tendering process, totalling 802 kWP. Another 28 buildings have solar PV to sell to the grid, totalling 805.6 kWp.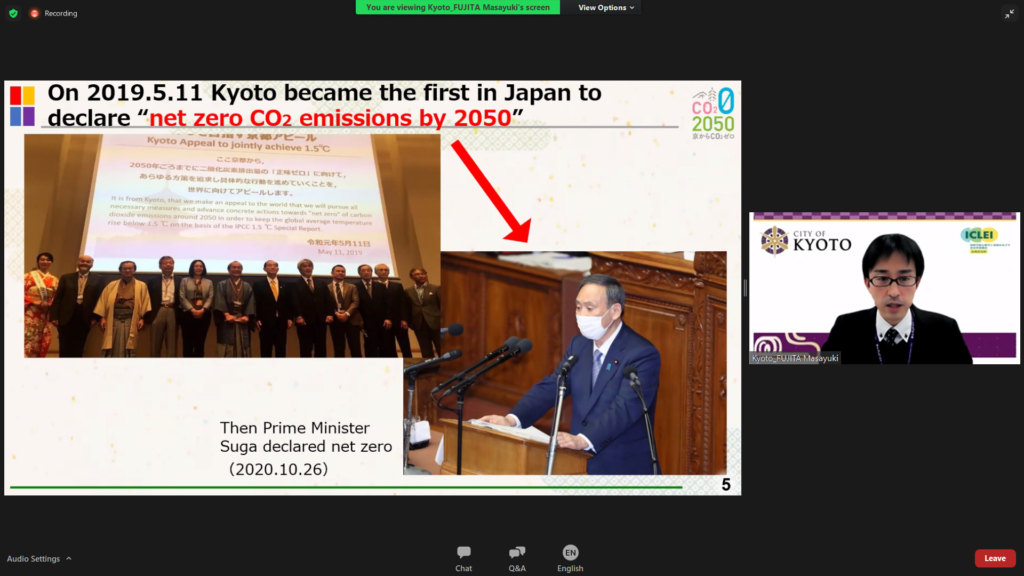 Kyoto is another city that focuses on renewable energy. It has a very cold winter and a very hot summer, with temperature rising to 40 degrees Celsius in summer months. According to Mr. Masayuki Fujita, Kyoto City Environmental Policy Department, Global Warming Countermeasure Office, the city's mission is to improve building insulation performance and set up solar panels.
On 11 May 2019, the Mayor of Kyoto became the first in Japan to declare "net zero CO2 emissions by 2050". Then, Prime Minister Suga declared the net zero goal on 26 October 2020. Currently, 479 municipalities in Japan declared to achieve carbon neutrality by 2050. According to the Kyoto City's Building Policies for New Constructions and Extensions, a large building with a total floor area of 2,000 m2 and beyond is obligated to install renewable power generators with an obligatory volume of 30GJ and use locally produced timber. Meanwhile, the city's Measures to Promote Renewable Energy in New Buildings, Constructions, Extensions and Retrofits will from 2022 increase obligations for large buildings, changing from a fixed volume (30GJ) to calculation by meter (60-450GJ) and put obligations on mid-size buildings to install renewable power generators with an obligatory volume of 30GJ. In addition, there is a scheme for a joint purchase of solar PVs and other measures to encourage the spread of solar PVs to homes.
In all this mission, architects play an important role in promoting renewable energy. They are tasked with explaining to homeowners about CO2 reduction impact from renewables, the maximum amount of renewable energy that can be installed and the types of renewable energy that can be introduced. Based on a survey, 53% of refurbished buildings installed renewable energy equipment as proposed by architects.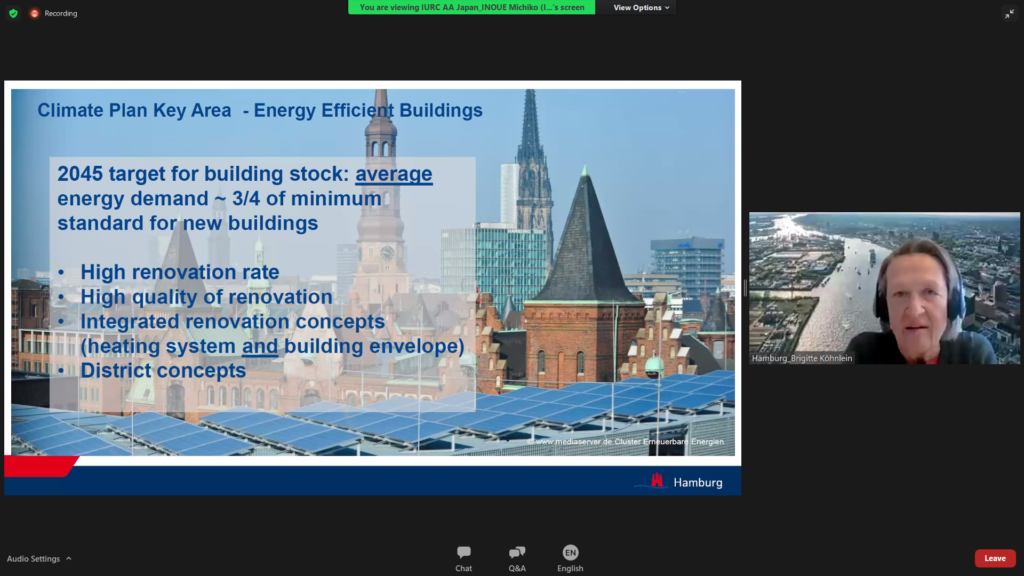 Last but not least, Ms. Brigitte Koehnlein, Deputy Head of the Department for Federal, European and International Affairs, Hamburg Ministry for Environment, presented Hamburg's Renovation Wave Strategy. Awarded the European Green Capital in 2011, Hamburg puts a strong emphasis on sustainable urban development. The city aims to be climate neutral by 2045, a result of the political commitment made in consequence of the recent IPCC Report to raise its climate ambitions. This is a heavy task with more than 4.5 million tons of CO2 emissions to be reduced.
Buildings are a key area in this regard, accounting for 25% of total energy demand in Hamburg, mostly for heating. The city is trying to double its renovate rate and achieve quality refurbishments as well as work with integrated renovation concepts that consider the building envelope and the heating system at the same time. There are three tools the city is implementing: 1) information and advice, 2) incentives (financial support from the city and the federal government) and 3) regulation by law.
Although there are many ways to get informational and financial support for energy saving measures, securing the support can be a confusing journey. Therefore, Hamburg has set up Energy Pilots who provide advice on all energy issues as a public service. More in-depth advice is provided by qualified engineers from private firms with subsidies from the federal government: 80% of the cost. Also, advice on the various options for financial support for building renovation is available. The service of Energy Pilots has been well received with around 5,000 consultations in the first half of 2021.
With regard to incentives, the federal government provides low-cost credit combined with repayment subsidies or as a grant. The general principle is the better the energy standard you reach, the more money you can get. The support applies to all renovations and to single measures, such as new roofs and new envelopes. For commercial buildings, there is a detailed, more complicate support system.
In the area of law, public utilities owned by the City of Hamburg are legally obliged to phase out of coal and heat generation. Private utilities must submit a decarbonization roadmap, showing how they will achieve a 30% share of renewable energy and heat generation by 2030. The installation of new direct electric heating systems with more than 2 kilowatts is prohibited. Solar panels must be installed on new buildings and new roofs of existing buildings where possible. And for buildings constructed from 2009 onwards, a 15% share of renewable energy for new or retrofitted heating systems is mandatory. Overall, Hamburg wants the public sector to act as a role model for climate action and for its administration to become climate neutral by 2030.
The recording of the webinar along with the presentations can be accessed here: https://isap.iges.or.jp/2021/en/t5.html