Brisbane, Canberra and Melbourne will now begin to establish cooperation on urban development with Barcelona, Florence, Hamburg and Madrid within the IURC programme as an online launch was organized for the seven cities on 30 November 2021. The event was moderated by Prof. Bruce Wilson, who is leading a team of academics at RMIT providing helpdesk support to the city-to-city cooperation with Australian cities.
H.E. Dr. Michael Pulch, EU Ambassador to Australia, highlighted the significant role that city and regional communities play in fostering diplomatic and cultural relationships. "The leadership of city actors can provide paradigms for policy planners and demonstrate the political importance of sustainable living" – he said. Ambassador Pulch noted that the IURC activities with Australia are part of the strong and forward-looking bilateral relation strategy where sustainability plays a crucial role. He welcomed the vision, ambition and cooperative spirit of all participants, noting how the pandemic had not dampened enthusiasm for international cooperation.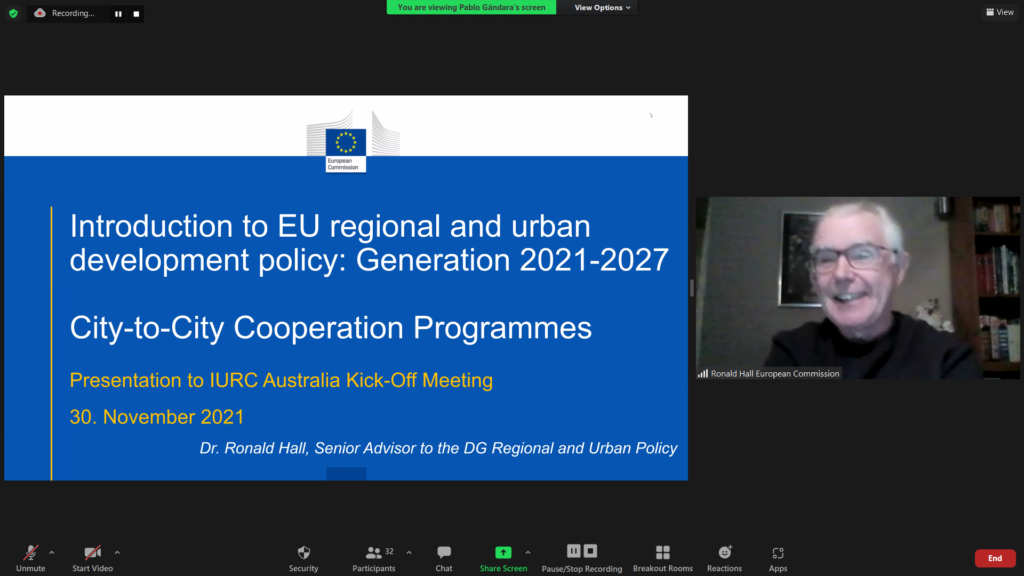 Dr. Ronald Hall, Senior Advisor to the Directorate-General for Urban and Regional Policy (DG REGIO), provided an overview of EU policy on urban development and cooperation and the budgets the European Commission has set aside for the Multiannual Financial Framework 2021-2027 and the NextGenerationEU economic recovery plan to promote sustainable urban development (SUD). He also noted the wealth of experience Australian cities had brought into the EU-funded World Cities programme between 2017 and 2018. Dr. Hall also introduced the cooperation approach within the IURC programme and emphasized the importance of quick identification of thematic priorities in the coming months to prepare the study visits and follow-up pilot actions.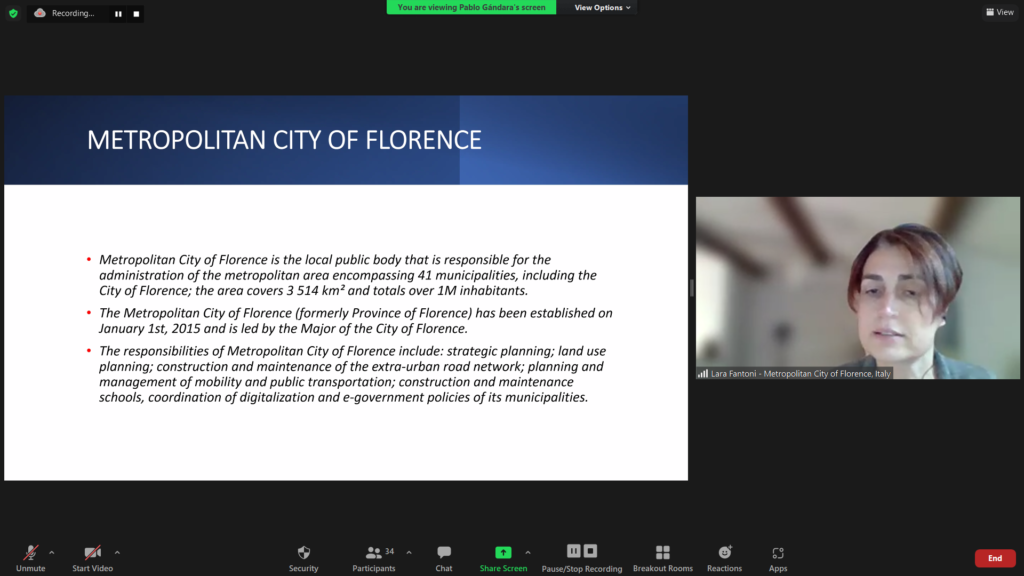 At the launch, the four EU cities had the opportunity to introduce themselves first, starting with Florence. Representing the Metropolitan City of Florence, Ms. Lara Fantoni cited three thematic areas that the city wants to have cooperation on: 1) mobility and transport, 2) tourism and culture and 3) circular economy. The whole metropolitan area has over 1 million inhabitants and millions of visitors visit Florence each year. Therefore, mobility is a big challenge. The city has implemented several projects to promote public means of transport, including the development of tramway systems, the creation of Bus Rapid Transit (BRT) lines, increasing bicycle and pedestrian accessibility, and applying ITS technology to achieve smart mobility. Ms. Fantoni explained the potential for cooperation in the areas of tourism and culture, and showcased some a digital tools to support sustainable tourism.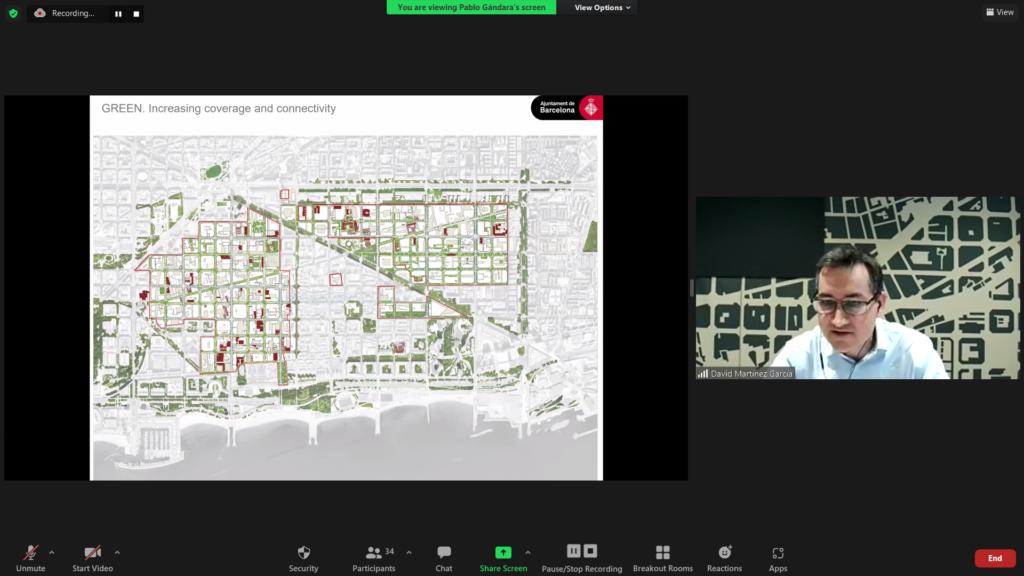 Next up was Barcelona. Mr. David Martínez, Director of the Municipal Institute of Urbanism, gave a broad presentation on Barcelona and its current economic and urban development strategies. He referred to the Barcelona Green Deal and to the urban regeneration programmes in areas like the Besos river. Sustainable mobility concepts like the Superblock help to increase coverage and connectivity, he said. Mr. Martínez shared few examples of drainage system improvement as well as of reducing energy consumption in the city. "Retrofitting building stock built from the 60s is a key challenge" he said. Mr Martínez shared with the audience the urban transformation pathway of Barcelona's Pobleneu, which has become 22@barcelona, a landmark for urban innovation and "quadruple helix" cooperation between with public authorities, academia, civil society and business partners.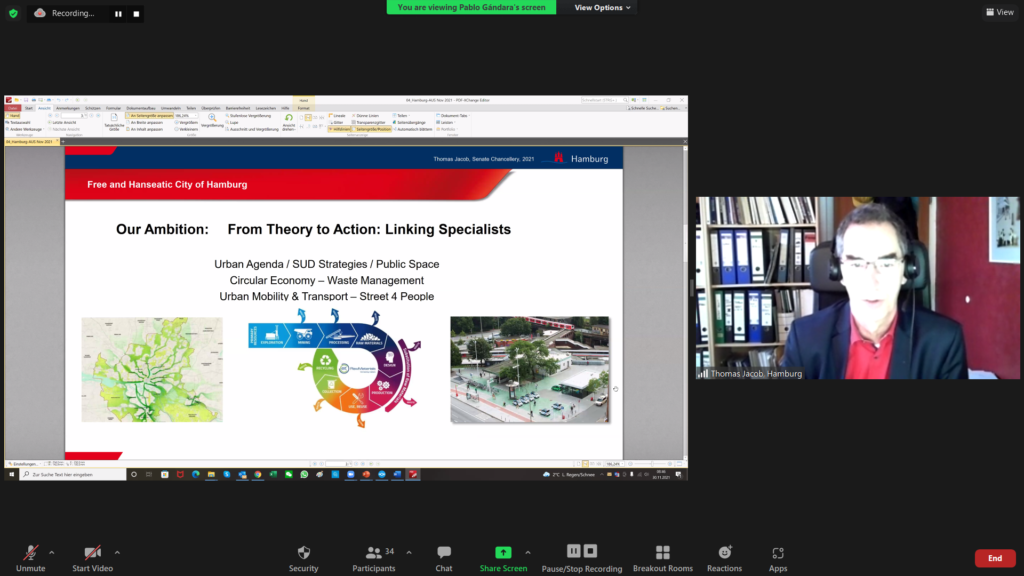 Mr. Thomas Jacob, Head of International Projects, Senate of the Free and Hanseatic City of Hamburg, gave a brief overview of Hamburg, which cooperated with Melbourne in the EU World Cities (2017-2018) programme, and presented the city's interest in three key topics: 1) urban planning, SUD strategies and public space, 2) circular economy and waste management, and 3) urban mobility and transport and "Street 4 People". For the area of urban planning, like many cities, buildings in Hamburg were constructed between the 50s and 70s and need renovation to help the city achieve the Green Deal. Regarding circular economy, Hamburg goes beyond waste management as construction material from building demolition is a big issue. As for the issue of mobility, Hamburg wants to open up streets for people while not entirely pushing out cars. The city also has a car-sharing scheme. Hamburg's ambition is to move from theory to action in the city-to-city cooperation by linking specialists in the above-mentioned areas.
The last EU city to present was Madrid, represented by Mr. Nicolas Gharbi from the International Affairs and City Diplomacy department. In the IUC programme, Madrid was paired with Buenos Aires. Also, it recently had cooperation with Melbourne to develop technical, academic and diplomatic cooperation links. For IURC, Madrid is mainly interested in nature-based solutions, with a focus on urban forests, while mobility is another potential cooperation area, which Madrid will be happy to work in a cluster with other cities. Madrid is developing a metropolitan forest to mitigate urban heat island effects and improve biodiversity, air pollution, social cohesion and the quality of life. Mr Gharbi emphasized that Madrid city is open to identify further thematic priorities for the cooperation with the Australian cities.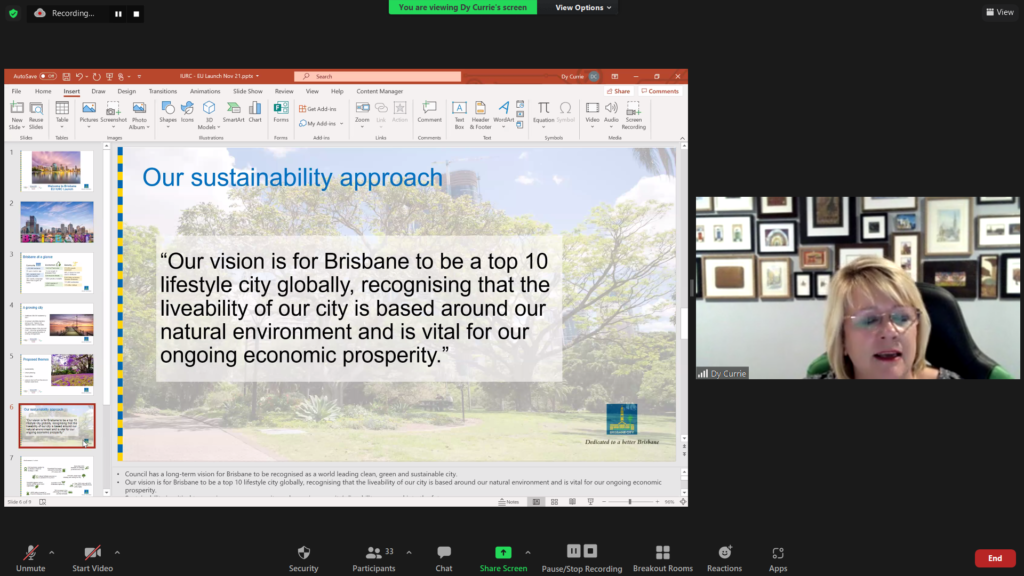 Brisbane, represented by Ms. Dyan Currie, Chief Planner & Brisbane 2032 Host City Office Lead, was the first Australian city to speak at the launch. It is Australia's 3rd largest city the largest local government. It is also the country's most biodiverse city. Its preferred themes for cooperation include sustainability, urban planning and smart cities. As the host of the 2032 Summer Olympics, Brisbane also hopes to learn from Barcelona about its Olympics experience. With regard to the promotion of biodiversity, it has already planted half a million trees and is on track for conserving 40% the city's area as natural habitat by 2031.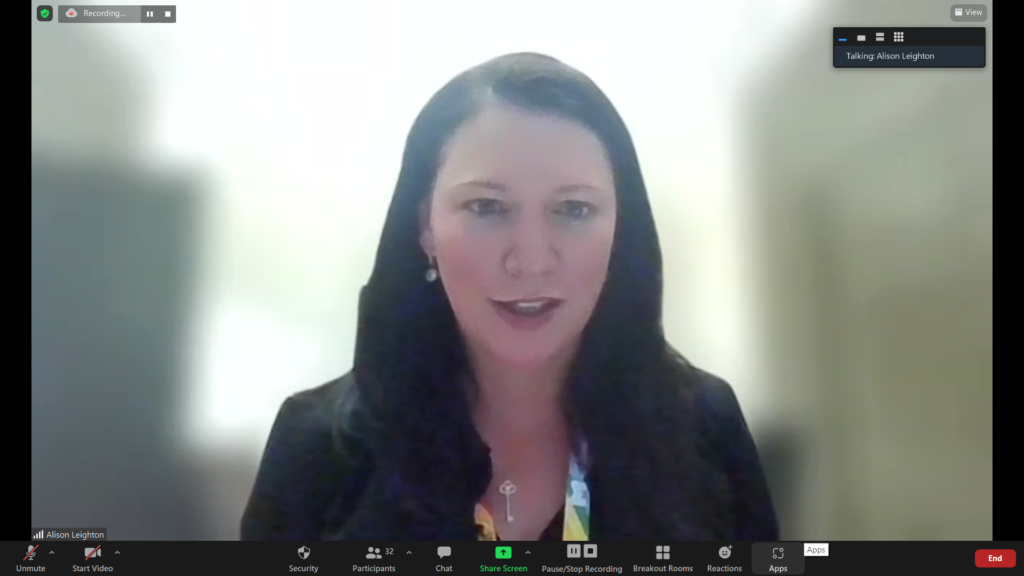 Up next was Ms. Alison Leighton, Deputy CEO of the City of Melbourne. Melbourne has just adopted a 4-year strategic plan with 6 objectives: Economy of the Future; Melbourne's Unique Identify and Place; Aboriginal Melbourne; Climate and Biodiversity Emergency; Access; and Wellbeing. Two key areas of interest are 1) parks and city greening and 2) urban precincts and renewable. Melbourne has met with Madrid and is also growing an urban forest to achieve the canopy cover area of 40% in its city. This initiative has gained great support from the private sector. It is currently developing globally competitive innovation districts and has Australia's largest urban renewal programme at Fisherman's Bend, which has projected to create 80,000 jobs and attract 80,000 new residents once completed. The Fisherman's Bend Innovation Precinct is intended to showcase innovation and advancement in manufacturing, engineering and design. Other areas of interest include the media innovation hub, a public realm that supports interaction and collaboration and ways to support existing communities and attract and integrate new communities. Ms. Leighton expressed her interest in learning from Barcelona's experiences made in the 22@ innovation district.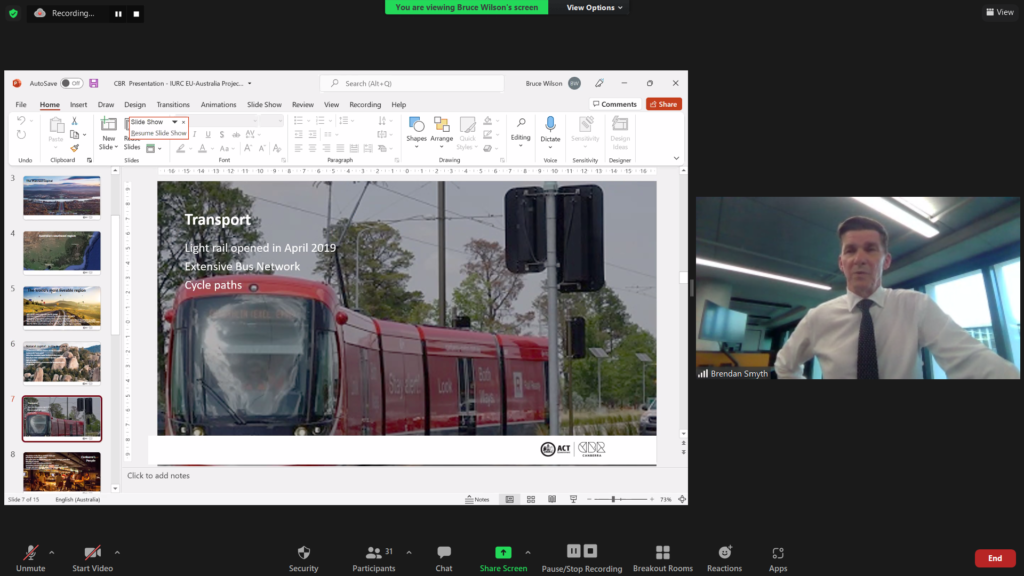 The final city representative to speak was Mr. Brendan Smyth, Commissioner for International Engagement from Canberra. Canberra is the Australian capital and is one of the few planned capital cities in the world. It is also nature-based, with half of the Australian Capital Territory (ACT) being a natural reserve. Moreover, the ACT has been named the world's most liveable region and is 100% powered renewable energy. In terms of transport, it has a light rail system, an extensive network and more cycle paths per capita than any other city in the country. It is a leading city in terms of economy, multiculturalism, culture, innovation and knowledge economy. Topics that Canberra is interested in include digital transformation, smart city, mobility and sustainability.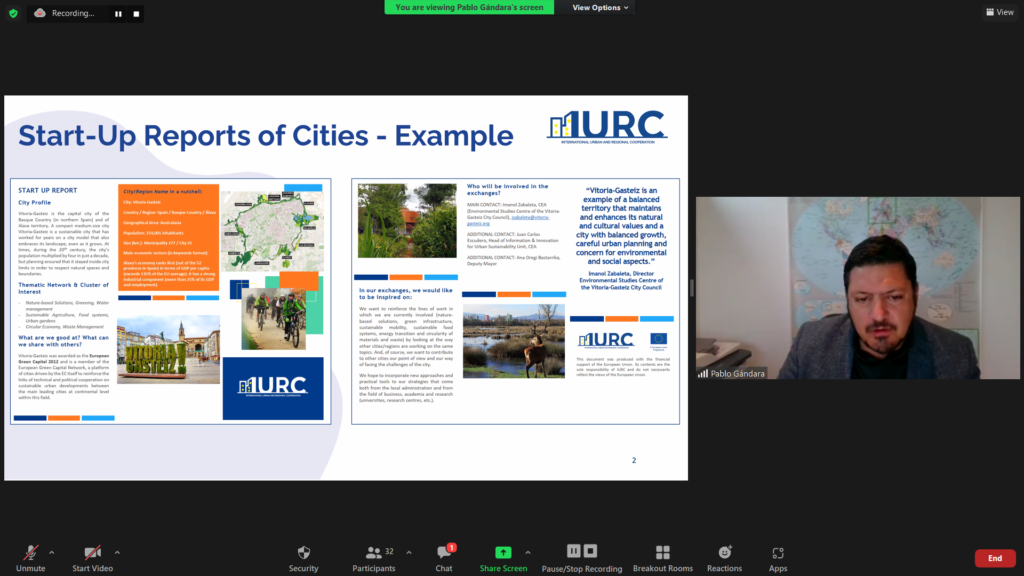 Mr. Pablo Gándara, IURC Team Leader, referred to the upcoming activities for the seven EU and Australian cities including a join thematic matchmaking mid-December and monthly bilateral follow-up meetings from mid-February 2022 onwards. He also referred to the cross-country thematic cooperation which includes a webinar on innovation clusters and precincts in February 2022. The project team will support pilot cities in elaborating Start-Up Reports including their single thematic priorities, relevant best practices and involved experts.