Representatives from Semarang City of Indonesia and Sofia City of Bulgaria met online on 13 January 2022 to discuss possible cooperation with a focus on urban mobility. The representatives had an exchange on various projects, looking at the current challenges of both cities and sharing their solutions, some of which also involve the private sector.
Elitsa Panayotova, Coordinator of SOfiaGREEN – Sofia Development Association, presented various existing projects including the city's metro, electric mobility and renewed bus fleet, and shared mobility services. New technologies are also introduced, including trolleybuses with hydrogen technology. The digital solution is employed to make public transport attractive by integrating the ticketing system and digital payment. In order to improve air quality and green mobility, Sofia is undertaking some innovative projects, i.e., INNOAIR and COMPAIR. The city has established an ambitious plan to encourage more people to switch to a more sustainable way of moving around the city. Among them is the development of more routes for school buses and integrating them into the public transport system. Under the INNOAIR project, a new app was recently launched to stimulate a more active lifestyle of citizens and contribute to emission reduction. The Low Emission Zone is being planned to be introduced in the summer of 2022. Elitsa also focused on urban green development and mentioned that Sofia was a finalist in the 2023 European Green Capital competition. Green urban spaces are an important part of the dialogue on how to make Sofia an even greener and more sustainable city and how to raise citizens' awareness of it. Beyond the realisation of urban parks and green corridors, the city has launched a vast programme to engage citizens, kindergartens and schools in order to increase their access to green areas. The city will host the Urban Green Conference in May 2022.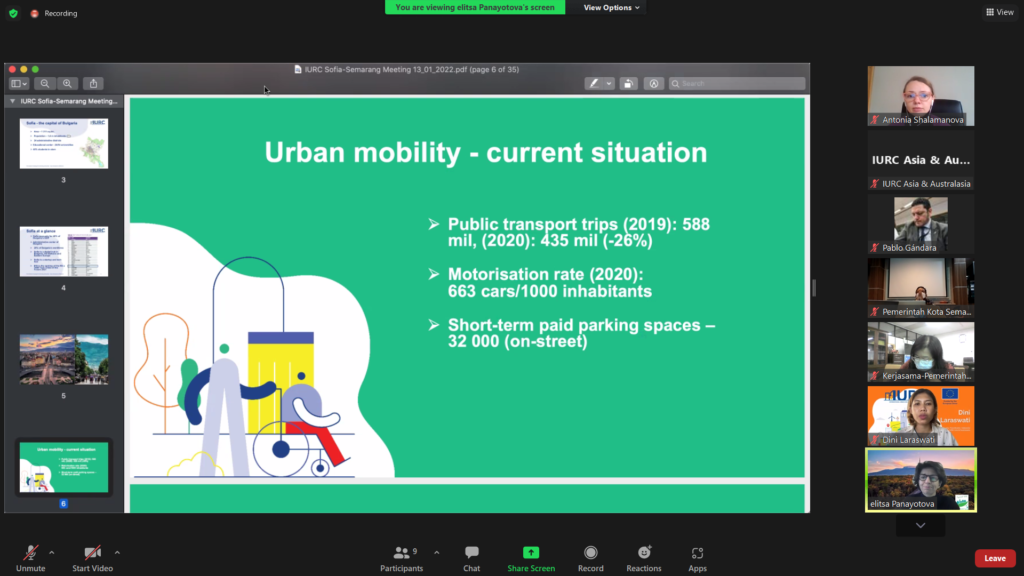 Ismet Adipradana, representing Semarang City, shared the city's plan to improve the Bus Rapid Transit (BRT) service, including the use of natural gas, the development of a dedicated lane, and the introduction of the electric bus. The city is exploring ways to reactivate the tram system and connect it to tourist areas. Semarang will also try to engage the private sector to identify financing schemes. To utilise the digital solution, the city is working with the providers of online transportation services, including Gojek and Grab. The cooperation with Gojek and Grab includes cashless payment for BRT service, the provision of electric motorbikes and the establishment of a drive-through vaccine center.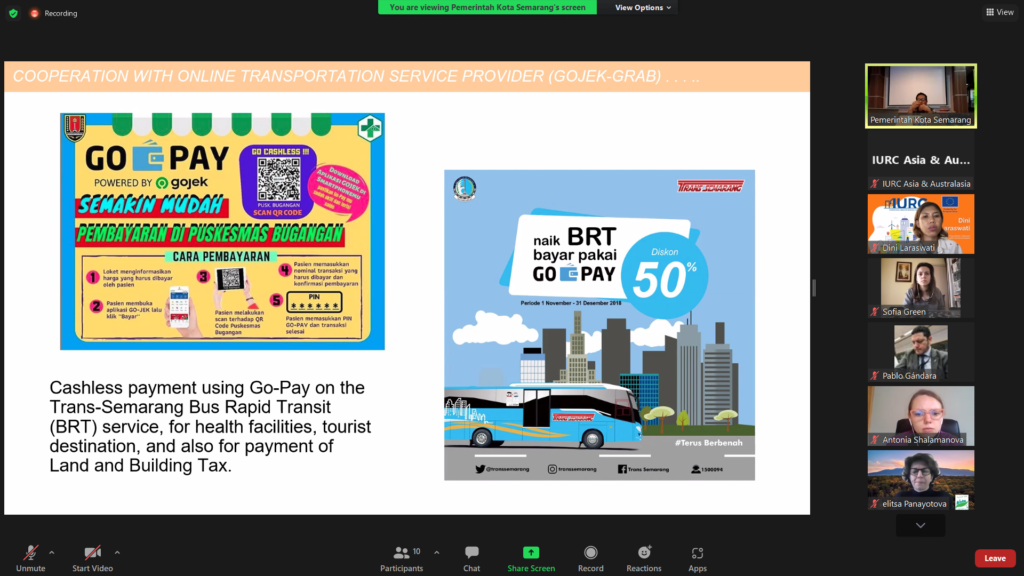 The officials of Semarang and Sofia expressed their interests in each other's challenges solution. For example, Ismet was interested in Sofia's tram system, which was built during Bulgaria's Communist era and, unlike some other European capitals, has not only been preserved but also further developed.
Pablo Gándara, Team Leader of IURC Asia & Australasia, recapped interesting points from the meeting, such as Sofia's use of subsidised tickets (Green and White Tickets) to encourage people to use public transportation on days of high level of air pollution (PM10). He also noted that the Sofia-Semarang partnership could be showcased in the Sofia Urban Green Conference 2022, which will be organised in May. It was agreed that the two cities would look closely at their counterpart's presentation and list questions on specific topics or projects to be answered at the next meeting.
For more information, please contact Dini Laraswati at dlaraswati@iurc.eu.
Presentations
Sofia's Challenges and Solutions in Urban Mobility, Air Pollution and Urban Green Areas
Development of Public Transportation in the City of Semarang