Study Visit Dates: 4 – 6 April 2022
The first study visit between Windsor, Canada, and Mannheim, Germany, focused on the following Joint Areas of Cooperation:
–Renovation Wave – Energy Efficiency in Buildings
–Nature-Based Solutions – greening, water management
–Sustainable Agriculture – food systems – urban gardens
–Sustainable Urban Mobility & Transport.
The exchange in Windsor began with a welcome from the Mayor of Windsor, Drew Dilkins, and the Chief Financial Officer of Windsor who shared their aspirations for the exchange of learning and knowledge over the course of the IURC program in the chosen areas of thematic cooperation.
The visit then kicked off with presentations on the cities' challenges and policies on Climate Change, with a special focus on Windsor's Residential Deep Energy Efficiency Retrofit Program (R-DEER). This was illustrated on the field with visits to: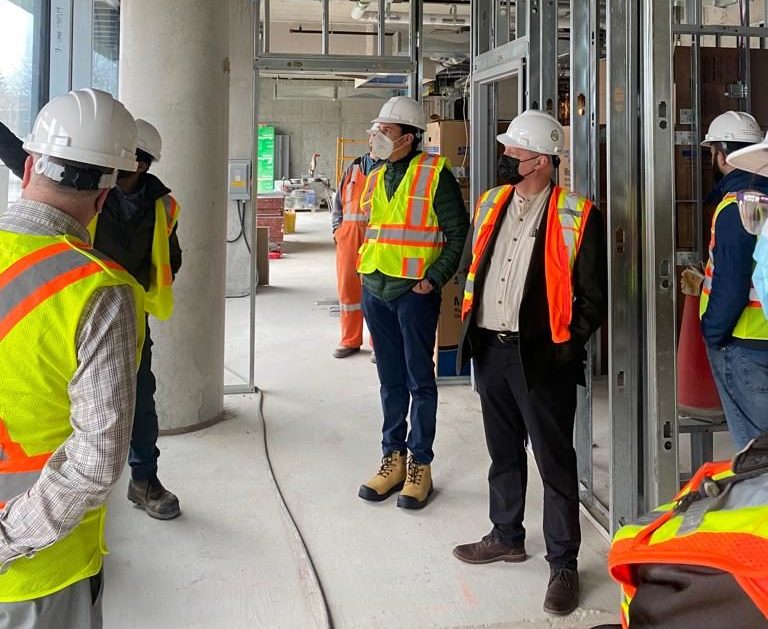 255 Riverside project of retrofitting for a 1975-built, 20-story,
303 residential units building with 15M Canadian dollars leading to a reduction of 75% in energy consumption.
Meadowbrook Housing: development of a mixed-income, 10-story, 145-unit residential building with full environmental sustainability, leading to a 33%reduction in emissions and 40% more energy efficiency, co-funded by the City of Windsor and the Ontario Province.
Other field visits and presentations correlated to the pairing's focus on Nature-Based Solutions and City of Windsor Greening, such as:
Herb Gray Parkway project: with 9 Eco-passages on the highway built for biodiversity protection and stormwater management.
Ojibway Nature Complex, a natural prairie heritage park co-owned and managed by city of Windsor and the Ontario province.
Windsor's Greenhouses and Horticulture Program. This visit was timely as Mannheim has invited Windsor to participate at the 2023 German Gardens edition, while a learning exchange program between staff from both cities is in progress.
Finally, the group explored fields of cooperation in sustainable urban mobility at the Canadian Automobility Hub, the center for the capacity building, research and innovation at the service of Automobility (understood as connected, shared, self-driving, zero-emissions transportation).
The shared learning, network building and understanding of local context will continue in September 2022 when a delegation from Windsor visits Mannheim to continue their journey of cooperation and knowledge transfer.