Delegates from Stuttgart Region and the Colleferro-Latina Functional Area made the first visit to Vietnam to meet with their counterparts in Ha Tinh and Da Lat. The objectives of this kind of study visit within the IURC programme are to strengthen cooperation between the paired cities or clusters, explore collaboration opportunities with other stakeholders and identify joint pilot actions.
The trip consisted of four days of meetings, field visits and debriefing sessions from 31 May to 3 June. The group of delegates was led by Mr. Thomas Kiwitt, Technical Director, Stuttgart Region; Mr. Francesco Guadagno, Councilor, City of Colleferro; and Mr. Ngo Trung Hai, General Secretary, Association of cities of Vietnam (ACVN), whose organisation provided logistics support during the trip. A representative from the private sector in the Colleferro-Latina Functional Area, Mr. Leonardo Valle, President of Thegesus Consortium, also joined the visit, and so did team members from IURC.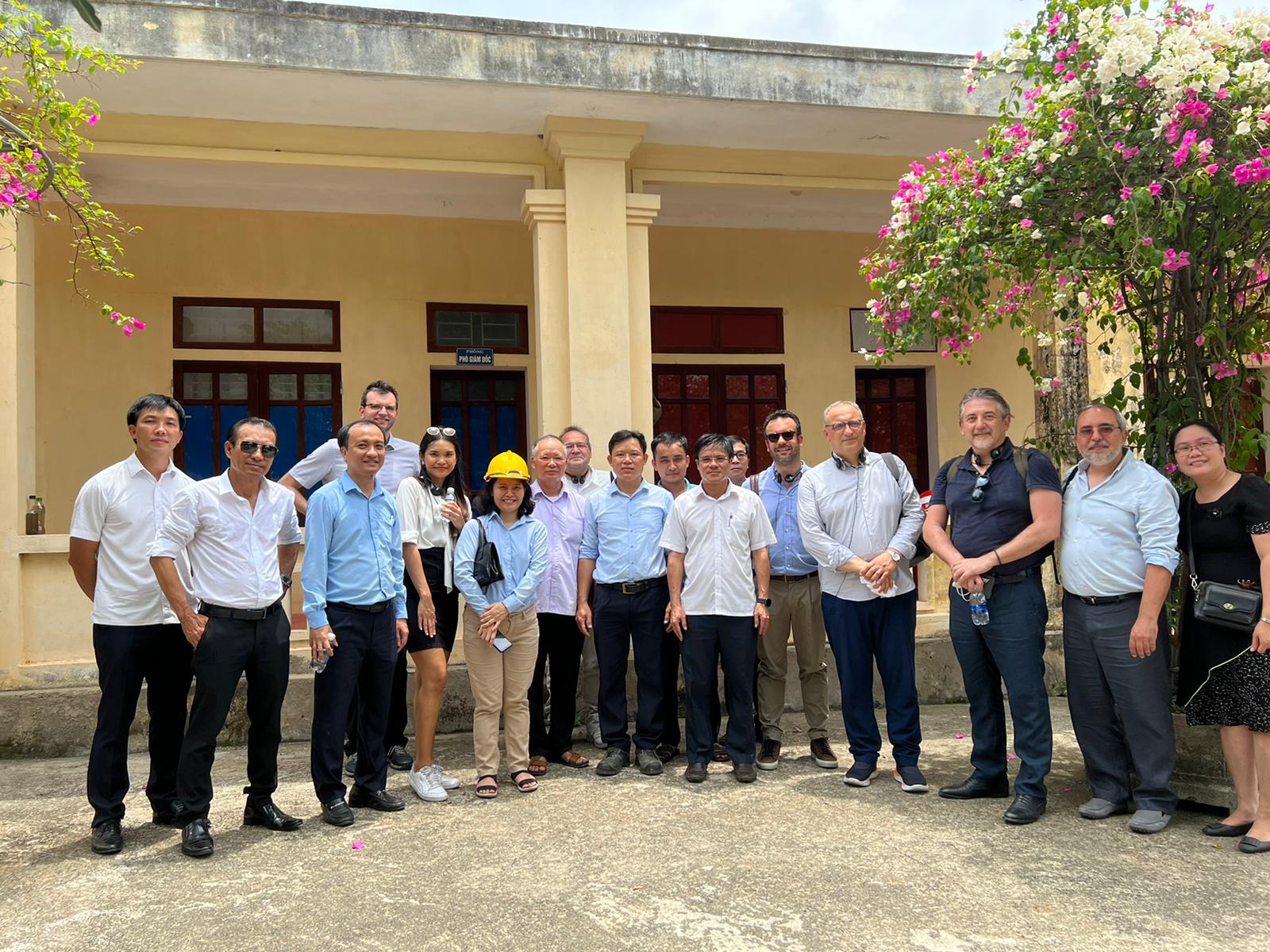 The cooperation focuses on two main themes: 1) flood controlling and climate adaption and 2) waste management. Below is a list of topics discussed during the study visit.
Areas of cooperation and follow-up actions discussed and suggested by Ha Tinh City, Stuttgart, Colleferro/Latina:
Waste Management in Cam Xuyen Waste Treatment Plant: Ha Tinh City, with the Government enabling framework of domestic waste management, wants to learn about waste treatment technology from Stuttgart, Germany. New concepts, high technologies, solutions for new building materials (bricks) from waste can be provided and supported by private companies which are members of Thegesus Consortium, experts from universities in Colleferro/Latina and stakeholders in Stuttgart.
Technical Infrastructure – Smart City Development: Ha Tinh City wishes to learn about practices, models of technology use in infrastructure, city layout, agriculture, integration of infrastructure and agriculture, urban landscape development. In Stuttgart, practices and solutions of using technology in smart layout of city, integrating strategy and infrastructure in all development, and cooperation in mobility can be showcased.
Climate Change Adaptation – Urban Agriculture and Forestry: Ha Tinh has a master plan of greening the city with 100,000 new trees to be planted by 2025. The City has a good mechanism for outside resource mobilization while acquiring large land size for urban agriculture. The private sector and stakeholders from Stuttgart, Colleferro/Latina are invited to invest in clean agriculture in Ha Tinh City. Stuttgart has expertise that can help Ha Tinh to improve its optical landscape while maintaining small farms and city forests.
Areas of cooperation and follow-up actions identified and agreed by Da Lat, Stuttgart, Colleferro/Latina:
Solid Waste Management – Technological solutions to solving odor in the Xuan Truong Waste Treatment Plant can be provided and supported by Thegesus Consortium in Colleferro/Latina.
Urban Agriculture – Clean, high-tech food production and tourism: The Da Lat City strategic priority in this field is to become a regional hub for seed provision and production, technological transfer in Southeast Asia. Cooperation is potential for flower and vegetable farms, cooperatives and Chambers of Businesses in Stuttgart, universities in Colleferro/Latina, focusing on marketing actions and innovative agricultural models.
Smart city for climate adaptation: Stuttgart's experience in technological application in climate adaptive infrastructural development projects will be shared with Da Lat. Practices in public accessibility, public hearings, consultation etc. are of Da Lat's interest of learning.
Heritage preservation: Da Lat is a heritage city. It looks forward to learning from Colleferro/Latina's stakeholders about their practices and solutions in order to preserve and maintain architectural heritages in Da Lat City.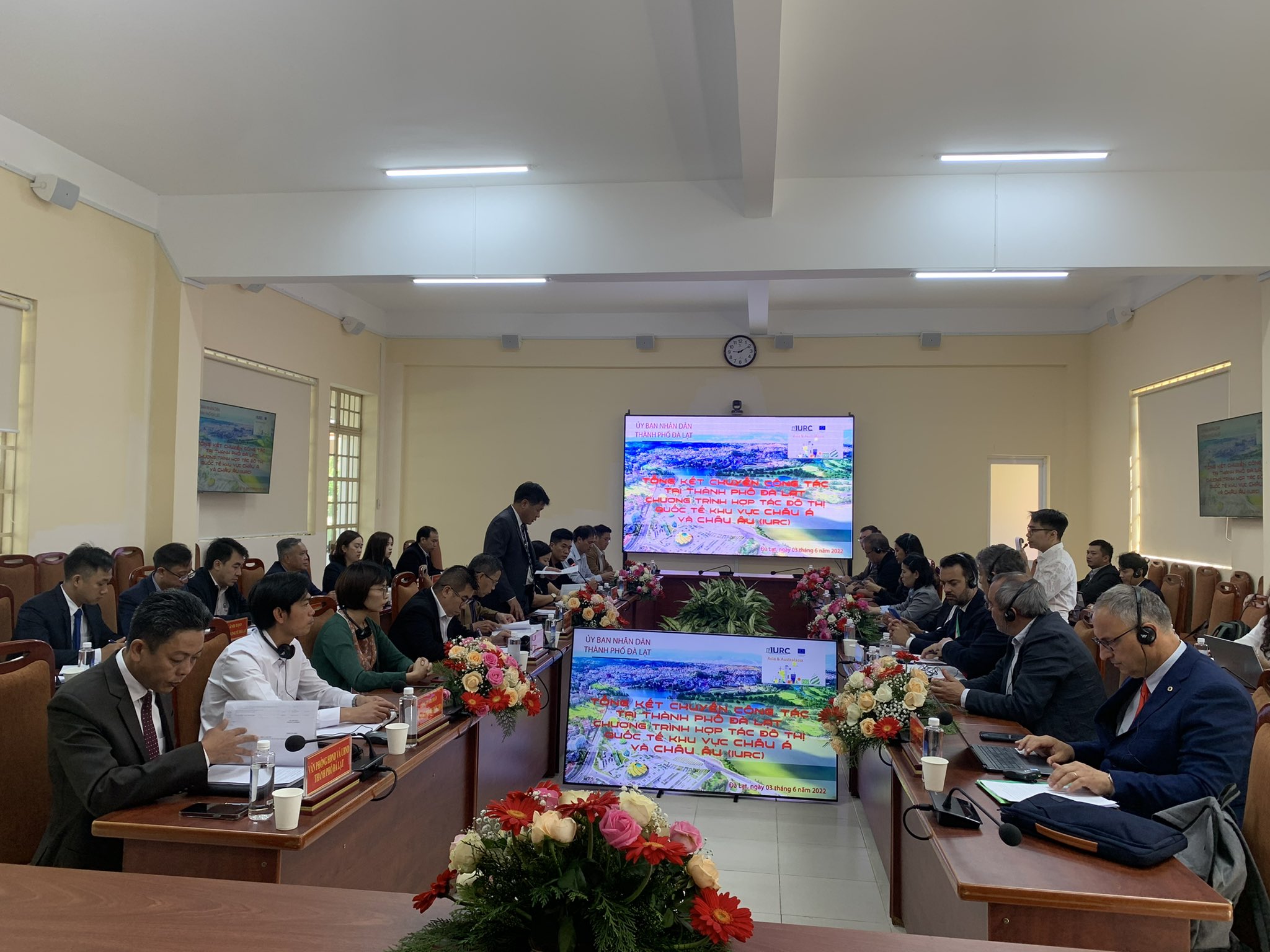 Next steps agreed by all the EU and Vietnamese cities:
There will be two follow-up online meetings between Da Lat and Ha Tinh, Stuttgart and Colleferro/Latina in August and September 2022 (before the Vietnamese cities' study visit to Europe in October 2022). Dates will be determined by parties in July 2022. Topics for consideration will be Waste Management, Urban Agriculture, Tourism, Climate Adaptation, Smart City.
The next study visit of Ha Tinh and Da Lat to Stuttgart, Colleferro/Latina will be between 7-13 October 2022. The visit is planned to meet with officials, technical persons, chambers of businesses, universities/institutes in Stuttgart and Colleferro/Latina to share on:

Stuttgart Solid Waste Treatment and Climate Adaptation Initiatives: the use of technology in developing infrastructure, working mechanisms, identifying solutions, city master planning based on approaches stimulated from the past and new changes.
5P model for cooperation in Colleferro: involving expertise from universities, City Smart Lab
Latina Smart City Project: process of data collection, public consultation with different stakeholders (citizens, businesses, universities, municipal team etc.), monitoring.

The potential pilot projects are identified: Technological solutions in Cam Xuyen Waste Treatment Plant (Ha Tinh City) and Xuan Truong Waste Treatment Plant (Da Lat City); High-tech Food Production and Tourism in Da Lat City; Technological solutions to e-government project, climate adaptation infrastructures in Ha Tinh and Da Lat.