As part of the cooperation activities between the Silesian Voivodeship (Poland) and the State of Paraná (Brazil), the regions have found technology transfer and joint R&D&I as opportunities to promote cooperation between their respective institutions and companies in sectors such as automotive, aviation, environment, health, ICT, mining and sanitation. Both regions consider technology as the supporting tool for their regional development.
Study visits were carried out in the State of Paraná in March and in the Silesian Voivodeship in June. The first bilateral study visit enabled the regions to create connections that were complemented by virtual sessions during April and May on topics that included Paraná Produtivo platform case study, sustainable development projects and approaches (mostly connected with 2030 SDG´s), benchmark companies, technology center activities, etc.
The Silesian Voivodeship delegates are working towards building a bridge with the state of Paraná in innovation ecosystems to replicate Brasilesia accelerator, a business initiative to support innovative companies and entrepreneurs from Poland and Brazil, created and run jointly by Brazilian partners from Minas Gerais, Katowice Special Economic Zone, University of Silesia, SPIN-US Ltd (a subsidiary of the Silesia University) and Polish venture fund Invento. This initiative provides support in several industries including Agritech&Food, Medtech, IoT & Cloud Computing, Cleantech, AI & Robotics and Fintech. Moreover, the Central Mining Institute (Katowice) has developed a technology of fertilizers production from sewage sludge that has attracted the interest of SANEPAR, the Paraná Sanitation Company, since the products obtained from sewage sludge in the capsule process can be used in the agriculture and land regeneration markets. Both entities are in the process of bringing this technology to SANEPAR and region as it has a strong agricultural industry.
Notably, during the study visit in Paraná, the Marshal of the Silesian Voivodeship – Jakub Chełstowski invited the President of Invest Parana – Eduardo Bekin and the Director Invest Parana- Giancarlo Rocco to meet relevant stakeholders of the Silesian Voivodeship and exchange experiences in the area of supporting entrepreneurship and streamlining investment processes, as well as establishing business contacts. During this additional 2-day visit held at the end of May, the delegation from Brazil had the opportunity to visit key actors in the fields of energy, health, ICT and innovation.
After the study visit held in Silesian Voivodeship in June, delegates from both regions carried out a reflection process to focus on new cooperation opportunities in the following areas:
Departments of regional government institutions and universities. Regional development management, including Regional Innovation Strategy, entrepreneurial discovery process (EDP), spatial planning, environmentally friendly solutions, and sustainable transport.
Business, science institutions, and business support institutions. Acceleration, partner projects oriented at supporting innovative processes of the region's development and building sustainable partnerships (cluster creation model) for the development of entrepreneurship and the implementation of innovations: technological and vocational training, sanitation, health…
Financial instruments supporting the development of the public, private and civil sectors.
Among next steps to be determined, regions expect to organize a virtual business matchmaking among companies of common strategic sectors during the second half of the year or the first quarter of 2023.
—————
Over the last several months, the IURC Latin America programme has been extraordinarily active carrying out three major international networking events in Brazil, Sweden and Poland, 18 Study Visits and several webinars on topics that ranged from Inclusive Recycling, Rehabilitation Strategies for Historic Centres: case studies from Manaus, Naples, and Cienfuegos to Financing Green Infrastructure for Sustainable Cities" Part 2 – The role of development banks and private financing to Mobility Behaviour Change: Promoting Sustainable Travel Choices in Cities.
In March, 14 delegates from six cities and three regions attend an IURC-LA Side Event featuring peer-to-peer action learning and the Smart City Expo Curitiba 2022 the most important event in Brazil on digitization and innovation. Delegates shared best practices and lessons learned about digitalization, plus they strengthened their networks. More Information here.
IURC Latin America participated in the Urban Future Conference (UF22) in Helsingborg, Sweden, from June 1-3, with a delegation of 21 representatives from 13 cities and regions of Latin America and Europe: Malaga, Rome, Cali, Barranquilla, Debrecen, Hermosillo, Punta Arenas, Umea, Essen, Fortaleza, Cantabria, Sao Paulo, and Milan. In addition, IURC-LA organised a side event for participating cities and regions to share their knowledge and lessons learned on urban regeneration, social inclusion, and sustainable urban development. The participants also provided an overview of the areas of cooperation with their pairing, expectations, and lessons from their study visits.  More Information here.
Delegates from 15 cities and regions participating in the International Urban and Regional Cooperation programme (IURC) Latin America met from June 26-28 at UN Habitat's World Urban Forum in Katowice, Poland. IURC Latin America members were able to share their experiences so far with 'city-to-city' and 'region-to-region' cooperation. They were at the front of the line for new opportunities. The World Urban Forum was an opportunity to meet, showcase and network among cities and regions from across the world as well as with their stakeholders.  More information here.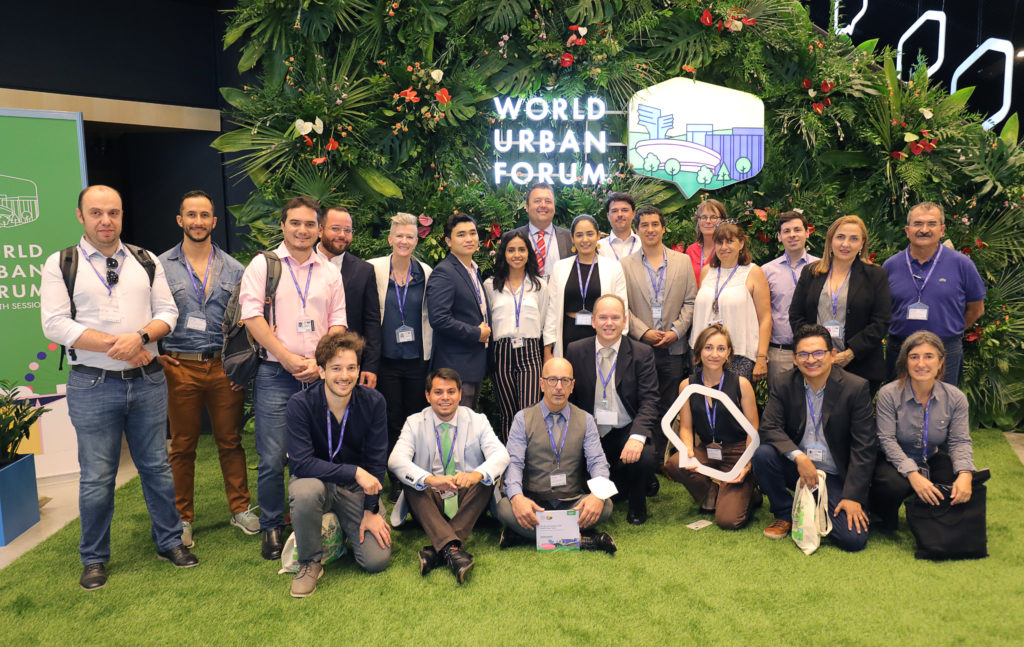 Since March, eighteen international study visits have taken place between cities and regions in Brazil, Colombia, Mexico, Peru, Hungary, Italy, Germany, Greece, Poland Romania, Spain, and Sweden.  The study visits have focused on a myriad of sustainable urban development thematic areas of cooperation and regional innovation including topics such as sustainable agriculture, circular economy and waste management, design and implementation of nature-based solutions, sustainable mobility, urban regeneration, and neighbourhood rehabilitation strategies.  More information on the Study Visits here.
A common thread of these study visits has been the recognition among delegates of the importance of international cooperation and the affirmation of a strong commitment work jointly towards common objectives and goals toward fulfilling their Cooperation Action Plans.  Cities and regions continue to together to share experiences and good practices building on the knowledge that was exchanged and the networks that were cultivated through the study visits and participation in international events.